When Robert Knox first heard about the MBAs Fighting COVID-19 initiative, he knew he wanted to sign up and help.
The organization, which started at Harvard Business School in March, supports businesses hit hard by coronavirus, by matching them with MBA students who can use their skills to help.
Working on the initiative has been a valuable—albeit unexpected—addition to the MBA program Robert is taking at Georgetown University's McDonough School of Business.
With a background in investment management, he set out on the MBA to gain a wider knowledge of business, and build a strong network. Working with MBAs Fight COVID-19 is helping him to do both, all while supporting struggling businesses.
---
Joining a community-focused program
As he researched MBA programs, Robert was drawn to Georgetown's strong, diverse network. The full-time program attracts a class of 30% international students, 70% of whom have a non-business educational background.
"From the first time I visited, I was just really impressed with the people I met and talked to," he says.
This community spirit came into play when, half-way through his MBA, coronavirus struck.
For Georgetown to join the MBAs Fight COVID-19 platform, Robert needed to find 15 interested students, and five potential projects. This turned out to be an easy threshold to meet, thanks to overwhelming student enthusiasm.
"I would say that's been a consistent theme during my time at Georgetown—the strength of the network, and people's willingness to step up and do something to help their community," Robert reflects.
---
The benefits of helping business
Joining the MBAs Fight COVID-19 initiative would not only help the businesses assisted, but also the students taking part, Robert (right) realized.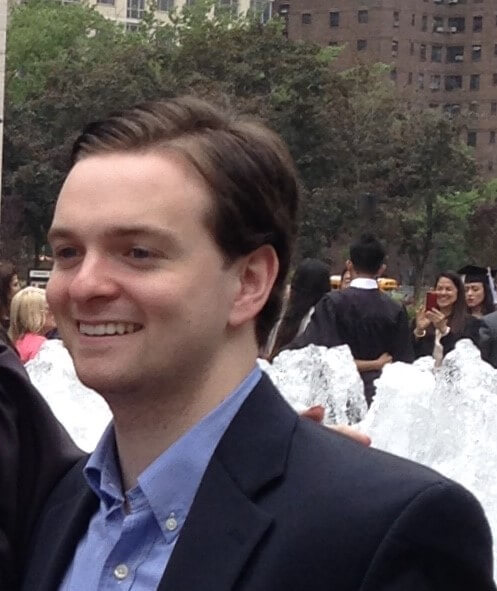 "On the one hand, it's supporting businesses that need help, and on the other it's linking MBAs to projects where they can practice their skills," he explains.
Many MBA internships have been cancelled due to coronavirus, leaving scores of students with no plans for the summer. MBAs Fight COVID-19 presented a great opportunity for these students to hone their skills while helping a struggling business.
The projects students work on vary significantly in subject and scope. Many involve helping businesses to set up ecommerce functionality, or sell their products through Amazon, Robert notes.
Another key project has been helping small businesses access emergency federal funding.
Students work with these companies to help them apply for funds like the US Paycheck Protection Program—a national fund that helps small businesses continue to pay their staff through the pandemic.
Robert himself has worked closely with around 50 small businesses in the hospitality and beauty sectors, helping them access this funding.
---
Working with a global network
So far, about 67 Georgetown MBAs have volunteered for the initiative, bringing the total number of students on the platform to 1,000, spread across the world.
Working with students from other MBA programs has been a hugely positive experience for Robert.
"It's been a really pleasant surprise getting to learn about their backgrounds and collaborate," he explains. "We never would have interacted otherwise!"
Working with such diverse students and businesses did create some challenges, however. One of the most significant was working out how to match MBA students with the most appropriate projects.
Most matches have had to be made manually, Robert explains, to ensure both the student and the business were happy with the decision. So far, however, Robert and his peers at other schools have managed to handle the process with some creative thinking, and the flexibility of participating students.
---
Thriving in a virtual environment
Working remotely has been another important hurdle for students working on the project to overcome.
At times, getting in touch with people has been difficult, Robert notes, and many participants have experienced the fatigue that often accompanies long video calls.
The communication skills Robert has honed through his MBA are helping him overcome this issue, however. Taking a virtual summer internship with a New York based investment bank is proving to be a particularly helpful training ground, he says.
"What's become more important than ever is to be engaged and proactive—you need to reach out to people, and make sure you actually speak. It takes a little practice!"
The transition to virtual teaching has been helpful. One class in particular—a valuation course taught by professor Lee Pinkowitz—has transitioned to virtual teaching with impressive success.
"We've had so many different Zoom sessions to meet and chat with him," explains Robert. "And he went out of his way to record lectures so we could study at our own pace."
---
Pulling together for a cause
There are currently more than 250 projects on the MBAs Fight COVID-19 site, and several hundred students are working on them.
Robert's own MBA cohort is now scattered around the globe, and he has been inspired by his peers' commitment to initiative.
"It's really rewarding work," he reflects. "And I've been so impressed with the engagement levels of students.
"That's been a consistent theme at Georgetown—the strength of the network, and people's willingness to step up and do something to help their community."