The Master in Finance (MiF) at ESCP Business School has taken the top spot in the 2023 Financial Times Master in Finance ranking.
It earned first place this year by ranking first for its career services and alumni network. 96% of graduates also reported achieving their aims since graduating just three years ago.
In this review we break down everything you need to know about the ESCP finance masters, from application requirements to the career prospects you can expect after you graduate.
---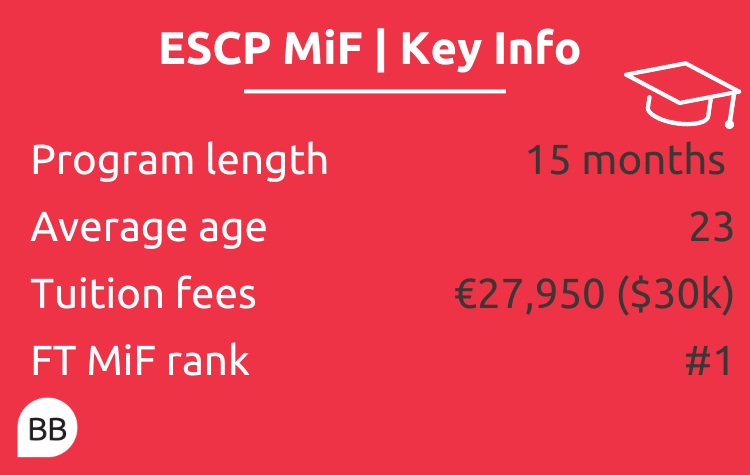 ---
ESCP Master in Finance | Who is it for?
The ESCP MiF targets ambitious students looking for high-flying jobs in the financial markets or in competitive sectors like investment banking.
"The idea is to prepare them to find a job rapidly, and with already very interesting positions right after the Master's," says director of studies, Hélène Ourbak-Louit.
To give students the best chance of success, the program teaches in two of Europe's biggest financial centers: Paris and London. But unlike similar European programs, fluency in French is a strict requirement with most of the ESCP MiF taught in the language. So if the last time you spoke French was in high school, this might not be the program for you.
The current class is made up of one-third women and 67% international students. There's no stated work experience requirement, but the school reports that 90% of students have more than 8 months of significant experience.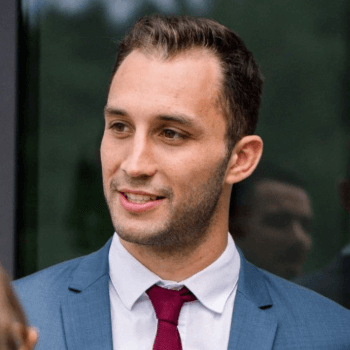 Lucas Bellavoine Toumieux (pictured) is a graduate of the class of 2021. Prior to enrolling in the ESCP Master in Finance he was a professional rugby player, but he wanted to invest in a specialized degree to ensure he had the strongest long-term career prospects possible.
"What was really important to me [in choosing the ESCP MiF] was that it was a really well-balanced program," he explains. "You're mostly in Paris, where you get all the basics even if you don't have previous experience, and after that you go to London for more practical experience."
---
ESCP Master in Finance | Curriculum
Before beginning the program, you may have to take an online foundation course in English over the summer if you have fewer than 240 European Credit Transfer and Accumulation System (ECTS) points or equivalent.
The main program starts in September, kicking off with a 15-week long first semester in Paris, with the first eight weeks covering introductory finance courses.
Students then split into two tracks according to their career aspirations, choosing to specialize in Investment Banking or Financial Markets. This is followed by semester two, a further 15-weeks of hands-on learning in London.
Once the first two semesters are complete, you'll begin a four-month work placement which forms the foundation of your finance career.
"The structure of the program was really great," says Lucas. "Because you study in Paris for a semester, you have time to get to know everyone in the class, so when you go to London there's a lot of cohort spirit."
Highlights for Lucas were the first week of the program, when past students came to talk to the current cohort about the curriculum and their career prospects, and getting to know the director of the MiF, Philippe Thomas.
"I think that almost every student in the Master's will have had the same experience," he says. "[Philippe] is really well-known among students as an iconic professor. His courses were really challenging, and he made them really funny and interesting."
ESCP has also updated its curriculum during the coronavirus pandemic to ensure it continues to deliver a high standard of teaching, bolstered by education technologies. The school has invested in hybrid classrooms to facilitate distance learning when necessary, and lectures are streamed and recorded.
"It's considered a plus by students," says Hélène. "They are happy that, if something isn't clear to them, they can revisit to the topic by listening to the recording."
---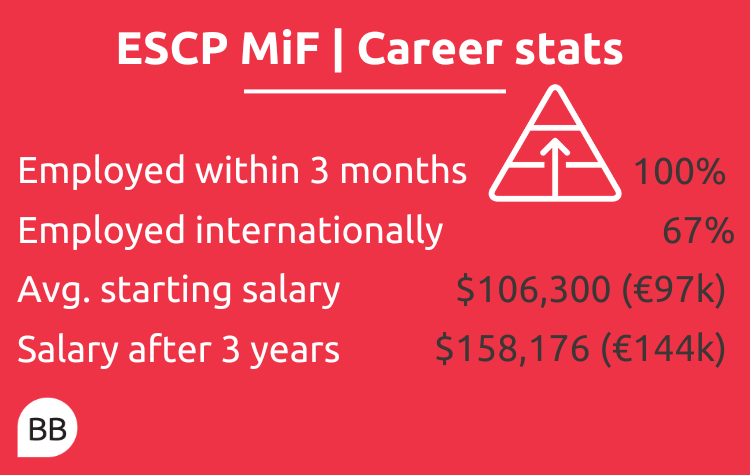 ---
ESCP Master in Finance | Career opportunities
From the very beginning of the program, students have access to a concentrated careers service as part of ESCP's aim to have an immediate impact on their careers.
Upon arrival, students are also given a seminar about jobs in finance, and throughout the year they are visited by alumni who share their experiences and provide training and discussion on career-related topics.
ESCP MiF students automatically become members of the school's alumni network when they enrol, giving them access to a huge pool of 68,000 potential mentors.
Arguably the most influential aspect of career support is the internship period. Lucas did his summer internship with Macquarie in London, focusing on Mergers and Acquisitions (M&A). He later a landed full-time role with the company as an incoming investment banking analyst, and now he has returned to Paris as an investment banking analyst intern for Morgan Stanley.
"The Master's in Finance really helped me to get the job that I wanted," he says.
Lucas is one of many ESCP finance master's students who find success. According to the school's website, 100% of graduates are in full-time employment within three months of graduating, with 67% of them in an international role.
The average salary for graduates €97k ($106,300) and €144k ($158,176) within three years.
---
ESCP Master in Finance | How to apply?
The cost of the ESCP Master in Finance is €27,950–around $30,600 USD. Application fees are set at €130 to apply for just one specialization, or €195 if you want to apply to both.
Beyond the typical academic transcripts and language documents required during the application process, there are two main things that the admissions team look for in potential ESCP MiF students.
"The academic background is very important, and so are their professional intentions," Hélène says. "We need to know what they did before and what they want to do next–it has to be coherent."
She stresses that successful candidates must have some prior knowledge of the finance sector–whether they are fresh out of their undergraduate studies or returning to education after experience in another industry–and must convey this during the interview.
"It's important for students to stay honest during the interview," says Hélène. "Show motivation and ambition and be ready to answer some technical questions relevant to the experience you already have."
The major barrier to enrolling in the ESCP MiF is that you'll need to be a fluent French speaker, so if you're less confident with your language skills you may want to apply elsewhere.
But if you do successfully apply, you'll be joining a program which gives ample international experience with a program balanced equally between the UK and France. This allows you to put your newly learned skills and knowledge to the test in two of the world's biggest financial markets.
Along with the relatively low tuition cost and strong track record for securing employment for graduates, the ESCP MiF is a good choice if you're looking to land a top finance job after graduation.
---
Next Read:
Top Masters In Finance Jobs | JP Morgan, McKinsey & More