Live Updates: Coronavirus Impact On Business Schools
What is the impact of coronavirus on business schools? We bring you the latest updates including campus closures, changes to MBA admission requirements, and more
Summary
Latest features:
With a converted passenger plane and a useful MBA network, ShieldWear co-founders and MBA students, Jayne Lawson and Claire Blumenthal, are providing PPE to care homes and corporates in need

COVID has accelerated many trends in business, and is set to permanently change certain industries. Ignacio de la Vega, dean of EGADE Business School, believes b-schools must adapt and drive change

A master's degree doesn't just lead to top jobs at private companies. We spoke to two graduates from Bocconi University, now working in the public sector using their master's to impact society

COVID-19 has forced master's students to take up virtual internships this summer, but does the experience give you the same benefits as working in an office?
These London Business School MBAs Launched A PPE Startup To Combat COVID-19
As the world ground to a halt due to coronavirus lockdowns earlier this year, Jayne Lawson and Claire Blumenthal were just getting started.
With their final MBA term at London Business School (LBS) disrupted, they quickly turned their attention to supplying reliable, certified, and cost-effective personal protective equipment (PPE) to care homes and corporates in need.
"In the first week we were starting the business, I had this advanced corporate finance exam on the Friday. I was in the US and Jayne was in London" explains Claire.
With the help of an expert team, not to mention a commercial plane-turned-PPE-freighter, Jayne and Claire's company ShieldWear has gone from a bright idea to a successful business venture in just three short months. Currently, the number of masks they've sold increases 50% month over month.
They've already helped carers and residents stay safe during coronavirus. Now, with several million high quality masks and respirators in stock, Claire and Jayne are scaling up the operation to help businesses get their employees back to work safely.
The pair credit their success to the lessons learned and connections made during their MBA.
---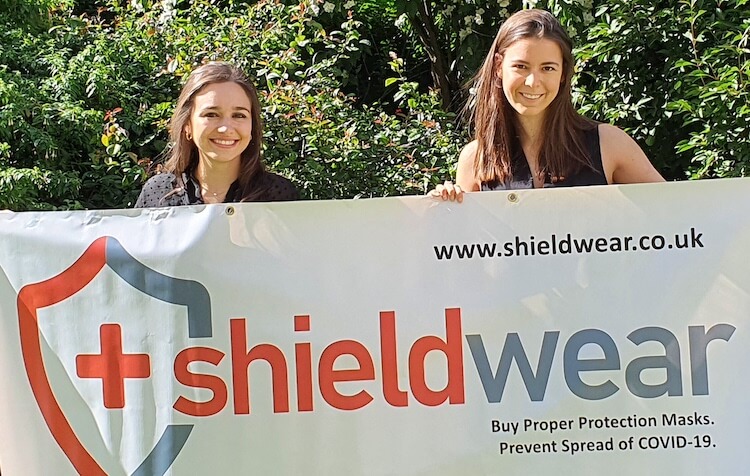 ---
Learning the ropes at London Business School
Before business school, Claire had experience as a consultant in the e-commerce and retail sector, but was keen to gain more entrepreneurship experience.
Jayne has a background in finance, but had already begun to pivot her work towards startups before her MBA. "My passion has always been growing businesses," she says.
Alongside their professional experience, they both credit their MBAs for helping get their company off the ground. "ShieldWear is a global business," explains Claire. "So it's been really helpful to have done case studies of worldwide businesses at LBS, as well as to have collaborated with international peers, who all have different backgrounds and working styles."
The pair first discovered they'd make great partners when they met in a class which challenged them to start their own company from scratch.
"The courses at LBS were great hands-on experience, teaching us different frameworks that we could use to shape our business model, as well as how to build and grow a team," says Claire.
When launching ShieldWear, they were also able to lean on the LBS alumni network in order to gain vital insights about the industry they were going into.
They also used their personal networks to get in touch with importers who had decades of experience in procurement from China, as well as legal experts with knowledge regarding due diligence processes for assessing the quality and safety of the products they bought.
---
---
Turning a business idea into reality
The pair put the speed of their success down to three key elements, which they strongly recommend to any other aspiring entrepreneurs in the current climate.
Firstly, they tried to identify what the future may look like, and how they could help.
"At the beginning of COVID-19, people were a bit stumped," says Jayne. "When the world changes, industry changes, but I think in those sorts of environments there's actually a lot of opportunity."
Secondly, they thought innovatively. The pair evolved their business goals as the demand for PPE expanded; they took risks. It was this attitude that helped them problem-solve, even in a global crisis, leading to creative ideas like adapting a commercial plane into a freighter when normal procurement processes were disrupted.
Finally, they built a strong team. "You've got to hire the right people, leverage their expertise, and give them an opportunity to make a real impact," Jayne explains.
---
---
What's next for ShieldWear?
As much as we may wish the opposite, Jayne and Claire say COVID-19 isn't going anywhere for the foreseeable future. Even if it does, the post-pandemic world will be more hygiene-conscious and PPE is a new market businesspeople will have to familiarize themselves with.
"As soon-to-be business school graduates, we're keen to help companies get their employees back to work safely," says Jayne. ShieldWear is now expanding to corporate clients as well as launching an online store for small businesses to buy direct.
"We've also refined our procurement and due diligence work," she adds, noting that it's not just PPE that businesses need, but access to trusted guidance on what kinds of PPE products are most suitable for the workplace.
A key part of their business plan is in going this extra mile to advise, not just supply their clients, and it's this factor that's leading the rapid growth of their company, with an expanding list of customers and repeat orders.
What else lies ahead for the pair? Ideally an MBA graduation ceremony, though it may be mortarboard plus mask this year.
---
Read more stories of MBAs who've started their own businesses
EGADE Dean: Business Schools Must Act To Combat COVID-19
COVID has accelerated many trends in business, and it is set to permanently change certain industries. Ignacio de la Vega, dean of EGADE Business School, believes b-schools must adapt and drive this change.
We're facing the worst economic recession in history. But Ignacio de la Vega, dean of EGADE Business School in Mexico, says the disruption caused by COVID-19 should be viewed as an opportunity for change.
Business schools, he says, should lead the way in developing future leaders who can combat some of the challenges presented by COVID-19.
"Problem-solving is at the heart of innovation, and crises present the conditions for innovators and entrepreneurs to tackle the many challenges that we face," he says.
"Business schools are key to understanding these challenges and developing the leadership capabilities to respond to them effectively."
---
Turning students into responsible leaders
Business schools, often depicted as leadership factories, are the starting point for many business leaders, and are therefore well positioned to instil responsible values.
The trend towards responsible management has been growing for years, but COVID-19, Ignacio says, could act as the catalyst to accelerate this trend. Responsible leadership is bound to become a necessity, not a leadership choice.
"Our societies and organizations need and deserve transformational leaders who can bring the communities together, promoting inclusion and a sense of belonging, but also capable of creating meaning out of the crisis, reimagining the future, and communicating it effectively to the shareholders," he explains.
EGADE is ahead of the curve in actively driving forward responsible, people-driven leadership. The Center for Conscious Business for a Sustainable Future drives a people-centric approach which runs through the programs at EGADE. It emphasizes the belief that strategy should put the responsibility for employees, clients, communities, supply chains, and providers at the center of any business.
In this sense, Ignacio sees his graduates as 'omnipreneurs': "Leaders who create shared value and transform society."
---
Making an impact through technology
Technology has already significantly changed the way business is conducted over lockdown. This trend is likely to continue, as many businesses continue to adopt a flexible or remote working environment.
But more than that, technology will also become an important tool for making a social impact, and b-schools ought to recognize this.
Technology has for some time been perceived as a differentiator—disproportionately benefiting developed countries— and Ignacio firmly believes that it could now be used to widen impact across the world. From climate-led innovation, to widening access to education, healthcare, and other human rights, technology has the potential to create far reaching positive change.
"Technology can also enhance human potential and can create opportunities. To address this challenge, we must prepare leaders to be agile and take risks in new forms of endeavor that we cannot imagine today."
"Business school graduates will obviously need to deeply understand technology, but, above all, have the skills to leverage its benefits to create a more sustainable future."
Business schools should prepare their graduates to become technologically-literate leaders. Artificial intelligence, data analysis, and blockchain, among other technologies, will become as important as traditional business school subjects like marketing and accounting.
EGADE's focus is on imparting skills that complement technology, which makes them irreplaceable by machines. Ignacio lists some of these qualities: "Creativity, critical thinking, teamwork, civic responsibility, ethical and human values, resilience and adaptability, emotional intelligence."
---
Keeping the MBA relevant post-COVID
One thing Ignacio is confident in is that the demand for business education will remain consistent. But schools need to adapt their offerings to meet the needs of students.
As international mobility remains uncertain, digital learning, Ignacio anticipates, will become a permanent fixture in b-schools' curricula. He expects digital learning to go even further than just remote classroom settings, shepherded in by what he dubs "the democratization of technology".
"Remote teaching and online education are not the real digital education, or at least they do not develop the complete potential of digital education. Digitalization, hybrid education, and lifelong learning will become the new normal."
In a rapidly shifting business landscape, are traditional skills going out of date? Ignacio believes they're still important, but instead the focus should be on "competencies", not skills. Competencies such as resilience, managing under uncertainty, collaboration, agility, and communication.
Given business schools' strong position to create transformational leaders, driving change and having impact relies on keeping business education relevant.
"In this uncertain and volatile context, business schools are more relevant than ever," Ignacio says. "They are key to understanding these challenges and developing the leadership capabilities to respond to them effectively, as they are committed to prepare the next generation of leaders with the knowledge, competencies and attitudes that are required to shape the future."
COVID Test Centers To The Federal Reserve: How A Master's Degree Can Help You Transform Society
A master's degree from a top business school will almost certainly pay off in terms of salary. MSc in Management graduates from Bocconi University in Italy earn $85k on average three years after graduation. But another way to measure success is through your social impact.
Elena Falcettoni and Maria Vittoria Gronchi are two women for whom social impact is part of their everyday life. Elena is an economist at the US Federal Reserve, researching how policy can improve access to healthcare, while Maria Vittoria is the director of the COVID testing centers at New York City Health & Hospitals, reporting to Mayor Bill de Blasio.
Both have an advanced skill set and practical experience from their master's degrees at Bocconi University, programs which they credit to getting them to where they are today.
---
Maria Vittoria Gronchi | Director of COVID Testing Centers, New York City Health & Hospitals
---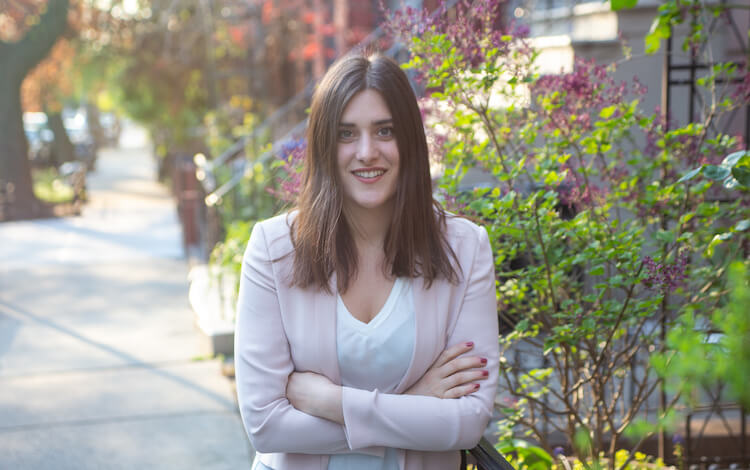 ---
Five years ago, when Maria Vittoria had just graduated from her bachelor's, she couldn't have predicted what lay ahead. Global pandemics aside, she couldn't decide which direction she wanted her career to go in.
"I've always been ambitious but value-driven, and want to make a difference in people's lives," she insists.
She'd majored in economics, and had an analytical background, but realized she desired more of a managerial competency in order to lead effectively. She was also aware of not limiting her opportunities.
"I was looking for something that could open as many doors as possible in a field that I knew I was interested in," Maria Vittoria explains.
The MSc in Economics and Management of Government and International Organizations at Bocconi stood out for this reason. It allowed her to delve into different aspects of public sector roles and decide where she wanted to carve out her career. It also offered the opportunity of a double degree, enrolling in a Master of Public Administration (MPA) at the State University of New York (SUNY) in Albany, New York.
It also helped show her the opportunities that were out there. In many of her classes, she met and listened to alumni from dozens of backgrounds across the public sector. "It really helped people like myself who didn't know exactly what I wanted to do."
---

---
Finding the right path to make a difference
From the get-go, Maria Vittoria's professors were indispensable in helping her identify her ambitions and achieve her goals.
"In the first month, the director and career service would sit with every one of us and ask us about our goals, and advise us about all the opportunities that would be best for us," she explains.
This quelled a concern that many students like Maria Vittoria had: that your opportunities in the public sector are far more limited than in the private sector.
Healthcare emerged as a key interest for Maria Vittoria. "On the one hand, healthcare is a human right, and we take it for granted, but we shouldn't. On the other hand, I come from a country where there are universal healthcare services, but we know that these systems have significant problems."
Following her dual degree master's, including a year spent in New York doing her MPA, Maria Vittoria set about finding the right role in public health. This included stints at the New York State Assembly, at the mayor's office, before moving to New York Health & Hospital.
All these roles had one thing in common—"critical thinking"—a skill she credits to her master's. "Bocconi really taught me how to solve problems, with limited resources and time."
No truer has this been than in her current role as director of COVID Test Centers in New York, which in April 2020 emerged as the epicenter of the coronavirus outbreak in the US. It's a rapid, ever changing environment which has forced Maria Vittoria to be agile. "News emerges everyday that could change your entire plan."
But her master's and her experience has taught her not to be paralyzed or overwhelmed by the problem, but to do something about it, something she hopes to bring back to Italy one day. "Many young folks complain about politics, but not many people want to build the competencies you need to get there and make a difference. I felt like I didn't want to complain, I wanted to do things to make a difference."
---
Next Page: Elena Falcettoni, Economist at the US Federal Reserve
---
Elena Falcettoni | Economist at the US Federal Reserve Board of Governors
---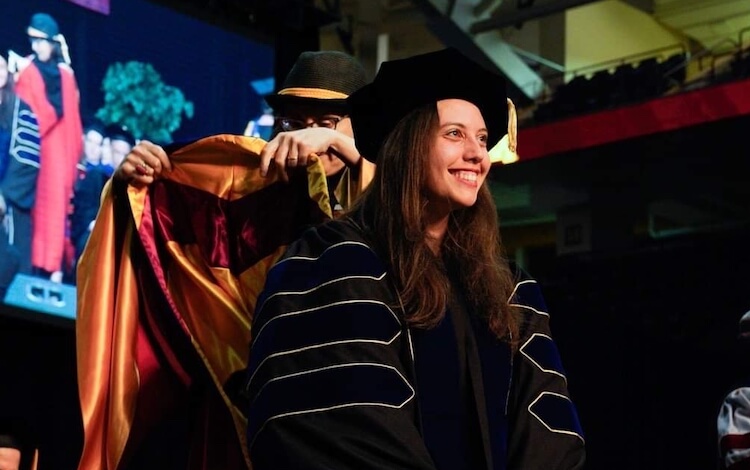 ---
Given Elena's foundation in finance, many might have expected that she'd pursue a career at a top investment bank.
She tried it out, with in-company training at Deutsche Bank and BlackRock, but she soon realized that she craved something that played more to her strengths.
"Investment banking was interesting but felt a bit repetitive, and it wasn't about creating knowledge. I realised that I wanted to use the tools and training I had for something else," Elena reveals.
While doing her MSc in Finance at Bocconi, she was keen to broaden her outlook, and set about exploring the other opportunities that lay ahead for her.
Elena was exposed to a highly international MSc in Finance program, which deepened what she already knew about finance. "You get trained as a person who is in an international program, and not as a person who should go straight to the closest bank and work there. The mindset from the get-go is that you are a citizen of the world."
It also motivated her to drive changes in areas of finance that she wasn't happy with, namely the gender imbalance in the industry. At Bocconi, she co-founded the Women in Business Association, which still exists to this day.
"This came out of a desire to create a community for women, which would bring together great role models, showing the many different paths and fields of business, and letting women network with one another so they can know what opportunities lay in front of them."
---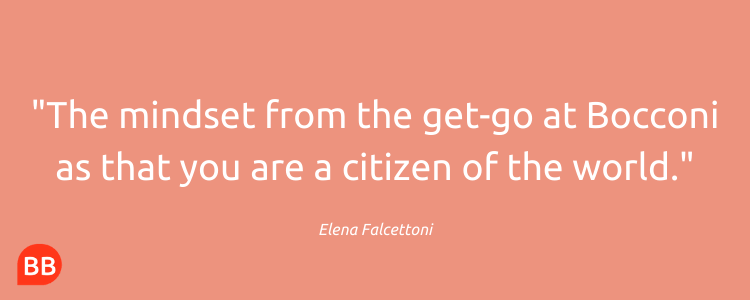 ---
From a PhD to the Federal Reserve
Approaching the end of her MSc in Finance at Bocconi, a PhD in the US beckoned, and Elena was keen to put some of her knowledge and skills to good use.
The analytical and practical mindset that she had built at Bocconi helped her to make this transition. "The MSc in Finance at Bocconi is very quantitative. That's one thing that you really need for a PhD in economics."
Her PhD focused on industrial organization and health economics—"Using structural models of supply and demand to analyse how specific health markets work."
This led her to her current job at the Federal Reserve Board of Governors, where she is continuing her research as an economist, hoping to implement policy which could impact access to healthcare for millions.
Her research is looking at the shortage of physicians in rural areas in the US, and how to use financial incentives to try and address this imbalance. "Physicians are high income people, so they really like living in places with better amenities. That's what it came down to—a trade off in the mind of the physician."
Real life problems require practical solutions. One of Elena's biggest takeaways from Bocconi was that any theorizing has to be backed up by action.
"My MSc in Finance was very practical, and it's the same kind of idea of using very quantitative tools to address real life issues," she says. "As an applied economist, that's what I'm still doing, just at a higher level."
The Value Of Remote Internships During A Global Pandemic
With the global spread of COVID-19 disrupting companies, changing travel plans, and forcing thousands to work remotely online, what kind of work experience is available this year?
At Cranfield School of Management, internships are offered as part of the Management MSc program. Hannah Piazza, the school's internship and project manager explains master's students' internships haven't been as impacted by social distancing measures as you might think.
"They're still working on the same things they would have in the office. And they're actually gaining additional skills when learning to work online as part of a team, and building their networks," she says of the school's shift to a virtual internship model.
Hannah's job at Cranfield is to navigate 'the new normal', ensuring the school's master's students are still able to benefit as much as possible from the various internships on offer, and to support them throughout the summer months when the internships take place.
The coronavirus pandemic has seen some companies scale back their hiring plans, making getting real-life work experience during your business master's all the more important.
So, are remote internships worth it?
---
Introducing

:

V

irtual internships
While the pandemic has shaken up the traditional internship model, the opportunities for work experience are still there, Hannah says. Even before COVID-19, Cranfield offered internships where students work on company projects online.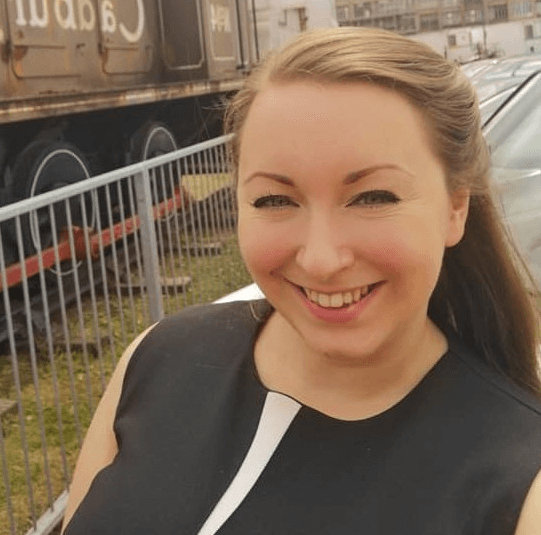 Remote work means you aren't bound by your geographic location––you could apply to a top tech firm in the US or a consultancy firm in China, provided you were able to work with the time difference in mind.
For local companies working in tandem with Hannah, the pandemic required some reframing, as these placement options weren't initially designed for online. "Because no one anticipated COVID-19, we had to go back to the drawing board and rethink how remote internships could benefit our students," she explains.
"Now, our remote internships are almost identical to if they were in an office," she continues, "but instead of having a physical desk and meeting rooms, they use Zoom or Teams."
The shift to online hasn't impacted turnout for these virtual internships either. "We're working with a lot of online retailers, digitized companies, and tech startups that are all keen to take on interns in a remote capacity from Cranfield," Hannah says.
Students enrolled on internships are expected to dedicate their thesis––which makes up 40% of their overall grade––to a project they undertook at the company they worked for.
---
What's the virtual internship experience like?
MSc in Management student at Cranfield, Roisin Christodoulou (pictured), is almost midway through her three-month internship with London-based robotics and AI company, BotsAndUs.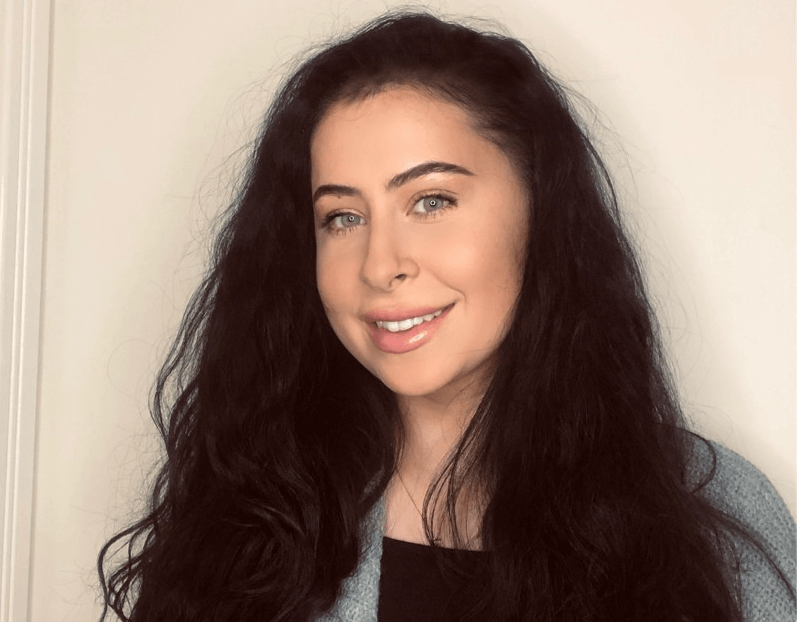 As a social media manager, she's creating a social media marketing plan for the company to use going forward, introducing the company to new online platforms.
Roisin applied for the role because she was interested in robotics and AI and wanted to see what marketing opportunities there could be for her in the sector.
Drawing on the theory she's learned throughout her time at Cranfield, she's been able to introduce new topic areas for BotsAndUs to consider when marketing their products. Cross-cultural management, for example––the importance of having a diverse workplace and advocating for diversity on public platforms.
When her three months are up, Roisin will be expected to write her thesis on the overarching project she has been working on for BotsAndUs, integrating her practical skills with the theory she learned in the classroom.
"Creating content is harder because I'm not in the office. I can't take photos of videos of people at the company for the social media," Roisin explains. But the virtual internship experience has taught her the importance of adaptability, and how working as a team transcends face-to-face communication. Through technology, we're more connected than ever before.
Roisin has been in regular contact with Hannah, as well as members of the BotsAndUs team, and has been enjoying putting her theoretical knowledge to the test. She's been learning a lot more about the robotics industry, she says, and wants to continue pursuing marketing and social media management in the industry going forward.
"I hadn't known that robotics has such a stronghold in Europe," Roisin adds. "It's a really interesting field to market."
---
Is a

virtual

internship

worth it?
While some things can't be recreated in a virtual environment, real-time work experience is essential, regardless of whether it's completed online or offline.
Even when offices re-open, remote internships will likely remain. As well as giving companies a wider talent pool to choose from, they give interns more international options too.
"[The virtual internship] has been given a great opportunity to prove I can put together a marketing plan by myself and present it to a company," Roisin concludes. "And it's giving me the experience and confidence I need for my future roles."