Live Updates: Coronavirus Impact On Business Schools
What is the impact of coronavirus on business schools? We bring you the latest updates including campus closures, changes to MBA admission requirements, and more
Coronavirus: Business Schools Relax MBA Admissions Requirements
March 25 Roundup
---
Wharton MBA Admissions office extends application deadlines
Wharton has announced it's extending its Round 3 and Advance Access deadlines in order to provide applicants with more flexibility amid the COVID-19 outbreak. The new Round 3 deadline is on Wednesday April 15 and the new Advance Access deadline is on Wednesday May 27.
This announcement follows changes to Wharton's admissions requirements last week––you can now submit applications without having sat for a standardized test if your booked test was cancelled or you could no longer travel to the test center amid social distancing rules.
---
Who is Stanford MBA Rishi Sunak?
Son-in-law of an Indian billionaire, Stanford MBA alum, and the UK's new chancellor heading up the battle versus coronavirus—Who is Rishi Sunak? Find out here.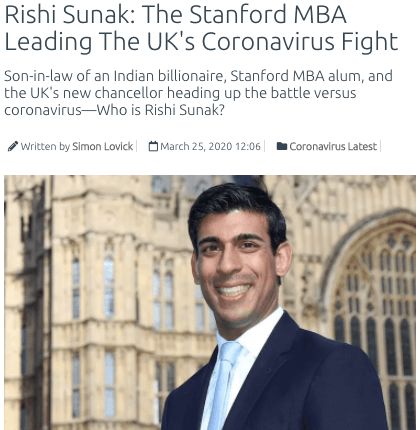 ---
CEIBS reduces MBA program length to 16 months
As schools elsewhere prepare for the worst, CEIBS, in China, is prepping for a future after coronavirus. The start of the 2020 MBA program has been pushed back to October 12. The length of the program will be reduced from 18 to 16 months, although the school says the student experience will remain the same.
In addition to the Round 3 application deadline on March 25, CEIBS have also introduced a Round 4 deadline on May 13, with decisions due by June 10 2020. Candidates can also apply without GMAT and GRE scores, with conditional offers made on the basis of taking an admission test at a further date.
---
University of San Francisco Moves Campus Online
---
Emory's Goizueta Business School extends application deadline
Emory University's Goizueta Business School is extending its application deadline for the One-Year MBA program to April 15 2020. Admissions for the two-year program have been extended until July 1 2020. The school is waiving fees for the remainder of the application cycle for candidates applying for the fall 2020 program start, and has also designed a free Coronavirus-tracking app for students.
---
---
The reality of studying remotely
Imperial College Business School student Sofia Skevofylaka is enrolled on the MSc in Innovation, Entrepreneurship, and Management program and is due to finish in July. However, following the COVID-19 outbreak, she returned home to Greece and is now studying online.
"People started to get scared. I was living nearby in Imperial's student accommodation and I had a contract to stay until August. But I prefer to be with my family. It is one less stress," she told The Financial Times.
"It is a bit weird to have to now look at everyone's faces on the screen. When we attended lectures on campus, we didn't look at each other as much as we do on Zoom, but the school has shown how it can be used to complete all of our coursework."
She has since work with her classmates to present a start-up pitch as part of her entrepreneurship module, proving that modern technology is making the transition to online much easier.
---
Rishi Sunak: The Stanford MBA Leading The UK's Coronavirus Fight
Rishi Sunak is the name on the lips of millions of UK citizens at the moment.
He's the British Chancellor of the Exchequer, the second-in-command to UK Prime Minister Boris Johnson, and is the man responsible for all matters of economy and finance. This is the latest role in an illustrious career that has taken him from Goldman Sachs to a Stanford MBA.
Recently, he's the face behind the radical economic measures being taken in the UK to tackle the potentially colossal impact of coronavirus on jobs and businesses.
But before February 2020, very few in the UK would have known who he is. So who is Rishi Sunak, and how has he pulled off this meteoric rise from an MBA at Stanford to the top of the UK government?
---
From humble beginnings to a Stanford MBA
---
Born in the UK in 1980, Rishi is the son of first generation immigrants from India to the UK: his mother a pharmacist, his father a general practitioner, whose parents had emigrated from Punjab in the 60s.
He was head boy at Winchester College, one of the UK's most prestigious high schools, before being whisked off to study politics, philosophy, and economics (PPE) at the University of Oxford.
At the young age of 24, Rishi was granted a Fulbright Scholarship—a revered cultural exchange program—and switched the UK for California to go and study an MBA at Stanford Graduate School of Business.
As for many, his MBA was a formative part of his education, and formed his first steps into a financial career that would see him work as an analyst at Goldman Sachs, a hedge fund manager at The Children's Investment Fund Management, before setting up his own hedge fund with former colleagues.
---
READ MORE: What You Need To Know Before Applying To The Stanford MBA
---
---
More than just an MBA
---
Rishi's MBA turned out to be more than just a degree from the world's top ranked business school: it was where love first blossomed for him. It was on the Stanford MBA where he met his future wife, Akshata Murthy.
Akshata's career is equally as impressive as her husband's. On top of her MBA, she runs her own fashion label and is a director of a venture capital firm.
She is also the daughter of N.R. Naranya Murthy, an Indian billionaire and co-founder of Infosys, an IT consulting multinational.
---
WATCH: Coronavirus Update | Applicant Bulletin
---
---
A career in politics
---
Rishi first made his way into politics in 2015, when he was elected for member of parliament (MP) in Yorkshire in the north of England, replacing former Conservative Party leader William Hague, also the holder of an MBA (his was from INSEAD).
He'd kept a reasonably low profile, before being thrust into the limelight in February 2020, when he was announced as the new Chancellor in Boris Johnson's government.
His relative anonymity raised questions about his suitability for so senior a position in politics. But he's now garnering recognition and praise for his response in the face of the economic crisis following the coronavirus shutdown.
He announced that the government had made £330 billion ($392 billion) available for businesses facing bankruptcy or collapse, and that the government would start paying up to 80% of the wages of those who had lost their jobs. In his words—"unprecedented measures for unprecedented times."
Time will tell whether these measures will navigate the UK through the current economic storm. But anyone else who has experienced a turbulent first month in a job will sympathize with the challenge that lies ahead for Rishi.
---
Next read: 5 MBAs Who Have Changed The World
---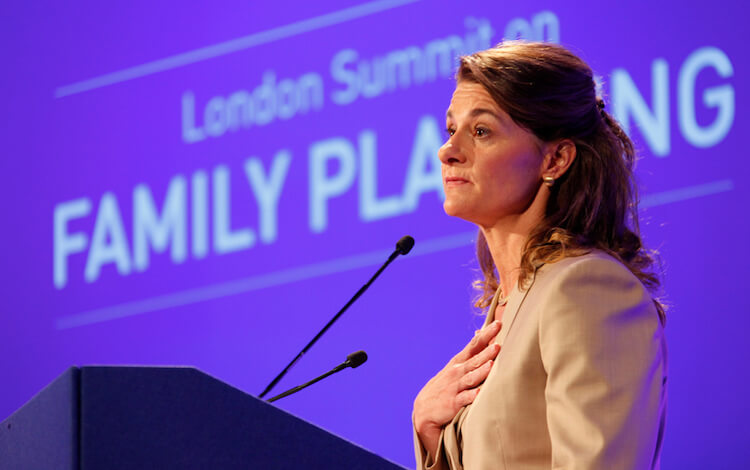 ---
The header image in this article was sourced from this page under this license.
Coronavirus: US Business School Professors Pen Letter To Congress
March 26 Roundup
---
Professors from major US business schools sign open letter to Congress
President Trump has announced Congress would be budgeting $2 trillion to mitigate the economic impact of the Novel Coronavirus outbreak, supporting large corporations––such as airlines. In a live webinar to discuss why these financial academics penned the letter, professors from Stanford GSB and MIT Sloan voiced their concerns for the taxpayers who would have to foot the bill.
Stanford GSB professer, Anat Admati, calls it a "deeply misguided policy".
"Bailing out corporations is actually bailing out investors," her colleague, Jonathan Berk, explains. "Taxpayers are subsidizing investors."
The open letter has been signed by over 150 leading economists and business school faculty all over America.
---
EDHEC Professor hosts online plank-off!

---
Imperial's Sustainability Conference moves online
Imperial College Business School is virtually hosting its annual conference for the first time. Beyond Sustainability: Radically Rethinking the Purpose of Business includes the following key speakers:
Mike Coupe, CEO of Sainsbury's
Keith Tuffley, Global Co-Chair, Sustainable Banking & Corporate Transitions group at Citi
Katie Brewis, Head of Sustainability at Google EMEA
Andrew Jack, Global Education Editor at the Financial Times
---
Darden introduces additional flexibility to admissions process
The University of Virginia's Darden School of Business is introducing more flexibility for candidates applying to the Full-Time MBA program starting in 2022.
The school has now transitioned to rolling admissions until July 15 2020 for final rounded applications. Due to disruptions to standardized testing facilities, Darden will now accept an expanded set of testing credentials––such as undergraduate entrance exams.
"Our message to prospective students is one of caring and flexibility," says executive director of admissions Dawna Clarke. "We know how stressful applying to business school can be in the best of times; in a time of unprecedented disruption, we stand ready to work with applicants to make this process as flexible as possible."
---
UNC Kenan-Flagler Business School debates the knock-on effects of COVID-19 pandemic
The Kenan Institute of Private Enterprise at UNC Kenan-Flagler Business School recently hosted a panel of their faculty experts to share their thoughts on the COVID-19 pandemic that is rocking the global economy. The conversation that took place is recorded and available.
They focused on:
Working while sick and stressed
Global economic and financial market implications
The nation's 'working poor' and how this impacts them
Managing personal finances
Infrastructure and procedures to keep operations running while prioritizing employee safety.
London Business School Alum Heads Up Anti-Coronavirus Effort
March 27 Roundup
---
LBS Alum Heads Up OECD Efforts In Tackling COVID-19
Laurence Boone is chief economist for the Organization for Economic Co-operation and Development (OECD) and an alumnus of London Business School (LBS).
---
---
"As the virus spreads around the world, co-ordinated and synchronized monetary and fiscal action will become more and more important," Laurence warns.
---
Staying connected in a pandemic according to EMERITUS
Global online education company, EMERITUS, is reaching out to business schools around the world to offer advice as they move all content and resources to online platforms.
---
---
"The good news is that online training can deliver learning outcomes, while providing the human connection, engagement, interactivity, and flexibility that learners need today," says senior director of enterprise, Jawahir Moraji.
"To help institutions think through the challenges and opportunities inherent in online education, we are sharing guidance from our talented team of learning professionals," Ashley Chiampo––senior director of learning––adds.
---
Google moves summer internship program online
---