In our modern world, one of the most fundamental elements of any business is its IT resources, and the people that make them tick.

However, it can be hard for professionals on the business side of things to communicate effectively with their IT counterparts, and vice versa.

Could it be that doing an MBA as an IT professional is the solution?

Mani Teja Noone certainly thinks so. From India, he attained his bachelor's degree in computer science and engineering, before beginning a career in IT. After a few years however, he began to feel short-sighted.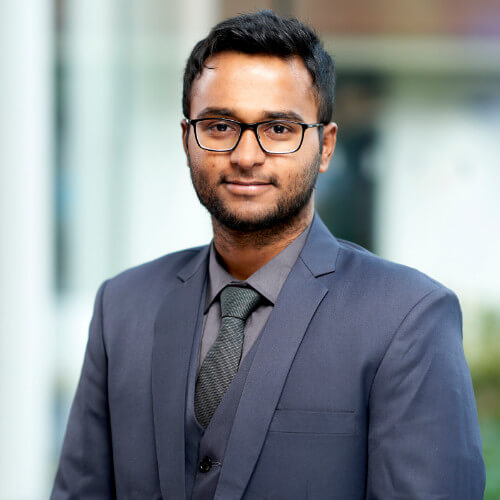 "In my professional journey, I've gained knowledge on different technologies and their usage, but I wasn't sure about the business aspects and opportunities," Mani (pictured right) explains.
He set out to learn more. The MBA program at Aston Business School seemed the logical next step.
Now planning to shift his career into consulting and project management, his time at the business school has given him the perspective and wider understanding of the business world he sought.
We caught up with Mani to find out more.
---
Why did you decide to study an MBA?
I was always tech savvy, which is why I chose to do my bachelor's in computer science and engineering before going to work for an IT multinational company. I found that from working at a company like this I developed a real interest in how companies make themselves profitable.
An MBA degree was the solution. It would help me to gain a greater understanding of business and to shift my career towards business and company management.
From my perspective, an MBA is not just a degree. It teaches you the life cycle of money and how to generate it.
---
Why did Aston Business School stand out to you?
The Aston MBA provides a practical approach to all course modules, which most universities don't. Only 1% of all business schools are triple accredited which makes Aston Business School pretty rare.
For someone trying to decide where to study, this really proved the quality and standard of the programs they could deliver.
Aston Business School also has a small intake each year, which makes students feel comfortable that they will have plenty of time with the faculty members to ensure they get the most out of their degree.
I was also particularly struck by the mentor-mentee program that Aston offers, where a mentor will be assigned to each student according to their career interests. I found this really complemented the various career planning resources available as a part of the Aston Edge module. It enhances the job searching opportunities no end.
---
What has been your biggest takeaway from the program?
My main takeaway has been to always consider multiple perspective in business to succeed.
You need to be led by the customer and be ready to adapt at any moment. Furthermore, you must always follow product innovation to have the advantage over competitors.
---
How is the MBA enhancing your career?
I have planned to shift my career into consulting and project management, for which a knowledge of business modules is vital.
Having worked for an IT firm and now also having an international MBA degree, I can see so many opportunities opening for me.
In the long term, I intend to own my own business. But for now, in the short term, I wish to work as a consultant for a multinational corporation.
The MBA has really complemented my tech skills, and I hope during my career I will be able to utilize the two and identify business opportunities within technology platforms.
Related Content: