For every 100 men promoted and hired to management positions, only 72 women are promoted and hired.

Progress for women in business is constrained by what McKinsey calls the 'broken rung'. The biggest obstacle women face on the path to senior leadership is this initial step up from entry-level position to manager. With fewer women making that first step up, the number of women who reach senior leadership roles is subsequently impacted.

An MBA degree, however, can help open doors for women in business. Over 40% of women CEOs of S&P top 500 companies have an MBA.

The number of women applying to MBA programs has increased in recent years, as MBA programs offer women opportunities for salary increase and promotion that might be hard to find otherwise.

Evren Apaydin and Sarah Buschmann, graduates from the MBA program at WHU Otto Beisheim School of Management, have both been entrusted with roles at the top of their respective companies. How did an MBA help them get there?
---
Evren Apaydin, from trainee teacher to head of sales
---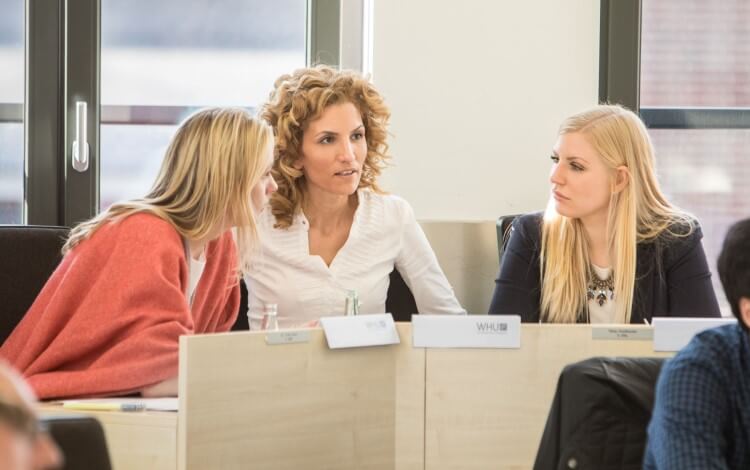 Evren Apaydin (center): "You learn to succeed and fail together as a group—that's hugely important in the workplace."
---
A month after graduating from the Part-Time MBA at WHU in February 2019, Evren Apaydin was hired as head of sales for Mobile Business Engine, a mobile payments platform in Germany.
However, just eight years ago she was training to be a teacher. It's a change that would've seemed unimaginable back then. After completing a Master's in Education, she opted to make a bold leap, joining a growing startup.
Unearthing a passion for business, over the next five years she'd develop industry expertise working for several different companies in the sector.
"But without broader business knowledge and the right leadership qualities, changing industries or moving into higher management positions was just not an option," she says.
That was the motivation Evren needed to join an MBA program.
"I was searching for a program with a global reach, but still based in Germany," she says. After speaking to a business partner who'd previously gone to WHU, Evren enrolled on their part-time MBA program.
"The learning style was critical for me. With a teaching background, I knew it was important for a business school to have the right methods in place."
---
The Birkman method at WHU
WHU's Part-Time MBA runs an integrated personal leadership module throughout the duration of the program. It runs parallel to core modules in finance performance, strategy, and operations.
Early in the module, students at WHU use the Birkman method personality test to form an analysis of each student. Developed by organizational psychologist Roger Birkman, it measures motivations, behaviors, and interests.
"Having a diverse group of smart students give you feedback was really helpful in discovering my strengths and key areas to improve on," Evren says.
Right now, during the coronavirus pandemic, Evren is faced with tough business decisions almost every day.
"On the program we were always learning how to manage difficult situations from a leader's perspective. I learned that to be a good manager, it's not about having a solution to every single problem.
"It's about getting the best out of a team and making sure you're focused around a common goal. You learn to succeed and fail together as a group—that's hugely important in the workplace."
---
Sarah Buschmann, digital strategy director at Virgin Media
---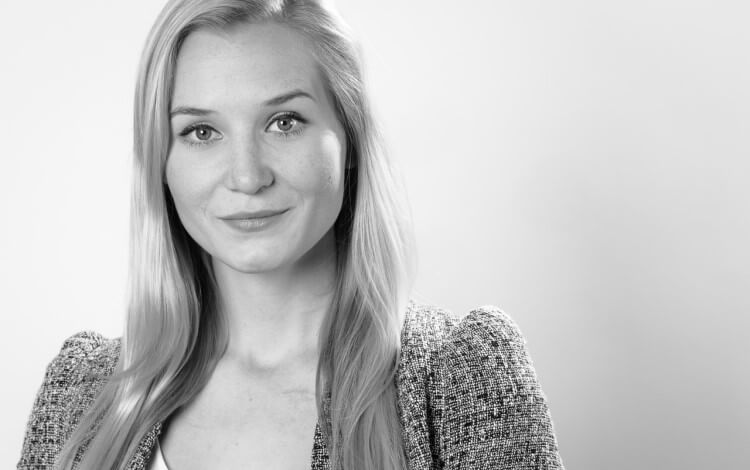 Sarah Buschmann: "The MBA creates a level playing field"
---
Sarah Buschmann is at home in Germany under current coronavirus lockdown rules. Under normal circumstances, she'd be in Virgin Media's West London office.
As digital strategy director, Sarah is tasked with overseeing the company's ongoing digitization process. Joining the team just five months ago, she's already making an impact.
"In every change there are push-backs of course. You come in as an outsider and all of a sudden you're changing very traditional processes," she says.
Looking back, Sarah is grateful for the lessons learned on her MBA.
"I always knew I wanted an MBA. I wasn't interested in theory-based master's programs, I wanted to learn practical skills and knowledge," Sarah says.
She enrolled on the Full-Time MBA back in 2015, and for her, choosing WHU was straightforward. "I always knew about WHU, it's one of the best business schools in Germany."
---
Personal development and leadership
For Sarah, learning to be a better leader isn't something that can be directly learned from course material. "Sure, you can learn about the different style of leadership, but the most important thing is learning about yourself.
"Before the MBA I didn't feel too open about sharing that. But I found that developing that trust to open up meant I learned a lot about myself," she says.
Throughout an MBA, you're pushed out of your comfort zone. Whether that's new modules in economics or a tough a case study, it's likely you won't always know the answer.
Performance is therefore dependent on the team around you to solve these problems.
"It means you really have to rely and trust on them. You have to be one team. That really shaped me as a leader and has really helped in my new job," she says.
---
"The MBA creates a level playing field"
Overcoming the 'broken rung' isn't going to be easy. Sarah knows that creating equality in business and breaking through the politics needs sustained effort. But at business schools, things are going in the right direction.
"The key for growing the right leaders, regardless of gender, age, or background, is about creating the environment to individually develop. The MBA creates a level playing field," Sarah says.
On the Full-Time MBA at WHU, 48% of the most recent cohort were women, and Sarah thinks this is giving women an equal chance to grab opportunities. At WHU, graduates earn on average $125k three years after graduation.
"It's about giving women the same opportunities. You still have to work hard, but it's there if you want it!
"If you take that mindset into the world of business, you can do the same. Coming from an environment with that sense of equality lets you project that confidence into the workplace."
---
You may be interested in: How MBAs Are Creating Opportunities For Women In Business
Related Content: