Corporate marketing is big business. The world's top companies dedicate billions of dollars every year to their marketing efforts—Coca-Cola, for example, spent a whopping $5.8 billion on marketing in 2018.
It's an industry that attracts many MBAs each year. Of prospective Full-Time MBA candidates, 29% intend on pursuing careers in marketing, according to the Graduate Management Admission Council (GMAC).
For those interested in pursuing a marketing career, the Full-Time MBA at the Terry College of Business at the University of Georgia offers a concentration in corporate marketing. We spoke to two graduates about how it launched them into lucrative roles.
---
Crystal, brand manager for Diet Coke
Crystal Ivey is a brand manager at Coca-Cola working on its Diet Coke brand. It's a role that seemed unimaginable to her a decade ago.
Back then, Crystal was working as a case manager for families in need of government assistance. She completed undergrad degrees in marketing and finance, but after graduating in 2009, struggled to find the right marketing role amid the global recession.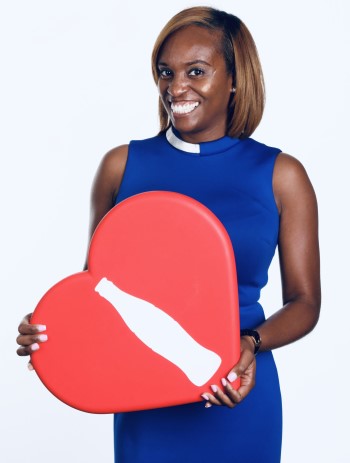 "After three years as a case manager, I knew I still wanted to be in business marketing," Crystal says. "I felt the best way to jump-start that was to go back to school and get my MBA."
Crystal chose Terry for her MBA knowing it offered a curriculum on par with other big-name universities. With a lower tuition rate than many of those schools, she realized the Georgia MBA offered a potentially great return on investment.
Enrolling in the MBA marketing concentration path means the modules were tailored correctly for Crystal's career ambitions.
"The unique thing about marketing is the balance between finance and art," says Crystal. "It requires an understanding of hard skills like accounting, alongside a more creative approach to problem-solving."
After completing her Georgia MBA, not only was the job market stronger, but Crystal's position was stronger, too. She started a role at P&G as an assistant brand manager in 2014, and two years later landed a job at Coca-Cola.
Now managing teams of people, Crystal leads cross-functional projects, where she collaborates with partners such as Sprite and Fanta. It requires the cooperation and leadership talents she developed in the Georgia MBA program.
Crystal and her classmates are now part of UGA's deeply rooted global alumni network.
"To this day, we're still connected," Crystal says. "It creates a long-lasting network where you see your peers all blossoming through their careers. You'll always have that nucleus."
---
Noah, senior brand manager at E.&J. Gallo Winery
---
For Noah Winterer, senior associate brand manager at E.&J. Gallo Winery — the largest exporter of Californian wines, with $6 billion in revenue — the route to the top was similarly driven by the Georgia MBA.
After starting his career with the American Red Cross, Noah got involved in its brand marketing and, like Crystal, "fell in love" with marketing. He was quickly promoted to a senior role, but after spending four years in the job, he became intrigued by the possibilities of a wider corporate position.
"The more I did it, the more I felt I was ready for a pivot away from non-profit to for-profit," Noah explains. "That's when an MBA starts to make a lot of sense."
The cost of the Full-Time MBA for non-Georgia residents at Terry is $35,000—more affordable than most traditional big-name US business schools.
"Georgia stood out as unique when I was searching for schools," Noah says. "I loved the small class size and the location, but also, when you look at the ROI, I realized the quality of education versus the cost couldn't be beaten."
For Noah, the MBA acted as a career accelerator. While some candidates look to change industries or roles, career accelerators are looking to expand on their existing skill set to get their foot in the door at larger, more prestigious companies.
"The MBA helped to really fill out my toolkit," Noah says. "As well as getting a solid understanding of accounting, finance, and operations, the program gave me the broader skill set required of a brand manager."
The professors in Terry's marketing concentration come from brand management careers, contributing specific expertise, and know-how. Networking with these faculty, as well as alumni, presented an invaluable source of knowledge.
"The alumni network is robust and tight-knit. Whenever I reached out to alumni, they were always so willing to donate their time and help me out," Noah says.
During the program, Noah completed an internship at E.&J.—a chance to see how the company worked, and undoubtedly influential in landing the job. Starting full-time right after graduating, he is now a senior brand manager.
"The MBA opened so many doors and connections that I wouldn't have had otherwise," Noah says.
Day-to-day, he manages the partnerships for the spirits side of the company. Managing key relationships, such as New Amsterdam Vodka's official partnership with the NHL, Noah oversees high-profile collaborations.
Noah recognizes there is still much to learn, especially as marketing is constantly evolving to accommodate and predict the latest trends. Like Crystal, though, he'll always look back at the Georgia MBA as the springboard for further stretching his career and opening the door to an indispensable alumni network.