2020 has been a year of disruption. The coronavirus pandemic has accelerated the shift toward remote working and digital transformation, while prompting consumers to think differently about their buying habits.
According to a recent McKinsey report, many organizations have accelerated digitization projects by three to four years.
In this uncertain landscape, business schools have an important role to play: equipping leaders with the skills they need to grasp the new opportunities arising.
In Singapore, Nanyang Business School (NBS) has been empowering future business leaders with the relevant knowledge and tools to embrace the technological revolution, create positive impact and excel in Asia and beyond.
Situated within the tech and innovative ecosystem of Nanyang Technological University, Singapore (NTU Singapore), the school is well-placed to leverage technological innovation in a business setting.
Most graduates of the school's flagship MBA program—the Nanyang MBA—go on to work in disruptive industries like technology (22%), finance (20%), and retail or e-commerce (15%), according to the school's latest careers report.
To find out what the current disruption means for businesses, we caught up with three prominent NBS alumni who shared their insight on the opportunities that have emerged in response to coronavirus:
---
1. Unlocking the power of data
---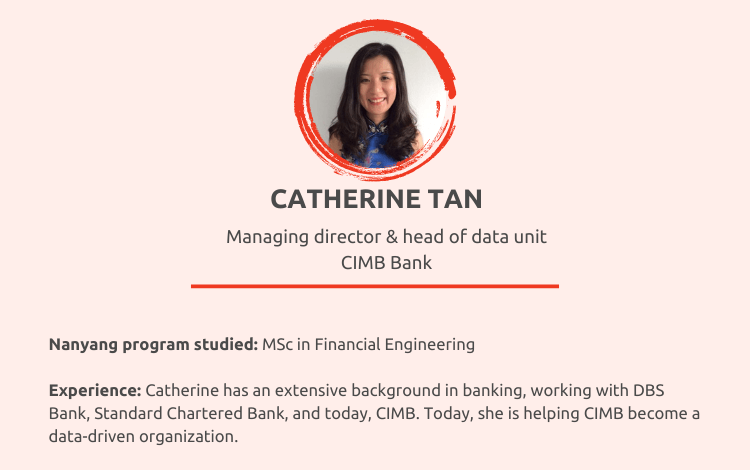 ---
By 2025, the World Economic Forum predicts that humans will create 463 exabytes of data each day—the equivalent of over 212 million DVDs. As companies continue to capture this data, they face the challenge of working out how to use it.
For Catherine Tan, managing director and head of the data unit at CIMB Bank, this is the most important opportunity brought out by the accelerated digitization of 2020.
"A lot of the time, people may be a bit daunted by data analytics, but it's essentially just pulling together the data, understanding trends, and trying to get some value out of that," she explains.
Catherine graduated from NBS' MSc in Financial Engineering in 2002. She was drawn to the innovative nature of the program, she recalls, which combined computing, mathematics, and finance.
"NBS had real foresight teaching these skills together so early," she reflects.
The program strongly emphasizes data analytics and gave her the opportunity to develop the analytical skills she has brought to the financial world.
"In my industry, we always talk about knowing your customer," says Catherine. "And data can tell us a lot about someone's lifestyle and choices."
---
2. Supporting continuous learning
---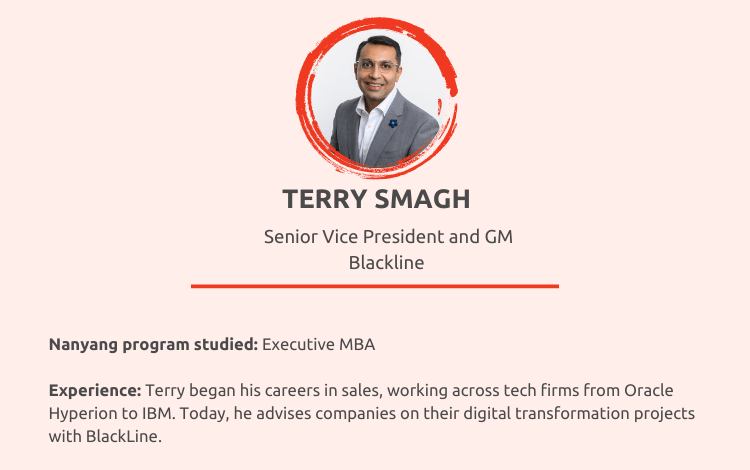 ---
As the pace of technological development continues to accelerate, the only constant is change. To succeed in this climate, organizations must be agile and adaptable.
Terry Smagh, senior vice president and general manager at cloud-based finance software firm, BlackLine, believes that lifelong learning is necessary to keep up. Implementing this learning is a key opportunity for business leaders.
A recent IBM report predicts that more than 120 million workers in the world's 12 largest economies will need to be retrained in the next three years.
"Today's disruption is really about us wanting to do three things," Terry reflects. "We must learn, un-learn, and re-learn, as we adapt to new technology and up-skill ourselves."
Terry is an alumnus from the Nanyang Executive MBA program, graduating in 2015. As a passionate lifelong learner himself, he used the qualification to structure his learning, and tap into a global alumni network that would allow him to learn even more from other leaders, while sharing his own insights.
This diverse, global network has offered Terry ample cultural insights, which come in useful when working on digital transformation projects for companies around the world.
Positioned in Singapore—known as a meeting point for Eastern and Western business—NBS makes an ideal training ground for leaders who must navigate between cultures.
Terry has taken this attitude of learning from others forward in his current role—helping organizations automate financial processes like accounting.
"I think this disruption today—even putting the pandemic aside—is a good moment for us to look at what we'll do differently going forward," he says.
---
3. Championing sustainability
---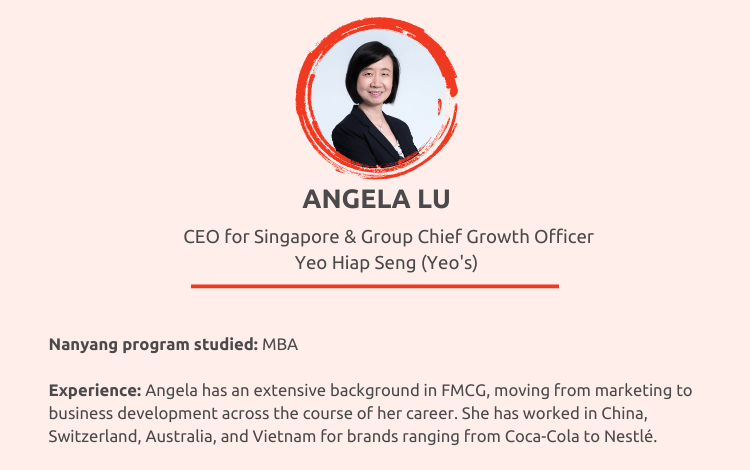 ---
Balancing transformation and training goals with sustainability is another crucial opportunity for today's business leaders.
New limitations on travel and remote working practices have resulted in an 10% global drop in global energy demand, and a simultaneous increase in demand for renewable energy. Many people have taken these unexpected lifestyle changes as an opportunity to reassess their environmental impact.
Even as restrictions ease, consumers are keen to make sustainable decisions, explains Angela Lu, CEO for Singapore and Group Chief Growth Officer (CGO) at food and beverage giant, Yeo Hiap Seng (Yeo's).
"We face the challenge of becoming more sustainable," she explains. "You need durable packaging for food, but you also need to be aware of its environmental impact, and research more sustainable options."
Angela graduated from the Nanyang MBA program in 2006 and used the leadership insights she gained to pivot from marketing to more strategic roles.
MBA students at NBS have ample opportunities to grow as leaders, through courses like Corporate Governance and Ethics, which highlight the ways that business leaders can be more purpose-driven.
From the program, she learned to always keep a finger on the pulse of customer demand.
"Often the people who work for you interact with your customers every day, and have the most insight," she says. "Their ideas can be better than those from people in leadership positions."
Applying this insight to her work with Yeo's has helped Angela stay abreast of shifting consumer desires through strong communication with her team.
"My time in the Nanyang MBA really shaped how I see things, and how I interact with different people," she concludes. "These are core skills I continue to use every day."