If you're planning to study a graduate business degree, you may be considering heading to Europe.
It's the second-most popular location globally for prospective business students after the US, with students drawn to Western Europe because of its degree affordability, culture, and influential global cities.
One European country offering valuable opportunities to graduate business students is the United Kingdom. But which cities should you be eyeing for your MBA experience?
BusinessBecause consulted the Complete University Guide to find the top cities for an MBA in the UK. In these nine destinations, you'll get to study a top-ranked MBA degree while enriching your experience with culture and history.
---
1. Cambridge
The University of Cambridge Judge Business School ranks 2nd in the UK in the Financial Times MBA ranking and attracts students seeking an intensive degree with robust personalization options.
For example, students can choose concentrations such as digital transformation, energy and environment, and social innovation. You'll also participate in three team projects and one individual summer project in 12 months, giving optimal opportunities to test your skills.
Cambridge is a highly student-friendly city with a diverse population: just over 40% of the city's population was born outside of England, with many people hailing from India, the US, and China.
2023/2024 MBA Fees: US$81,400
---
2. Oxford
Like Cambridge, Oxford is known worldwide for the prestige of its university. The University of Oxford Saïd Business School ranks 3rd in the UK for its MBA program, according to the FT, which focuses on building critical thinking skills and turning students into global leaders.
To imprint these skills on students, the Oxford MBA curriculum is built around global challenges. The interactive module 'Global Rules of the Game' looks at national laws, climate change agreements, and international trade and prompts students to ask how governments create business laws.
Oxford is an equally multicultural city with a strong connection to the arts and sciences. While studying for an MBA, students can visit museums and galleries associated with Oxford colleges, including Modern Art Oxford and the Ashmolean Museum.
2024 MBA Fees: US$90,100
---
3. Bath
---

Bath is a picturesque city known for its centuries-long history, including the world-famous Roman Baths. But the city is also an ideal location for MBA students, owing to its prestigious university.
The University of Bath has been crowned University of the Year by The Times and Sunday Times Good University Guide 2023 and it is one of the world's top 150 universities according to the QS World University Rankings 2024. Taught in its School of Management, Bath's MBA program focuses on intimate, personalized learning; there are just 45 students in each MBA class.
Instead of a dissertation, students on the Bath MBA complete the Multi-Project Suite, a group of four immersive projects. These include a consulting challenge, an entrepreneurship project, working on a change initiative, and a complex business challenge. These projects allow students to flex their skills in natural environments, providing a solid foundation for graduate work.
2024 MBA Fees: US$47,650
---
4. London
Two London business schools appear on the Complete University Guide ranking: Imperial College London and University College London (UCL). Both institutions are situated in the city's heart, and MBA students will experience the wealth of cultural and career experiences available in Europe's biggest city while studying.
The Imperial MBA blends traditional MBA knowledge with skills for modern leaders. Core modules include business analytics, innovation, and entrepreneurship and CSR. An international experience complements campus teaching, which takes students across the world to discover different economies and meet local organizations.
The UCL MBA, meanwhile, has been designed as both an in-person and online experience. The program focuses on building data-driven leaders, with core modules based around data analytics, decision-making, and strategy, and the year ends with an immersive capstone project.
Imperial College London
2024 MBA Fees: US$78,400
University College London
2024 MBA Fees: US$54,200
---
5. Loughborough
Loughborough University is known for its research and study of sports science, which feeds into the Loughborough Business School MBA program's core leadership modules. The degree aims to equip students with the skills to realize their professional ambitions, with an additional focus on becoming socially responsible leaders.
The MBA program is triple-accredited, and students can also opt for a two-year MBA that includes a year-long internship experience. Regardless of the program type they choose, students have opportunities to work on practical projects with actual companies and take part in an international study experience.
Loughborough is a highly affordable city, yet it's also just 90 minutes from London. As a result, MBA students can explore lucrative internship opportunities in the UK's capital and spend days off exploring iconic sights.
2024 MBA Fees: US$40,800
---
6. Durham
---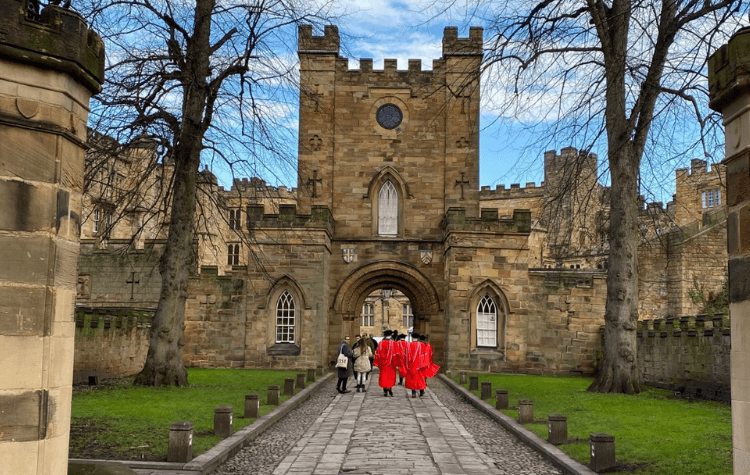 Durham University regularly features in top 10 UK university rankings, and its MBA program is no exception. The Durham University Business School MBA is in the top 80 in the world, despite being in one of the UK's smallest cities.
Students can choose from three specialized pathways on the Durham MBA: entrepreneurship, consultancy, and technology. These pathways will shape your MBA experience and allow you to gain practical skills for a relevant career.
All students, no matter the pathway they choose, can also participate in the Boardroom Exercise. This immersive experience enables students to debate the concepts they've learned over the year with actual members of a senior management team in an organization.
2024 MBA Fees: US$44,600
---
7. Lancaster
The MBA at Lancaster University Management School combines standard taught modules with regular practical challenges to help put your newly-acquired business skills to the test. Plus, you'll form strong relationships with your professors and peers thanks to small class sizes.
As well as classroom-based challenges, students on the Lancaster MBA also participate in regular work placements throughout the program, organized by the department. These include a group placement with an SME and a six-week consultancy project over the summer.
Lancaster University is ranked in the top 10 universities in the UK and situated on a green campus just outside the historic city of Lancaster. However, students can also take advantage of Lancaster's location to explore Morecambe Bay, the Lake District, and the vibrant city of Manchester.
2024 MBA Fees: US$33,800 for UK students, US$45,900 for international
---
8. Coventry
Warwick Business School regularly ranks among the top business schools in the UK and globally. The school has built a particular reputation for its immersive online MBA, but its also known for its rigorous full-time MBA program, which aims to turn students into 'Change Makers'.
As part of this process, students take part in various immersive experiences. These include two client projects with real business and an optional elective international trip. Another important element of the program is the LeadershipPlus module, where students can learn hands-on leadership skills during a live business project.
Warwick Business School is located on the University of Warwick's expansive campus just outside Coventry. You're ideally situated between London and Birmingham: both major economic centres with a wealth of graduate opportunities. You're also very close to Shakespeare's birthplace in Stratford-upon-Avon.
2024 MBA Fees: US$63,700
---
9. Edinburgh
---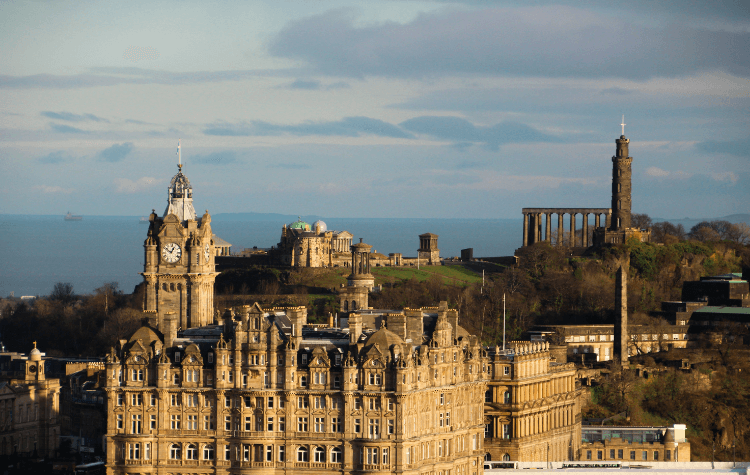 The only city outside of England on this list, Edinburgh earns its spot. A hub of arts and culture with a burgeoning science and technology industry, students flock to Edinburgh to experience its history and sights and take advantage of career opportunities.
The MBA at Edinburgh Business School has three main focuses: strategic leadership, professional development, and personalization. The MBA cohorts are as small as possible so students can get plenty of support with their studies and career development, and strategic thinking is embedded in every elective.
There's also the option to follow an MBA with Exchange program at Edinburgh Business School. Students on this curriculum will spend the second semester abroad, exploring international business and studying at a rigorous partner institution.
2024 MBA Fees: US$49,000
---
(Fees will fluctuate according to the exchange rate.)