Van Le arrived in Australia as an 11-month-old refugee from Vietnam. She travelled by boat. Based in Perth, her family struggled in her early years. "I grew up hearing my parents fighting about money," she recalls.

In the face of adversity, Van Le would go on to complete degrees in economics and law, and work in consulting and analysis roles for "the Australian banking regulator and companies like Optus, Serco, and UNSW.

When she entered the MBA (Executive) program at the Australian Graduate School of Management (AGSM) at the University of New South Wales in Sydney, she was ready to pursue her defining career goal.

Van Le co-founded the Australian neobank Xinja after completing her EMBA in 2013. A neobank is a completely digital bank built from the ground up, specifically designed to work on mobile platforms and typically with their own banking licence. Xinja is one of the first neobanks in Australia and part of a growing family of disruptive digital banks including Atom Bank, Monzo, and Starling.

The relationship between a traditional bank and a customer is "at best transactional, and at worst adversarial," Van Le explains. With Xinja, she wants to help widen access to banking and give people easy, enjoyable, ethical and educational ways make the most out of their money.
---
A personal mission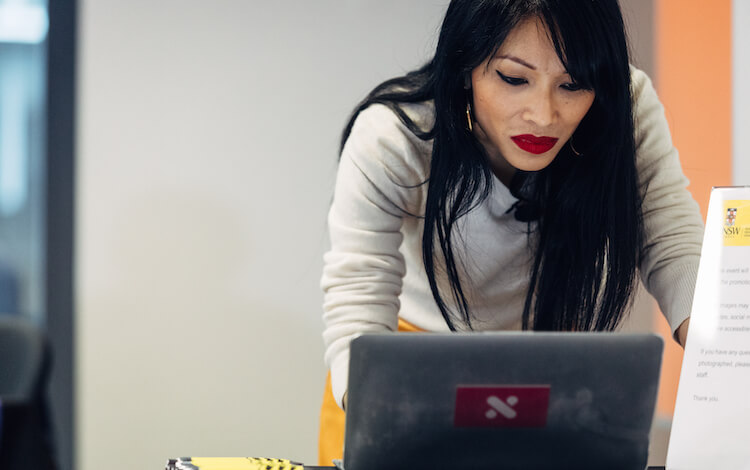 For Van Le, the key to being a successful entrepreneur is to have a purpose bigger than yourself.
"Always be learning and putting learnings into action," she says. "Keep iterating; the job is to get to the next step, and then the next, then the next.
"Focus on making progress and being prolific over perfection. Being curious is more important than being correct."
In search of progress, Van Le decided to pursue an MBA (Executive) in 2009, eager to widen her network and connect with other like-minded individuals—"particularly women," she says.
The flexibility of the EMBA degree—allowing professionals to study part-time and apply learnings immediately in their jobs during that time—has seen its popularity grow. According to data from the Graduate Management Admission Council (GMAC), between 2017 and 2018, 50% of EMBA programs globally reported growth, compared with 32% of full-time, two-year MBA programs.
The part-time format is also well-suited to female entrepreneurs and businesswomen combining a hectic work schedule with family life—Van Le had her two children while studying.
Living and working in Sydney, Van Le joined forces with Eric Wilson, who came up with the original idea for Xinja.
Eric's father-in-law had enjoyed a successful career as a bank manager, working across regional Australian towns and building close relationships with his clients. Thinking up Xinja, Eric longed to return to a time when banks and bankers were trusted; when people turned to them for advice and guidance, rather than fighting against them.
Van Le saw in Xinja an opportunity to work with the latest in financial technology—fintech—and to leverage technology like artificial intelligence to help people make smart decisions about their money. And Eric's mission resonated with her own.
"I saw Xinja as an opportunity to make new financial choices and experiences available to everyday Australians," Van Le says.
---
Banking revolution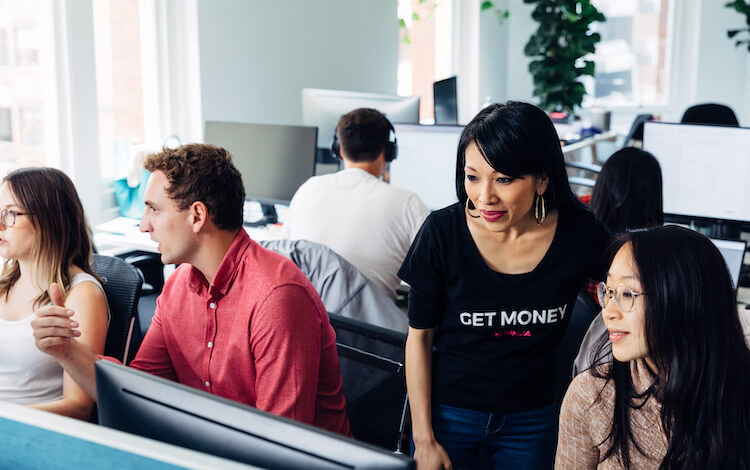 While Van Le had over five years of work experience beforehand, she says her EMBA experience has made a massive contribution to Xinja's success.
AGSM's EMBA class of 2018 have an average of 11 years' work experience between them, across industries including banking and finance, consulting, and technology. They're 64% male and 36% female.
Working on group assignments during her EMBA, Van Le says she built close relationships with her classmates. After the EMBA, those relationships continued. She made herself available to help her colleagues in areas which tapped into her expertise, and vice versa.
"Those colleagues became supporters of my desire to work for myself and turned into early clients because they already knew the quality of my work," Van Le explains.
"Ultimately, the EMBA provided a useful way to think about leadership, culture, and organizational design as you grow a business from an idea to a small team," she continues. "Knowing the unique challenges at each stage meant always being ahead of the game and being prepared for what was ahead."
Xinja was created in 2017. Although the company is still young, it's growing at a rapid pace, and will soon offer transaction and saving accounts, personal loans, and home loans to its customers—a part-traditional mobile banking app and part-money management system.
Van Le's childhood mission has always stayed at the forefront of her mind. Going forward, she wants to see Xinja make a positive financial wellbeing impact for people across the globe.
"Ultimately, our data and technology can enable the underbanked to access financial services that can consequently break the poverty cycle and enable people to create better futures for their families," she says.
"If our services can make a difference to the stress and anxiety of money on families, and enables just one child to grow up without hearing their parents fight over money, I'll feel that we've done something worthwhile."
Related Content: