Claire Horton understands the value of pets to a family home. As well as having three dogs of her own, Simba, Pilot, and Archie, Claire is CEO of one of the UK's biggest animal charities, Battersea Dogs Home—who care for over 7,000 animals every year.

Given the success of Claire's career in the the non-profit sector, it may surprise you to hear that Claire never studied for a bachelor's. Halfway through her career, she decided to study for an Executive MBA at Warwick Business School, and she credits the program with elevating her career to the highest level. This dedication has even recently resulted in recognition from the Queen.
---
"Putting the theory behind the practice"
For Claire, social purpose is the driving force in her career. It has defined her work, and from an early stage she began amassing experience in the charitable sector.
"I'm an ethics and values driven person," Claire explains.
Claire worked her way up to managerial roles at NSPCC, and then as a director for Cats Protection UK. By 2006, she'd moved to a position as chief executive for the University of Warwick's student union, another non-profit.
Claire's managers were dealing with complex operational problems, and Claire found this was a penchant she shared. A "turnaround practitioner", Claire began creating cultures to implement new business strategies—bringing people together to work cohesively.
By her late thirties, Claire had already carved a successful career, with senior management experience at some of the UK's largest charities—so why was she considering going back to business school?
"The reason I considered the Executive MBA was to put the theory behind the practice," Claire explains. "I'd worked in organisations where we'd ensure operations ran fluently, but I wanted to understand the modelling behind this. Was I doing it right, and how could I improve?"
Claire was keen to understand the processes behind the business models not only to fill in her learning, but to better prepare her for implementing new management models at future organisations.
After considering her EMBA options, Claire's existing work with the University of Warwick made Warwick Business School a natural fit. Once she was enrolled on the Executive MBA program, Claire found she was able to tailor it around her values and her business interests.
"Working towards social purpose is my chosen professional sphere," Claire explains. "Being able to take lessons on social impact and shared values into the large corporates I've worked at has been really useful."
Corporate social responsibility modules gave her the opportunity to pursue her main area of interest—social purpose—anchoring the EMBA to her charity work.
"The EMBA has taught me how to lead teams of people to help them become more ambitious and start becoming innovative," Claire says.
---
The journey to CEO of Battersea Dogs Home
After graduating from WBS in 2008, Claire had a successful stint as CEO of the Variety Club children's charity, before landing the role at Battersea.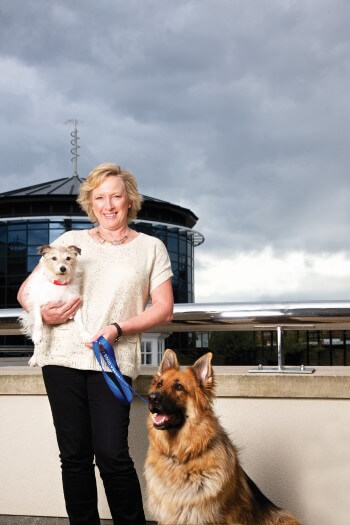 One of the UK's forefront animal charities, it was turning over $13 million a year when Claire took over in 2010, but had a $2.5 million operating deficit. It was another turnaround project for Claire.
"There was no question about the great people working there," Claire says, "but they didn't have the right shared objectives and motives—how do you get those people together to create a sustainable future and extend our reach?"
Changing the fortunes of Battersea, then, presented a complex challenge. Claire explained how the skills she honed at WBS—in culture development and strategic leadership skills—informed her process.
"It developed a resilience in both me and the organisation by putting in place capacity—ensuring we have the right enablers to implement the right strategies," says Claire.
Alongside her role at Battersea, Claire also juggles governmental work. Working as a non-executive director for the Animal and Welfare board—part of the UK government's Department of Environment, Food, and Rural Affairs (DEFRA)—she works on wider national issues and has lobbied successfully for major legislation change.
It's a challenge that melds her passion for social purpose with bringing people together. It's something Claire recognizes from her EMBA program, where students come from existing managerial backgrounds, from diverse industries.
"Being able to take modules with people from so many different backgrounds helped me think differently about how I do business," Claire explains.
Claire is often invited to either Warwick or their London base at the Shard to deliver lectures on topics like strategic leadership.
"One of the great things about these discussions is the things I learn from the current EMBA students," Claire says, "It's a two-way experience and I'm still learning from WBS now."
---
Recognition from the Queen
Over the decade that Claire has been at the Battersea helm, she has overseen year on year growth. The turnover has grown from $13 million to $54 million a year. Battersea has also gone global, after launching the Battersea Academy—a professional development center for animal rescue and re-homing, which has been attended by over 50 countries to date.
Claire received a CBE in the Queen's 2020 New Year's Honors list—an accolade recognizing Claire's many years of hard work in the charity sector, and the positive impact it's had on society.
"I was absolutely thrilled that my work with the organisations was recognized," says Claire. "But ultimately it's a collective award for the hard work of everybody I've worked with."
Related Content: