What does sustainable leadership mean? For Tina Hørbye Christensen, CFO and executive vice president at Danish engineering consultancy NIRAS, it's about going beyond financial results and becoming an innovative and ethical business leader.

Simply put, sustainable leadership is about making sustainable business decisions, which take into account the interests of all stakeholders including the environment and future generations.

Leading sustainably makes business sense too. According to McKinsey, companies with sustainable business models can increase their profits by up to 60%.

Since completing her Executive MBA at Copenhagen Business School (CBS), Tina has bolstered her sustainable leadership skills and driven impactful change in her organization.

Here's three ways the Copenhagen EMBA helped her become a sustainable leader.
---
1. Sustainable leaders need to think like EMBAs
During any EMBA program, participants learn to work and think like a generalist. They learn to take a holistic view of a business and are well-prepared to work across industries and functions after graduation in senior leadership roles.
In a sustainable leadership role, you also need to evaluate your decisions and management style with multiple factors in mind, considering both profit and environmental, social, and governance (ESG) priorities.
Previously a finance manager, Tina decided to pursue an EMBA to switch from financial specialist to management generalist and reach higher level management positions.
At CBS, EMBA students learn about all the core functions of a business—including marketing, finance, accounting—as well as topics like digitalization, innovation, sustainability, and reflexive leadership.
Soon after graduating from the program, Tina landed her current role at NIRAS, a multi-disciplinary engineering consultancy committed to sustainable progress and service delivery, which is dedicated to meeting the UN's Sustainable Development Goals (SDGs).
NIRAS has carried out mobility and public transport projects in Scandinavia, designed world-leading sustainable food and beverage plants in Europe, built wind farms in Asia, and worked to secure health, education, and clean drinking water in emerging markets across the globe.
Tina's role at the firm has two main dimensions. Firstly, she is part of executive management, who works to develop NIRAS as a company and workplace.
Secondly, she has a specific responsibility within Finance, IT, HR and Communication, guiding the organization to make informed decisions that benefit the collective and support the wider company goals.
For both roles, she says, taking a holistic view of the organization and the wider business environment is key.
---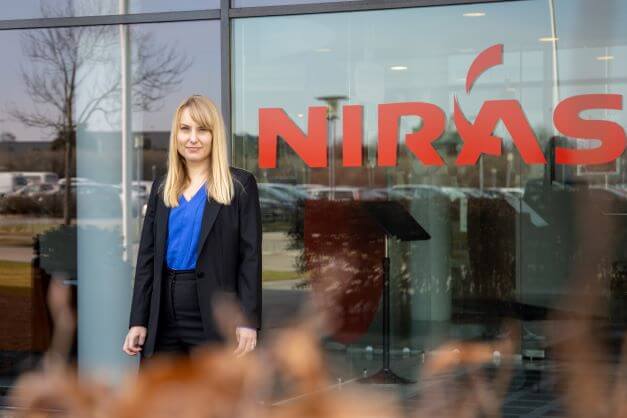 ---
2. Diverse perspectives are crucial for sustainable leadership—and an EMBA provides just that
Sustainable leaders need to take into account the diverse perspectives of different stakeholders, and so having a diverse professional network to tap into is especially helpful.
Copenhagen EMBA students study across six cities spanning three continents, in Copenhagen, London, Frankfurt, Chicago, Mumbai, and Shanghai. Plus, more than 80 nationalities are represented among CBS EMBA alumni, and they work across 60 countries.
During her EMBA, this diversity of Copenhagen EMBA class also taught Tina that organizations need different views, perspectives, and dialogue to find the best solutions and ideas.
"It gave an international perspective which I think is important for a sustainable future. One company or country cannot change the future alone.
"Being forward-thinking means that you can accumulate knowledge from a mix of diverse voices," she continues.
"Responsible leaders should strive for diversity inside and outside their business as it increases the ability to lead well and become adaptable."
Tina's EMBA cohort went to London for finance courses, Uganda for entrepreneurship and innovation, Chicago for marketing, and Shanghai for supply chain management.
To this day, Tina still relies on the diverse global network she's developed for help and advice, from inspiration on generating new ideas to input on recruitment. "Without an EMBA it would have been difficult to establish this reliable network," she says.
---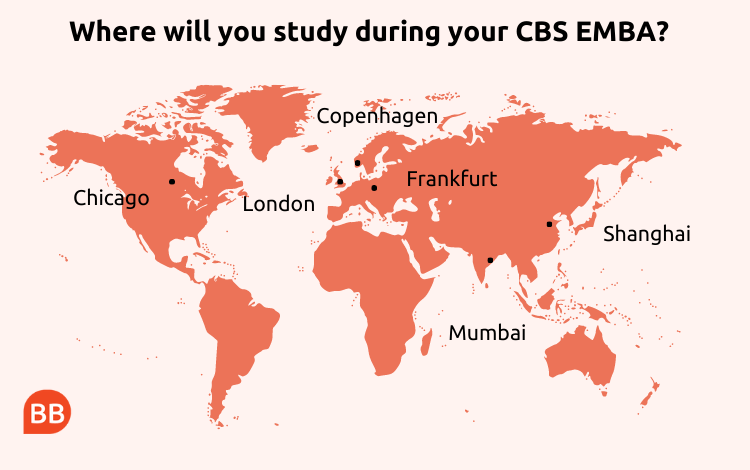 ---
3. Sustainable leadership + Digitalization = Success
It was during her EMBA that Tina was introduced to the ways that sustainability and digitalization can intersect to create a better world.
Programs at CBS are rooted in the Scandinavian leadership model, which is known for its focus on sustainable practices, digital innovation, and its belief that people matter as much as profit. The CBS EMBA also offers four concentrations: Digitalization, Entrepreneurship, Governance & Sustainability, and Finance.
Although these concentrations were introduced after Tina graduated, she was able to study digitalization, innovation, and entrepreneurship, including a Corporate Social Responsibility (CSR) course that made a lasting impression on her.
Tina explains that by using her learnings to digitalize NIRAS' processes, leveraging business intelligence and analytical dashboards, she's now able to make precise data-driven decisions that can help when reporting back to stakeholders across different sustainability-focused metrics.
With her EMBA knowledge under her belt, she's increasingly focused on using business as a force for positive change.
"The value companies create is not only financial for shareholders, but value must also be evaluated based on human and emotional impact, sustainable solutions, and financial impact on communities and families," she says.
"[From the EMBA] I learned that private companies have a huge impact on society and it requires responsibility and investments from private companies to create a better and sustainable future."
Student Reviews
Copenhagen Business School (CBS)
Related Content: