In 2015, Gian Power had everything—a great job at a top accountancy firm, living the corporate lifestyle he had aspired to.
But one day, the awful news arrived that his father had been murdered on a trip to India, and everything came crashing down. His world, and his outlook, had been completely changed. Around him he saw a corporate world in which people, himself included, were hiding their vulnerabilities and emotions.
"I saw that everyone has a story, but no one shares them. They put on a mask in the corporate world," Gian recalls.
TLC Lions, the company Gian founded, aims to change that. Through showcasing inspiring stories, from mental health campaigners to a female boxer, TLC Lions aims, in Gian's words, "to ignite emotion in the workplace through storytelling."
---
Inspired to be an entrepreneur
---
When Gian thinks about where his desires to found his own business comes from, it definitely dates back well into his childhood. Namely, he wanted to emulate his father, who himself was a business owner.
"He never worked for anyone else, and growing up the idea was ingrained, of finding problems, solving problems, working hard with grit and determination."
It didn't take him long to found his own business. At school, he went to watch a theater production, and was disappointed to find afterwards that he couldn't buy a DVD to rewatch it. He set up a business—Zest Productions—of recording and selling these productions on DVD.
A simple problem; a simple solution. But from that point on, Gian was hooked. "I guess really I just loved that buzz of solving problems, and that belief that [through entrepreneurship] you can make the life that you want."
He wanted to find a place where he could explore these possibilities further—and Aston Business School, where he studied his bachelor's, seemed like the perfect place.
He was drawn to Aston primarily for their practical, hands-on approach to teaching. It wasn't all about theory, but more of a real life approach to problem solving and business. He also liked that he could do a language alongside the course, opting for the BSc in International Business and Modern Languages (German).
---
Entrepreneurship as a viable career path
---
What really stood out to Gian, though, was the people and the ecosystem there.
"It was just a culture of people who have really got grit and determination, and I think that's the fundamental values of an entrepreneur."
He got involved in organizations like Aston Entrepreneurs, all of which showed him that his career options were far wider than just the conventional, grad program routes.
This idea stayed with him, even while he was working at Deutsche Bank in Frankfurt during his placement year. Him and a friend would stay up late into the night, sitting in KFC (the only place open at 2 AM in Frankfurt), brainstorming ideas for potential businesses.
"We'd get all the megatrends from around the world, write them out, turn them over two at a time, and we'd just try to come up with a new business idea. For example, it might be 'ageing economy' and 'health and fitness', and we'd come up with a random idea like creating online workouts only for the over 70s."
One idea picked up some traction. Culture Kitchen would bring professional chefs into your home in five clicks, all for cheaper than a meal out. Gian worked on the idea, wrote out a business plan during his final year at Aston, and even found potential funding.
---
TLC Lions—bringing emotion to the corporate world
---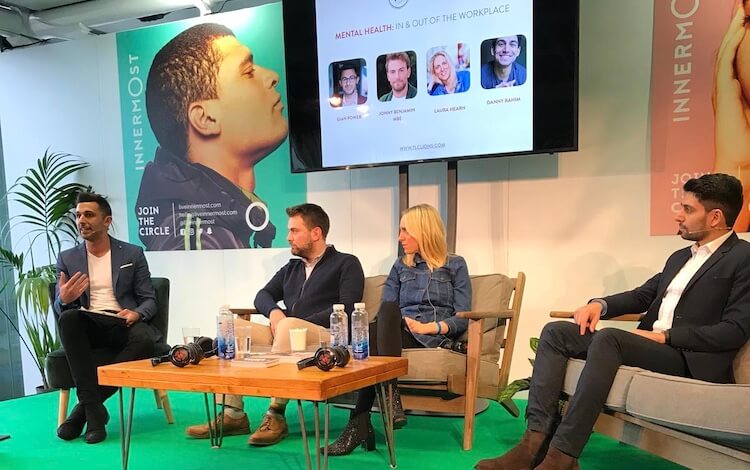 ---
But when it came to the fall after graduation, Gian was starting his job at PriceWaterhouseCoopers (PwC), where he was working in restructuring. He wanted to keep his options open, and also learn more about how businesses work, and more importantly, why they fail.
It was nine months into his job here that the news about his father's death arrived. This is where he started to notice how people repressed emotions and feelings in the workplace, rather than bringing them to the work they were doing.
He set about thinking of ways that he could help to change that. He enrolled at the New Entrepreneurs Foundation, an intensive 12 month training program to help entrepreneurs to get businesses off the ground. A year later, and TLC Lions was beginning to form.
TLC Lions works with 25 speakers from different backgrounds, who call upon their own experiences of struggle and vulnerability, and bring these to a corporate setting. Cathy Brown, for example, one of the first British female boxers, who talks about struggling at a time when female boxing was illegal.
This married up his own experience of the corporate world—what employees wanted to learn and what employers wanted to promote—with his desire to get people to tell their stories.
He believes that vulnerability has such a great part to play in business, and could be a key leadership characteristic.
"I think that, looking at clients we support, when they're more productive, it's when leaders are willing to take off their mask and show their vulnerabilities. If they don't, then people don't follow, and people don't feel empowered to share their stories."
---
Next steps for TLC Lions
---
Gian's continuing to work on developing The Unwind Experience, the other companion business alongside TLC Lions, which brings surround sound meditation into corporate settings.
The COVID-19 pandemic, meanwhile, forced him to accelerate and bring forward the launch of their online product—five 15 minute interviews with their inspirational speakers. The first series launched in March, while the second series will launch in July.
Gian hopes this will extend their reach on a global scale, taking their product and impact around the world.
---
Read More: Why Birmingham Is The UK's Number One City For Entrepreneurs
Related Content: