Jason Lau was a finance veteran when he arrived on the Tsinghua-MIT Global MBA. Over seven years he'd been with Goldman Sachs, Credit Suisse, and BOCOM International. He was after a change though, and it was a dual MBA and Master of Science in Operation Research (MSOR) degree that provided the catalyst for his career as a tech entrepreneur.

The Tsinghua-MIT MBA is delivered by Tsinghua University School of Economics and Management in collaboration with MIT Sloan. MBA students can choose from a variety of dual degree options to complete in their second year, including the MSOR degree at Columbia University's School of Engineering.

Jason says the duality gave him everything he needed to switch out of finance and launch his fashion tech startup, Kalo— he even met his cofounder at Columbia.

Kalo is a social fashion platform for users to share pictures, shop, and earn rewards. Users capture their outfits and share them with the Kalo community. Products are tagged in each picture for easy shopping and inspiration for each person's followers—it connects retailers, influencers, and shoppers.
---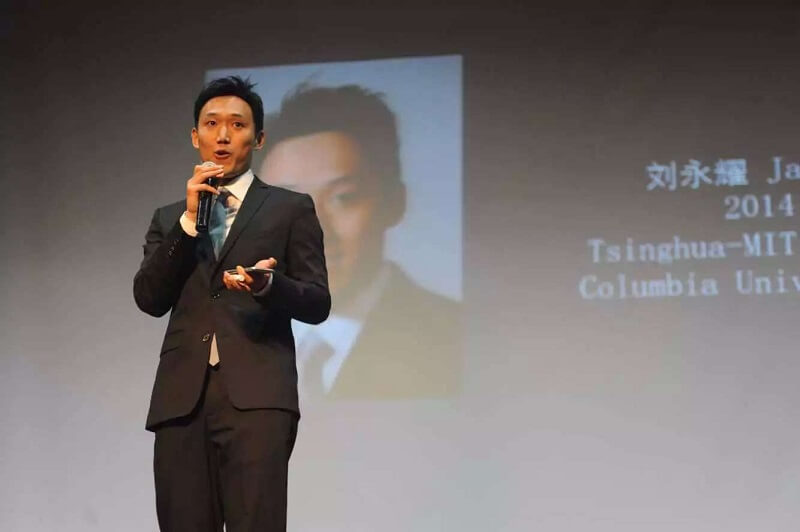 Jason giving a speech to the future Tsinghua Global MBA class
---
Why MBA: Tsinghua School of Economics and Management
Jason spent the first 15 years of his life in Hong Kong before moving to Toronto for boarding school. After completing an undergraduate degree in international relations and economics at Tufts University, Boston, he began his career in finance.
His first position was Goldman Sachs as a portfolio trader. He gained his first taste of international business in that role, moving from New York to Tokyo, and then to Hong Kong. He moved to Credit Suisse a few years later before joining Chinese investment bank, BOCOM International, as head of sales trading. This was right before his MBA.
Jason initially considered a two-year MBA in the US. After deliberation though, he says he landed on the Tsinghua Global MBA; the collaboration with MIT offered the best of both worlds.
"You get an education from a top Chinese university in the most exciting market in the world right now," he says. "Both schools are reputable in the technology space, and the opportunity couldn't really get better than that for me."
Though he is ethnically Chinese, Jason also says he hadn't had the time to live and fully assimilate Chinese culture. Choosing to go to Tsinghua gave him an opportunity to fully immerse himself in the country, to not just learn the ins and outs of business there, but also the lifestyle and the cultural idiosyncrasies.
---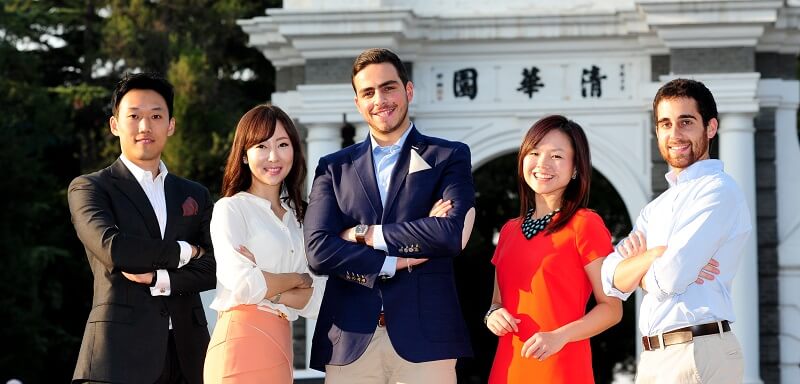 Students from the Tsinghua Global MBA
---
Starting my own business after the MBA
Jason was looking for new career options during the MBA when he set his sights on entrepreneurship and starting his own business. Instead of drawing on his finance experience to launch a career in private equity or venture capital, he wanted to learn about coding and technology, and that's why he chose to pursue the dual degree option at Columbia.
Students on the MSOR focus on mathematical programming, stochastic models, and simulation, through courses in logistics, supply chain management, revenue management, financial engineering, risk management, and entrepreneurship.
Columbia offers concentrations in analytics, entrepreneurship and innovation, healthcare management, and machine learning and artificial intelligence.
Jason says he has always had an entrepreneurial mind—during his finance days in Hong Kong he had even set up his own clothing company, with three physical stores in the city. Though this business was acquired and no longer exists, Jason carried from that experience his passion for entrepreneurship.
He has a habit of writing down all his business ideas, and when at Columbia he shared the idea for Kalo with a few classmates. One classmate in particular—with a pure engineering background and a keen interest in fashion—had his interest piqued. Jason and he became partners and have been working on Kalo ever since.
Jason says that he never thought he'd be able to cope with launching the business before his MBA at Tsinghua. But because of the network of classmates, professors, and alumni he was in contact with during the degree, he grew in confidence.
"The MBA taught me real business skills and I could bring that part of my knowledge to this partnership with my engineering partner," he explains. "We really complemented each other, while we speak the same language as we both know how to code and how technology works.
"Fundamentally, I'm more responsible for the business side and he's more product, but I can proudly say the initial prototype we did together—it's a prime example of business and technology [working together]."
---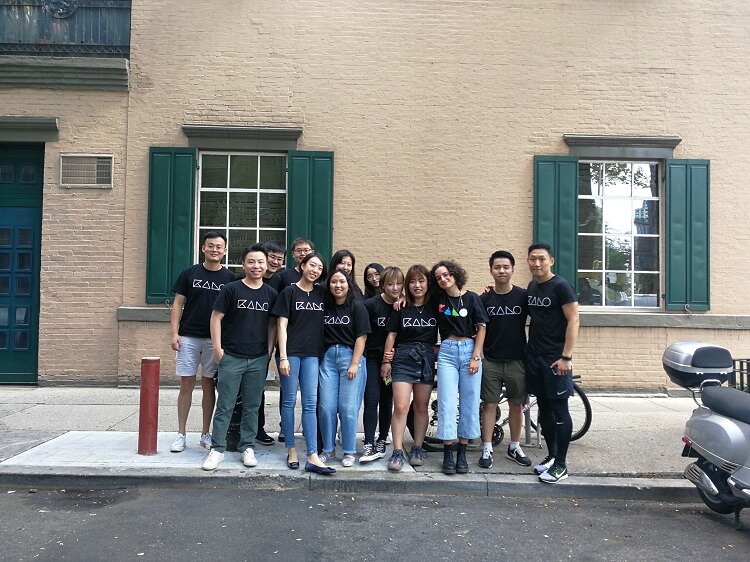 The KALO team
---
Developing entrepreneurial skills on the MBA
Launching your own business is as much about soft skills as it is about the helicopter business knowledge you acquire on an MBA. Jason says that the interactive nature of the Tsinghua-MIT Global MBA—with presentations, case studies (both Asian and Western), and diverse class discussions—meant he was able to build the relationships and pitching confidence to get Kalo off the ground.
He says Tsinghua offered a strong technical education, teaching him about math, accounting, product development, product innovation, and business strategy. The soft skill development courses meant he was able to communicate effectively with colleagues and customers—linking a product to people is a vital skill when taking an idea to market, he adds.
The teams that students are divided into during the Tsinghua MBA are purposely diverse. This tests you to overcome cultural barriers, Jason explains, and to build your ability to successfully work cross-culturally and cross-functionally to achieve a common goal; a key skill for an entrepreneur with a global business.
"It enhances your knowledge on how to start a company better. The MBA helps me manage people [better] because I learned theoretically, it's not just an instinct anymore. After the Tsinghua MBA I can dissect a business like an engineer dissects a machine, I know the bits and parts and where to troubleshoot when things don't work out."
Combining business and technology also taught Jason a valuable lesson: that technology is not only an industry in itself but something that traverses the entire business landscape.
"There's no such thing as a tech industry anymore, tech is just an essential part of every company. I'd say the advantage [of the dual degree] is to really prepare you for not the future but the present and what's coming up in the next few decades.
"If you don't equip yourself with some kind of tech knowledge your value diminishes. So, I think this dual degree program is a special place to foster the future of business entrepreneurship."
Related Content: