Alban Auffray has always been a people person, and this passion led him to launch a career in human resources. But after 16 years working with consumer goods giant Mars, Alban decided it was time for a new challenge—starting an HR startup of his own.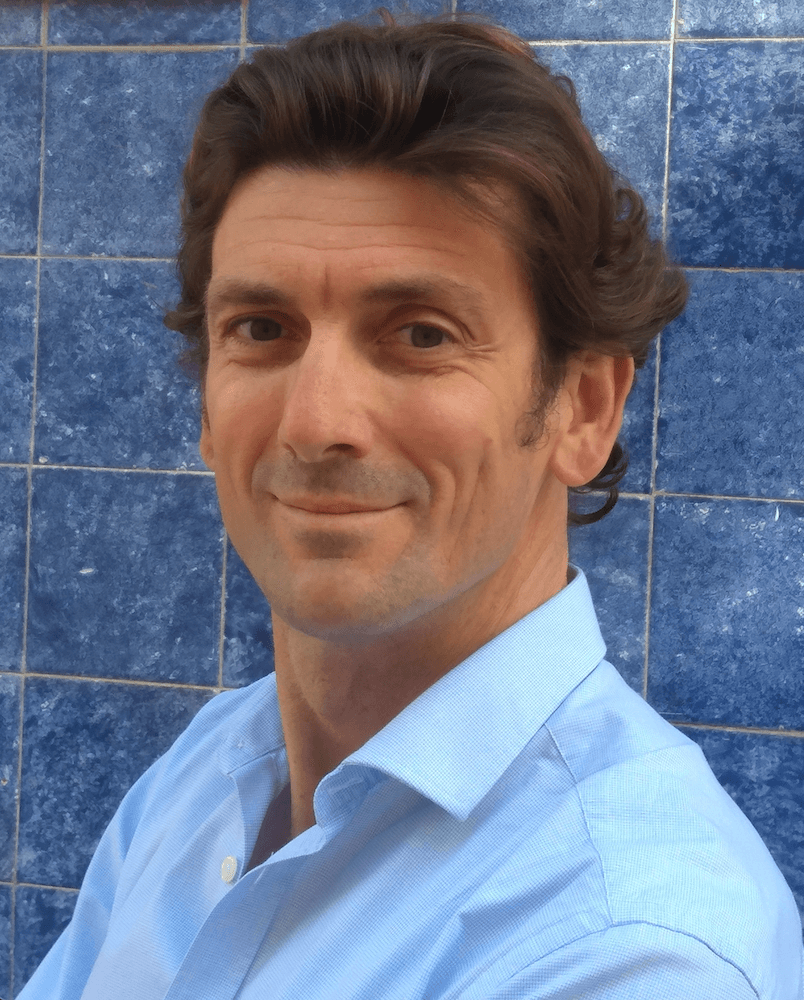 If he was to be successful, Alban needed to broaden his knowledge of the business world beyond HR. That's where business school came in.
Since graduating from the Lisbon MBA Católica|Nova Alban has become an entrepreneur. His tech-driven HR startup, AiNova, pairs top talent with jobs in tech.
Here's how his MBA helped him on his journey from HR professional to startup founder.
---
Choosing The Lisbon MBA Católica|Nova
When Alban set out to choose a business school, the Lisbon MBA Católica|Nova quickly stood out for its global outlook.
The program is a joint venture between two top European business schools based in Lisbon—Nova SBE and Católica-Lisbon—in collaboration with MIT Sloan.
The Lisbon MBA International, a full-time 12 month program, was ranked number one for International Course Experience by the Financial Times for the fourth consecutive year in 2021, and 61% of the class is comprised of international students.
One highlight for Alban was the MBA's collaboration with the MIT Sloan School of Management in Boston. The MIT Immersion is a one month program during which students have the chance to take classes with MIT Sloan's world renowned professors covering topics such as innovation and entrepreneurship.
---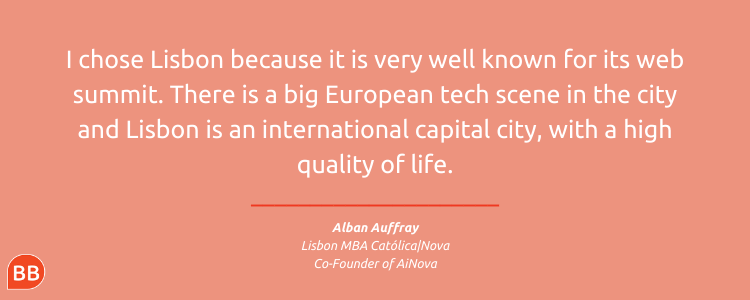 ---
"The connection with MIT was a huge asset," Alban explains. Being able to meet new people and hear new perspectives was an added bonus, he believes.
The chance to study in Lisbon itself was also appealing.
"I chose Lisbon because it is very well known for its web summit," Alban explains. "There is a big European tech scene in the city and Lisbon is an international capital city, with a high quality of life."
---
Support for MBA entrepreneurs
During his MBA, Alban was able to take advantage of several opportunities for aspiring entrepreneurs.
MBA courses like Entrepreneurship, Digital Marketing, and Strategy and Value creation are really helpful to aspiring entrepreneurs in Lisbon, as they give them a fundamental grounding in what it really means and requires to create a profitable business.
Students like Alban also have the opportunity to participate in an entrepreneurship program which allows them to develop an idea and receive advice and guidance. This lab was what sparked inspiration in Alban to create his own company—AiNova.
The program equally helped him to refine his knowledge of people and management through the people and organizations module, helping him affirm his love of HR.
As a people-focused professional, the connections he made during the program were a particular highlight. In fact, he ultimately partnered up with another MBA classmate to start his business.
"The MBA helps you to connect with people internationally while also helping you with the methodology to physically create a company," Alban reflects.
---
Matching talent with top jobs in tech
The most notable connection Alban made was with his AiNova co-founder, Patrick.
Together, the pair are combining their professional experience with what they learned in their MBA to solve HR challenges with cutting-edge tech, by matching tech talent with top jobs.
Applying tech to HR problems wasn't too big a leap for Alban. Prior to launching his HR career, he completed a degree in engineering—and his work with Mars often centered on IT and digital teams.
So far, their company has gone from strength to strength, growing its team and talent pool of data engineers, data scientists and analysts in a short space of time.
Alban's goal is to make hiring easier than ever before for all parties involved, leveraging his dynamic understanding of people management.
"Working with people means constant reskilling, learning and adapting," he explains. "Things can change so quickly, and you must be ready to embrace that change."
Related Content: