The coronavirus pandemic has wreaked havoc across global supply chains, causing manufacturing delays and labor shortages.

Although 93% of senior supply chain executives planned to make their supply chains more flexible, agile, and resilient after covid's outbreak, they have only partly addressed their weaknesses, according to McKinsey.

So what more can be done by supply chain managers to recover from the global supply chain crisis and lead us out of the pandemic?

To find out, we spoke to expert professors from Eli Broad College of Business at Michigan State University (MSU Broad), home to the number one MBA program for supply chain management in the United States, according to US News & World Report.
---
How have supply chains been disrupted by covid?
Sriram Narayanan is a faculty fellow in supply chain management at MSU Broad who recognized a few key symptoms of the supply chain crisis over the course of the pandemic.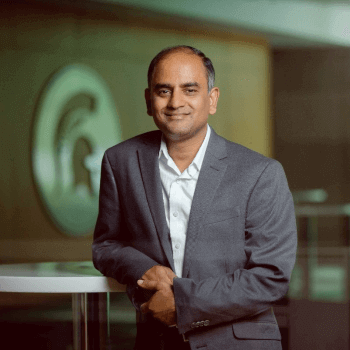 "The earliest impact, I would say, was knee-jerk order cancellations in many places," he says. "In some cases, those cancellations have resulted in further challenges."
In the manufacturing a clothing, for example, an estimated $3 billion in orders were cancelled when initial lockdown orders were introduced, resulting in lost income for workers, a sudden surplus in waste products, and inevitable knock-on effects for production post-lockdown.
But the impact doesn't stop there. "The second part of the disruption is demand shift," Sriram (pictured) explains. "People are demanding different things, so that consumption pattern is going to switch. That requires a huge supply chain adjustment."
---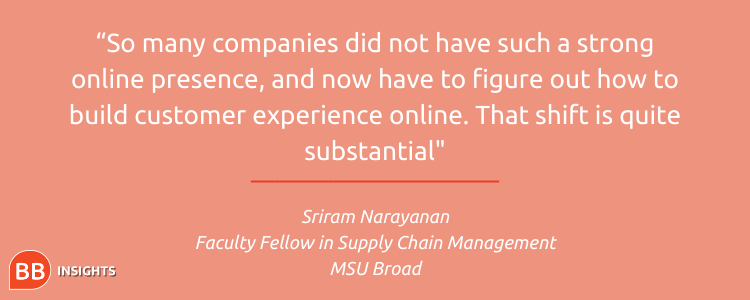 ---
The final element that Sriram observes has caused crisis in global supply chains is the long-term shift in how supply chain configuration will work.
"So many companies did not have such a strong online presence, and now have to figure out how to build customer experience online. That shift is quite substantial if you think about it," he says.
However, Sriram says these crises represent opportunities as well as setbacks. "Covid is a community-level crisis; it's not just a supply chain disruption.
"In many cases, what companies did was that they fundamentally shifted their attention to the crisis, and what's really interesting to us is that it's not about the products or services you provide; it's about the skills that you own within the supply chain."
So what are the key supply chain management lessons and strategies learned from the pandemic?
---
1. Identify your key competency within the supply chain
The first lesson learned from covid, Sriram says, is that supply chain managers need to think critically about what their core competency is and where else that set of skills can be applied.
"I think [the pandemic] has brought out that there is so much latent capability in the supply chains that we are under-exploiting," says Sriram. "When that awareness is there, then supply chains can become the growth engine for a company."
He points to examples of companies that pivoted their expertise to address the urgent issues of the coronavirus crisis. Project Pitstop, for example, saw UK-based Formula 1 teams collaborate to assist with ventilator production.
---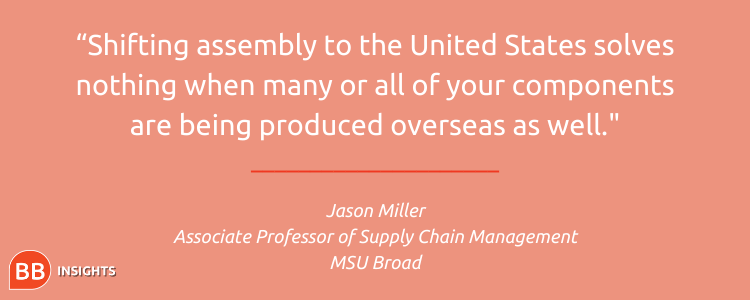 ---
2. Diversify sourcing to protect supply chains
While some commentators have predicted a move towards more localized sourcing to counteract the geopolitical turbulence disrupting supply chains, MSU Broad's associate professor of supply chain management Jason Miller (pictured) isn't convinced.
"Shifting assembly to the United States solves nothing when many or all of your components are being produced overseas as well," he explains.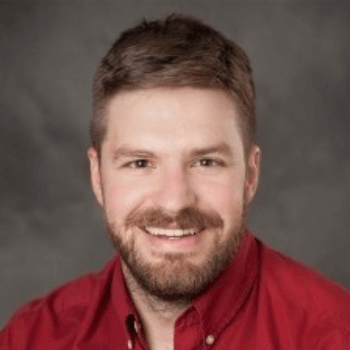 Take iPhone production as an example. An iPhone is assembled in China, but is produced using components made in Korea, Japan, and the United States. After those components are exported to China, they're then imported back in an iPhone.
"The ecosystem is already so global that shifting where you do one activity doesn't really affect things that much," Jason explains.
Instead, Jason predicts that savvy supply chain managers will diversify their sourcing, not limiting themselves to manufacturers in just one location. This will insulate them against the impact of disruptions in one region.
---
3. Embrace mechanization to future-proof supply chains
Another reason Jason does not see localization becoming a trend, at least in the United States, is domestic wage growth.
Wage growth increased by 3.3% in 2020 in the US, and Jason believes that this trend would offset the benefits of localization.
Instead, he believes that industries will turn to mechanization where possible to future-proof against pandemic restrictions and reduce overheads.
"If challenges with labor persist, you will see companies increasingly switch towards robots to handle production," he says.
Ultimately, both Jason and Sriram agree that the best thing supply chain managers can do to overcome the challenges of the pandemic is to reflect deeply on the mistakes that have been made.
"I always hated the phrase 'new normal' that came about after the Great Recession," says Jason, "but there's no doubt that the US economy will be different once covid is endemic, versus 2019.
"It's not going to be the same economy; it's not going to be the same labor environment. But that doesn't mean we have to forget all the lessons from the past."
---
BB Insights draws on the expertise of world leading business school professors to cover the most important business topics of today.
Related Content: