Leaders today must be agile to succeed in a rapidly changing workplace. They must be able to adapt to the broad changes brought about by the increased use of hybrid working models; the disruption and opportunity created by technological advancements; and the ever-changing political and social landscape.

Though leaders will likely adopt several leadership styles throughout the day to get the most out of different teams, leading a workforce is about more than just having influence over employees.

The most effective leaders display sensitivity, persistence, agility, and creative insight to drive team growth and manage multiple stakeholders. In other words, they display transformational leadership. Think of the likes of Steve Jobs, Reed Hastings, and Nelson Mandela.
---
What is transformational leadership?
According to Bruce Avolio (pictured), a leading expert in the field of leadership development and professor of management at the University of Washington Foster School of Business, transformational leadership is when a leader enhances the motivation, morale, and performance of followers through a variety of mechanisms, fueling greater business performance over time.
These mechanisms include:
- Connecting followers' sense of identity and self to projects and the collective identity of the organization
- Being a role model to employees to keep them interested
- Challenging ownership of work
- Understanding the strengths and weaknesses of followers
"It's about understanding the individual's strengths and areas for development that they perhaps could work on to improve the way they think of themselves, their identity, and how they relate to others, in a way that's more productive and effective," Bruce explains.
There are four elements that help create transformational teams: idealized influence, individualized consideration, inspirational motivation, and intellectual stimulation (see graphic below).
The targeted outcome of transformational leadership is greater employee motivation and morale, as leaders better align their tasks to their performance capabilities in pursuit of better overall business performance.
Bruce teaches MBA students the importance of transformational leadership in helping leaders locate their organization's position on a continuum of progress. He also teaches them how becoming a transformational leader can help them navigate whole systems change and overcome the anticipated and unexpected challenges that businesses face today.
---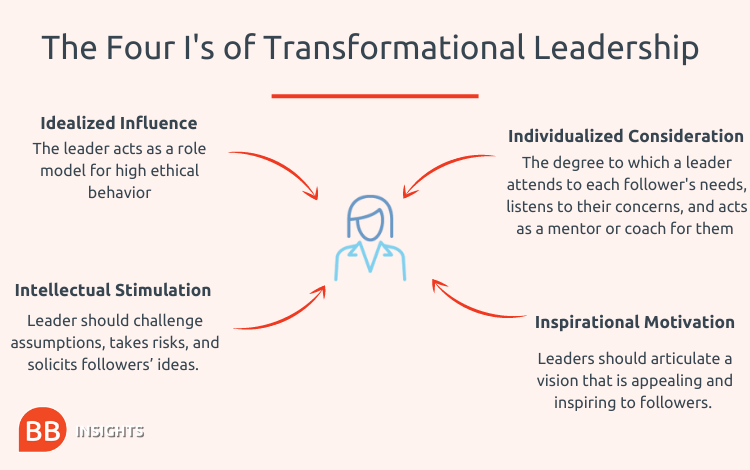 ---
Why is transformational leadership important?
There are three reasons transformational leadership is important:
---
1. It fuels a positive business culture
The first relates to the positive business culture that arises when a leader pays individual consideration to each employee.
Transformational leadership focuses on how each individual's personal development can be accelerated and optimized to induce self-worth and motivation, resulting in a workforce that feels valued, supported, and nurtured irrespective of background.
It's about driving vocational tasks, challenging assumptions, and "energizing [employees] to put their energy and effort into the business and to yield their critical practice, by which they go about doing things differently," explains Bruce.
"There are so many forces that might affect an employee's ability to sustain [performance]," and having the leadership skills required to provide individual consideration for all employees could ensure that positive business culture is maintained.
At Foster, leadership skill development is a fundamental part of the core MBA curriculum. The school provides several core modules in leadership: Leadership Development, Leading Teams & Organizations, and Ethical Leadership & Decision-Making. The mission is to advance the science and practice that connect leadership styles and strategic thinking to high-performance impact among employees.
---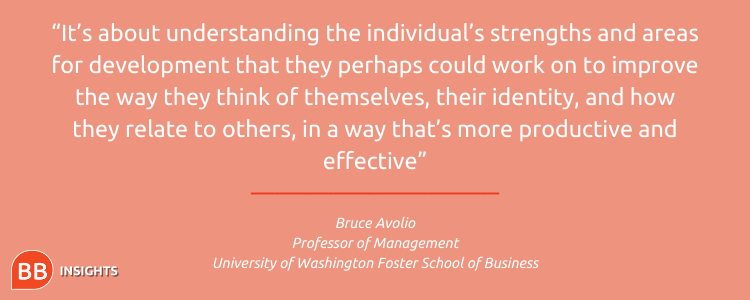 ---
2. It creates a clear vision for the business
Transformational leaders articulate a vision that's appealing and inspiring to followers, providing a vivid mental image of the long-term goals and aspirations of the business.
This is crucial, especially during times of drastic internal organizational change. Think of a company going through a merger or acquisition, for example, whereby its original identity may be jeopardized.
A transformational leader will provide motivation by inspiring employees with excellent communication skills, honesty, and integrity.
They will put the employees and employers on the same playing field, promoting confidence in and optimism for the business' new shared identity.
"Part of the challenge is helping people to shift and change in a way that gives them renewed meaning and purpose. This is the challenge today for any organization that's trying to adapt itself," notes Bruce.
---
3. It can lead to lasting and durable success
Lastly, fostering the right culture and promoting a clear vision should lead to lasting and durable success.
A transformational leader has strategic decision-making capabilities through which they can adapt a firm to rapidly changing markets and environments. They drive an adaptable, agile, and sustainable workforce by serving as a role model and displaying high moral conduct.
Bruce highlights that leadership is not intrinsically linked to a position; it's "vested in groups, not just individuals." As leaders empower their employees, they themselves can become leaders and influencers within the organization, further fueling an engaged workforce that's empowered to innovate and help shape an organization's future success.
---
How transformational leadership is taught at Foster
Bruce explains that many MBA students and their institutions often still consider leadership as a 'soft skill.' They fail to understand nor appreciate the cause and effect of good leadership in successfully promoting coordination among employees and heightening motivation to attain "hard" and "tangible" organizational goals and positive outcomes.
"It's taken some time to evolve to where leadership is an important and legitimate area to be included in business school [teaching]. It's important to remember that [people] are not born leaders but made leaders," he adds.
Masha Makarenkova (pictured), senior manager at Microsoft, is an MBA graduate from Foster School of Business who's using the transformational leadership skills she acquired at the school in her current role. "Without those leadership skills I learned through the MBA, I probably wouldn't be able to do my job as efficiently as I'm currently doing," she states.
---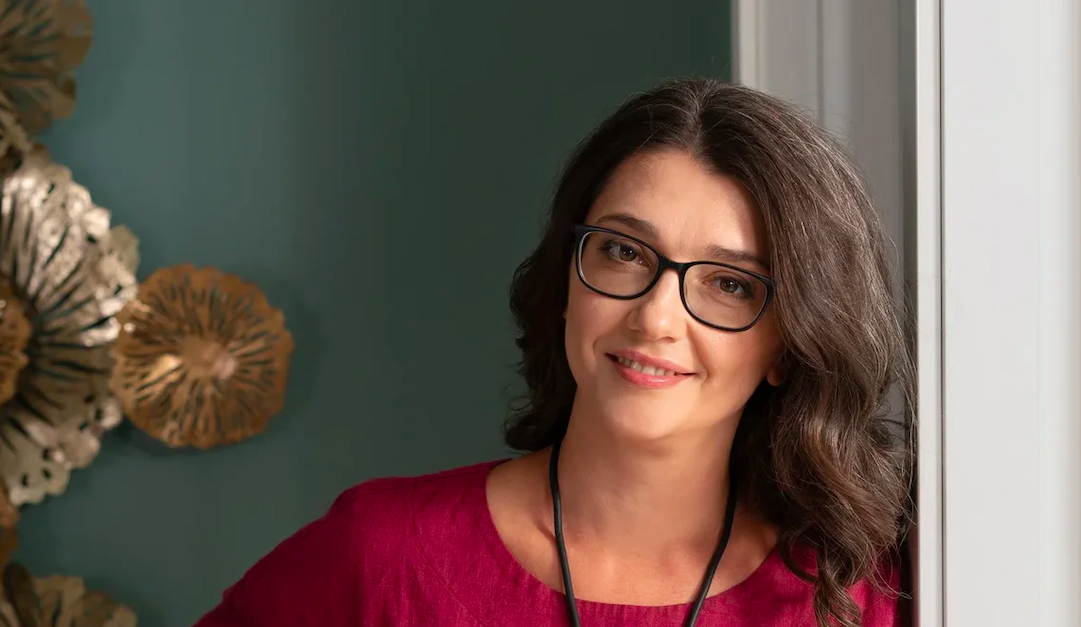 ---
Masha oversees financial operations at Microsoft and supports executives by planning financing strategies, supervising financial activities, and creating improvements to controlling procedures.
She was also a Fritzky Leadership Fellow during her time at Foster. Fritzky Leadership Fellows are a select group of second-year Foster MBA students who pursue a hands-on educational program in leadership development.
Along with the leadership classes taught in the core MBA curriculum, Masha participated in several classes focused on training the future leader to be transformative.
---
Fritzky Leadership Fellows:
- Engage in a two-credit Leadership and Coaching Practicum that exposes them to the latest work on leadership, strategic thinking, coaching, effective communication, and team performance
- Focus on learning leadership development strategies, models, and methods of coaching
- Create leadership development goals and action plans, track progress toward these goals, and receive developmental feedback from others
- Receive one-on-one coaching from a Center for Leadership and Strategic Thinking professional leadership coach
- Practice what they learn in the classroom by working closely with first-year MBA students
---
"It helped us think about leadership deeply, how we, as leaders, are portrayed, how we can be perceived. The program also helps you to understand relationship-building and understand where people are coming from," notes Masha.
"I had the misconception of leaders being very extroverted, motivating, and pushing things towards their team. Observing Bruce, the mastermind of the program, and the speakers that were invited, taught me it was not about being introverted or extroverted but about the skills you proactively learn and use."
Related Content: