To succeed in the modern workplace, business leaders need to combine traditional management principles, like strategy and finance, with people-centric soft skills.

In fact, according to the Graduate Management Admission Council (GMAC), interpersonal and leadership skills are the most in-demand skills for recruiters of business school graduates.

Dr. Steffen Raub is a full-time professor at EHL Hospitality Business School, where MBA and master's students are taught traditional management theory alongside a practical, people-centric approach to leadership, preparing them to become the business leaders of the future.

BusinessBecause caught up with Steffen, who teaches leadership development at EHL, to find out the five most important soft skills that every business leader needs, and how they're taught at business school.
---
1. Communication
Topping the list of leadership soft skills, communication is key to any successful workforce, and more critical than ever with a growing reliance on technology and virtual work.
Effective written and verbal communication will increase efficiency, advance problem-solving, and increase the retention of employees.
EHL uses various methods to teach its students communication skills, and Steffen often uses case studies and practical applications to teach leadership skills. One practical application is a game called color blind, where students are blindfolded and work as a team to decode colors on a table from limited information.
"It often leads to situations where people get frustrated, blow a fuse, and get angry," Steffen explains.
Steffen gives feedback on their responses and teaches them how to develop their communication skills depending on what was and was not effective.
---
2. Teamwork
Another essential leadership soft skill is learning to work with others and generating positive results as a team.
EHL cultivates teamwork in its lessons. The color blind test is reliant on working as a team and leads to lessons about what types of behaviors help and hinder teamwork.
"I give them feedback on what is productive in their interaction," Steffen says. "What made their teammates angry? What had a negative impact, and what were positive behaviors in enhancing team morale and productivity?"
---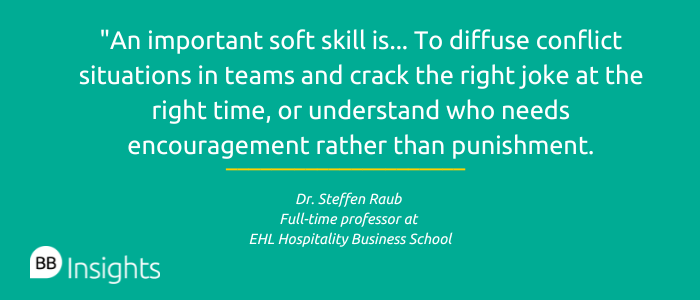 ---
3. Empathy
Empathy and emotional intelligence help create a more positive, productive work environment.
As businesses embrace hybrid work, empathetic leadership is more pertinent than ever. 80% of executive respondents in Deloitte's 2020 Global Human Capital Trends research said that well-being was important or very important to their organization's success.
"I think an important soft skill is understanding what makes the team tick," Steffen says. "To diffuse conflict situations in teams and crack the right joke at the right time, or understand who needs encouragement rather than punishment.
"A financial manager can sit down and analyze an organization's balance sheet and then draw certain conclusions. Or, they can interact with a person, and implicitly observe their nonverbal behavior and draw certain clues about how they're feeling or what they expect from you."
---
4. Self-awareness
Self-awareness will assist in various areas of leadership, particularly negotiation. Leaders must understand their desires and goals before making compromises with the multiple people in their care, like clients, employees, suppliers, and other executives.
Being self-aware will help leaders with sensitivity and allow them to accelerate their personal career goals while effectively reading a room and promoting their employees wants and needs.
EHL, Steffen explains, assists students in building their self-awareness through personality assessments and feedback.
"Soft skills are the ability to understand yourself a little better based on feedback from either personality assessment or a coach that we employ," he says.
---
5. Adaptability
With constant advancements in technology and the impact of the pandemic, being adaptable to change is essential in a modern work environment.
To help advance students' adaptability, Steffen uses a management simulation where students work to have a large organization adopt a significant initiative.
Students hold meetings, lobby people, invite external speakers, and engage people in training exercises. The challenge is using the tools in the correct sequence and advancing people's attitudes towards adopting the project.
"After each move you implement, you get direct feedback from the software that says whether it was positive or negative," Steffen explains.
For business leaders, being adaptable, self-aware, empathetic, working in teams, and communicating effectively are invaluable soft skills.
Future leaders at EHL know that success in business depends as much on the fundamentals of a business plan as it does the people-centricity of their team and mindset.
---
BB Insights explores the latest research and trends from the business school classroom, drawing on the expertise of world-leading professors to inspire and inform current and future leaders
Related Content: