The Cambridge Master of Accounting (MAcc) program at the University of Cambridge Judge Business School offers something different to traditional Master of Accounting programs.
Leveraging world class faculty and experience from a team of executive-level professional advisors, the Cambridge MAcc aims to develop a generation of leaders and decision makers in accounting, finance, policy and related fields looking to challenge the status quo.
Here's everything you need to know about the Cambridge MAcc, including its curriculum, its class profile, and information on applying.
---
VIDEO: What are the benefits of a Cambridge Master of Accounting?
---
---
Cambridge Master of Accounting | Curriculum
The Cambridge MAcc is taught part-time across a 24-month period, combining online learning with in-person week-long seminars every three months in Cambridge, taught by Cambridge faculty, expert advisors, and practitioners.
The Cambridge MAcc differs from traditional MAcc programs in its critical standpoint towards accounting standards and systems, and how it encourages students to challenge them.
"We challenge the entire infrastructure. We question how and why it's structured in a certain way, and whether we can advocate for improvement," says Professor Alan Jagolinzer, professor of financial accounting on the Cambridge MAcc.
---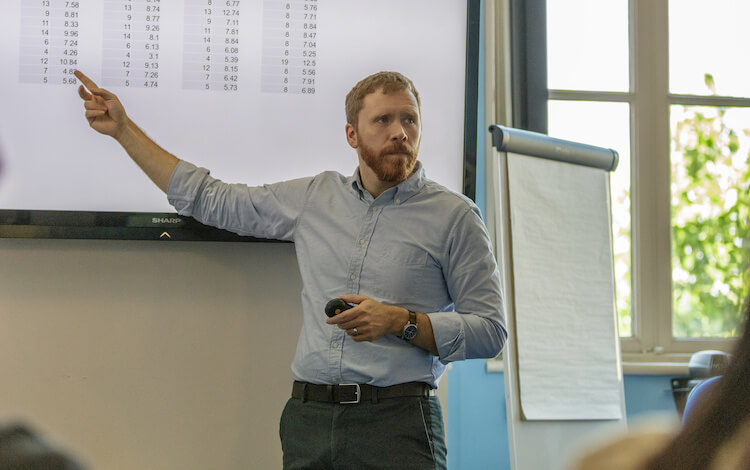 ---
Change is a core theme—for instance, how leaders might bring about changes in auditing. "The program elevates discussion beyond technical audit procedures to engage with senior global change leaders about how to improve audit practice, policy, and regulation" explains Dr Mike Willis (pictured above), director of the Cambridge MAcc. This feeds into the prominence of emerging topics, like sustainability, cybersecurity, and disinformation: students learn how to lead innovation in these areas in the context of an increasing pace of change.
Leadership is also central, taught through modules like interpersonal dynamics, with the ambition of creating leaders with the confidence to lead change.
The program is highly experiential. In-person seminars are dynamic and interactive, supplemented by the online learning that students do in their own time. Mike stresses that students' full time jobs supplement the curriculum. "Applying what you're learning in real life strengthens the experiential learning cycle. When you apply it, that's when learning is solidified in your brain."
---
Cambridge Master of Accounting | Who is it for?
---
Numbers taken from the Cambridge MAcc cohorts of 2020 and 2021
---
The Cambridge MAcc has a current cohort of 47 students, who study some of their modules jointly over the two-year length of the program. Average age is 34, with an average work experience of 8 years. The proportion of females on the program ranges between 34-60% for any given cohort, with 16 female students in the cohort of 2020 and 2021.
The program draws in students from a broad set of professional backgrounds, including corporate finance, banking, financial reporting, audit, entrepreneurship, policy/regulation, private equity, and law.
The cohort is truly global in nature: 17 nationalities are represented, from five continents.
There's no prerequisite in terms of professional training or background. The program does not require an accounting qualification like the ACA or CPA, nor a graduate degree.
---
Cambridge Master of Accounting | How can you apply?
A good way to start your application is sending in your resume. "We'll review it and get back to you with recommendations on applying, or if another program is a better fit," Mike says, adding that he speaks to most students before they apply.
With their written application, students must have two references, as well as proof of completion of a competitive bachelors' degree, masters degree, or equivalent professional qualification. Shortlisted candidates will be invited to interview.
So what are they looking for?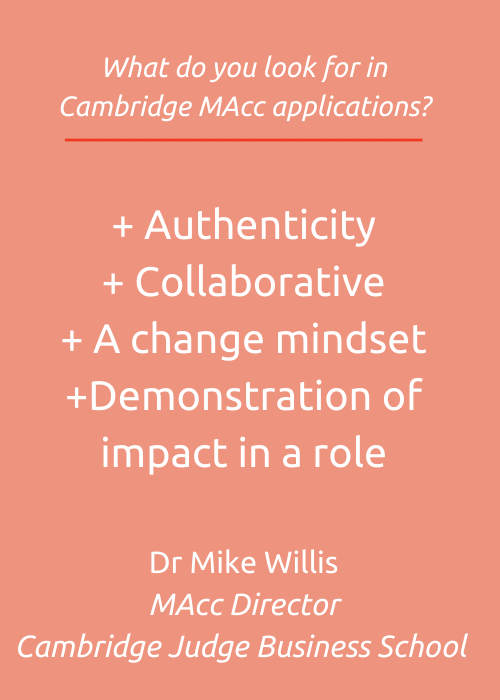 Authenticity is key. "Tell your story, tell us who you really are, what motivates and drives you," Mike says. Applicants are given opportunities to tell stories from their past experiences: the more passionately you can do this, the more likely you are to stand out.
Collaborative mindset is also important. "Our program is intimate, with a small-ish cohort, and we spend lots of time getting to know students and building community. So we want people who are interested in a collaborative engagement," Alan adds.
Applicants should also show they understand the vision of the program and how it can add value in their career path. "Demonstrate your mindset towards changing the status quo, show your intellectual curiosity and willingness to question how things are done," Mike says.
---
Cambridge Master of Accounting | Careers
Career opportunities for Cambridge MAcc graduates range from senior positions in finance like CFO or partnership at an accounting firm, to market regulator roles, to climate or social-related financial disclosure roles.
Alumni extol the impact the program had on their careers.
---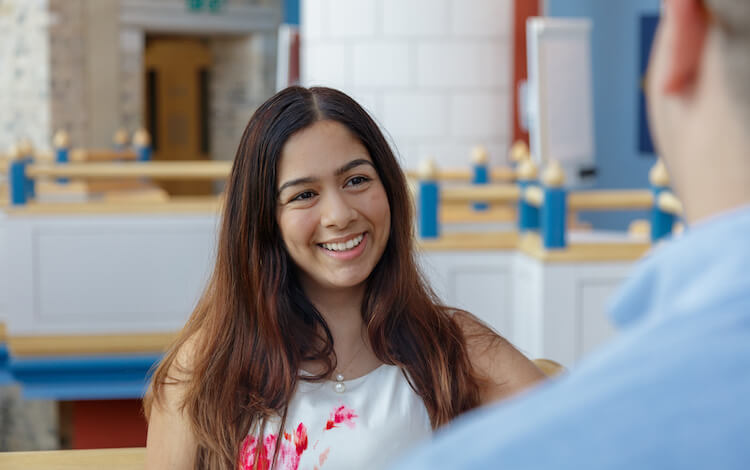 ---
Akriti Arya-Cohen (pictured above) enrolled in the Cambridge MAcc nine years after she finished her MBA. Her MBA had given her the basics in accounting—what she lacked was the knowledge and skills to know how to use it to have an impact.
She considered a CPA qualification, as well as other Master of Accounting programs, but ultimately was drawn in by the global, leadership focus of the Cambridge MAcc.
Interpersonal dynamics was a particularly useful module, something Akriti thinks all finance professionals would benefit from. "You may be a corporate professional, but you still need to create and maintain relationships."
This had a huge impact on her confidence, which has helped progress her career subsequently. She may have written herself out of new roles before even applying. "But after the program, I went out looking for these roles. The Cambridge MAcc gave me confidence to go out and start a new position."
Charlotte Duthie-Smith came with strong accounting expertise under her belt, with both a bachelor's in accounting and finance, and an ACA qualification. Not looking for programs with an introductory approach, Cambridge's leadership approach appealed.
She benefited greatly from the data tools she learned from the Cambridge MAcc. While Excel had been her go-to previously, she quickly learned the benefits of tools like Tableau and SQL, which she could quickly deploy in her work.
Now, she's actually taken on an informal responsibility for all things data at her current job. "The underlying knowledge you gain gives you confidence to take the lead on initiatives at work. I've become a go-to person in my stream for how to get data analytics off the ground."
What's clear is that the part-time structure supports student career impact in real time, allowing students to immediately apply what they learn in the program to career projects. Professional growth comes even before they graduate, and will continue well into their careers.
Related Content: