There's a growing demand for business leaders who can make sharp data-driven decisions and understand global business issues, according to Forbes.

The UBC MBA + MBAN Dual Degree program will prepare future leaders to meet this demand, helping them to become experts in the art of data analysis while enhancing their strategic management expertise.

Here are three reasons why you should study a dual MBA + MBAN:
---
1. Blending specialist knowledge with generalist skills
Long before the COVID-19 pandemic, technology and data have been driving change in business operations.
Recognizing the potential of this program and powerful professionals who can supplement their management skills with advanced analytics knowledge was central to the design of the MBA + MBAN dual degree at the Robert H. Lee Graduate School at UBC Sauder School of Business, explains Natalie Souresrafil (pictured right), lead recruitment manager for this combined program.
"Students will be provided the tools to strategically align and understand new technologies while leveraging data-driven processes and decision making to lead in the business community," she comments.
By studying the core MBA curriculum alongside the MBAN curriculum, students will enrich their knowledge of general business fundamentals like global issues and macroeconomics and leadership development, alongside more specialist subjects such as business analytics programming, machine learning, decision analytics, and data analytics.
The dual degree forms well-rounded leaders equipped to pivot between data interpretation and strategic decision-making at a moment's notice.
In addition to the core curriculum, students can broaden their understanding in one of three specialized career tracks—finance, product and service management, and innovation and entrepreneurship—which cover subjects like investment theory, brand management, and technology entrepreneurship.
"This specialization system is a great chance to elevate your overall profile for a specific role," notes Natalie, ensuring you shine in your job applications.
On the career development side, students also gain access to the RocheMartin - Emotional Capital Report (ECR), a personalized leadership development tool that provides them with an in-depth interpretation of their leadership potential based on an assessment of students' emotional intelligence (EQ). After completing the assessment, students meet with a career manager to find out more about how they can leverage and build their EQ strengths to achieve career success.
---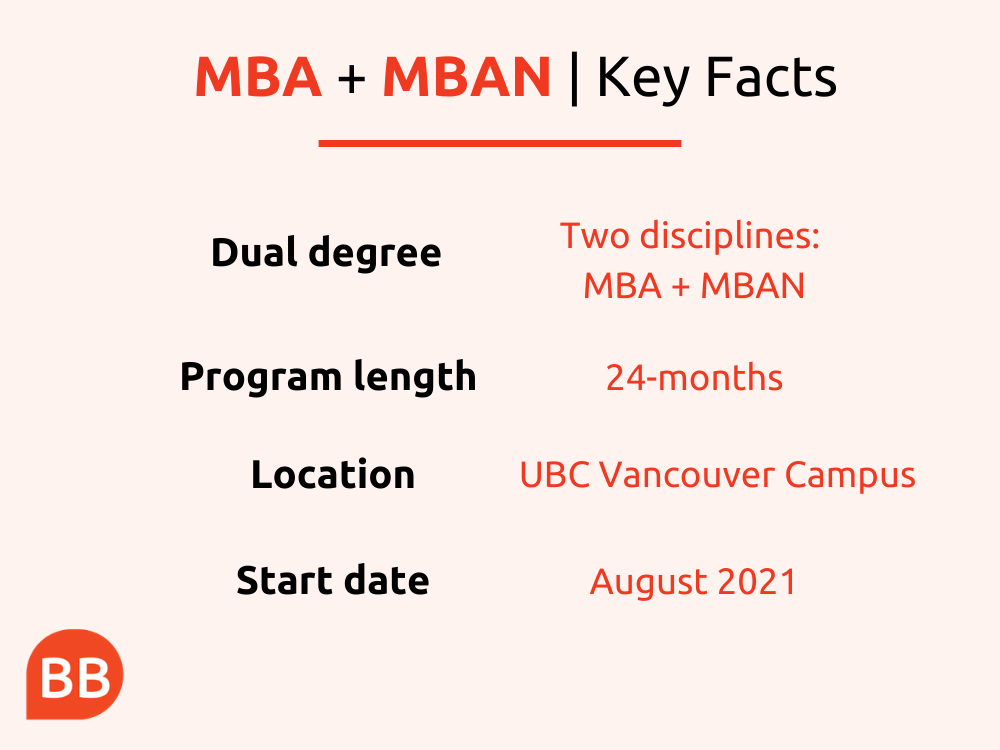 ---
2. Gain rich work experiences across business and data analytics
Gaining experience of working in a dynamic tech organization or an exciting new startup can be a huge advantage for business graduates looking to remain competitive in a fast-moving industry.
On the MBA side of the UBC Sauder dual degree, students can participate in a summer internship, a research-centered industry project, or even an entrepreneurial project where students will devise a business plan for a startup.
Meanwhile, on the MBAN side, students can put their aptitude for data analytics to the test, working on a real analytical issue that an organization is experiencing, which could be the impact of COVID-19 on business operations. Adnan Beg, a recent UBC MBAN graduate, has been able to apply his knowledge of data analytics into his current role as Business Intelligence Developer for Providence Health Care, where he's researched the trend of COVID-19 patients visiting hospitals, analyzing the impact on other departments.
"MBA + MBAN projects place students at the forefront of business challenges, enabling you to leverage your strategic problem-solving skills to enact real change," says Natalie.
Doing two internships across global business industries and data-focused organizations means graduates acquire a nuanced perspective of how data analytics can be used to enhance organizational processes, providing graduates with a unique edge.
Previous UBC MBA + MBAN internships have taken students to organizations like Salesforce, lululemon, McKinsey, Deloitte, KPMG, and Hootsuite. These networking opportunities increase students' chances of landing a high-caliber role upon graduating.
You'll also get the chance to broaden your global network through the Global Immersion Experience program, travelling abroad to provide business recommendations to an organization. "Nothing is in isolation anymore," notes Whitney Friesen, careers manager for the MBAN, "learning how to collaborate with global partners is crucial for students' careers, preparing them for working alongside people from all walks of life."
---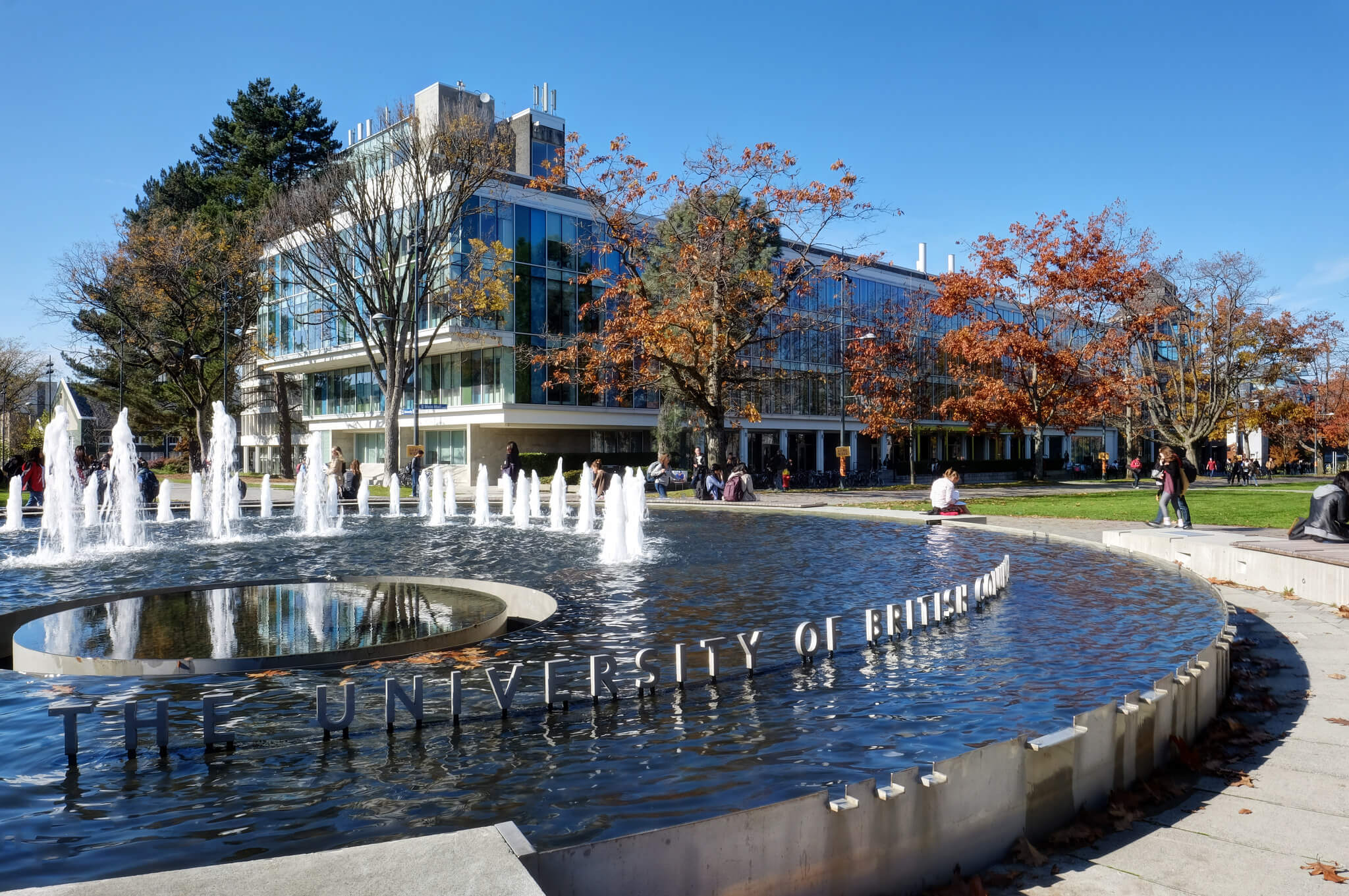 The UBC MBA ranks 6th in Canada by QS Global MBA rankings 2021; the MBAn ranks 33rd worldwide in the QS Global Master in Business Analytics rankings 2021 ©UBC Sauder Facebook
---
3. Improved chances of landing a data-focused role
UBC Sauder's location in Vancouver, one of the world's best cities for careers in tech, makes the Canadian business school a popular choice for MBA + MBAN students looking for exciting job opportunities after graduating.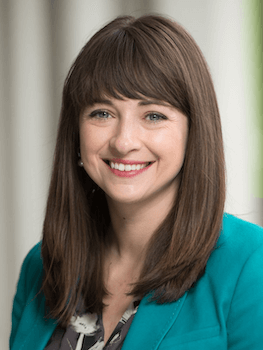 Dual degree graduates have high career prospects. 87% of UBC MBAs from the class of 2019 were employed 90 days after graduating, while 91% of UBC MBAN grads from the class of 2019 were employed within 90 days of graduating.
Bringing their in-depth insight into management and data-driven decision making, UBC MBA + MBAN graduates will be able to bridge the gaps between technology and business with ease. "Employers want someone who's technically skilled, business savvy, and can really understand the communication aspects of business," says Whitney, Manager of MBAN Careers (pictured right). MBA + MBAN grads will possess these qualities in abundance.
MBA + MBAN grads might secure jobs as heads of analytics, data analysts, product managers, or data operations consultants.
The Hari B. Varshney Business Career Center at UBC Sauder provides their MBA + MBAN cohort with the best opportunity of thriving in these industries. Through networking and recruiting events, students can meet with specific organizations, with more than 50 companies hosting virtual recruiting events throughout the year.
Moreover, the mentorship training programs match students with an industry professional from fields like capital markets, finance, product management, or consulting, providing sector-specific advice to help students with interview technique and skills-building.
As a result, UBC MBA + MBAN graduates will enter the job market with both the business and analytical know-how to take on stimulating data-driven roles, utilizing career development skills gained from UBC Sauder to propel their career forwards.
Related Content: