Turbulent events dominating the last few years have rocked companies and their employees. A global pandemic, a climate crisis, war in Ukraine, 40-year high inflation rates, and a looming recession have placed immense pressure on people's lives and the workplace.

A recent survey by Lyra Health found that employee mental health is at an all-time low. As many as 84% of workers reported at least one mental health challenge over the past year, with issues including stress, burnout, anxiety, depression, PTSD, and bipolar disorder all prevalent.

One in five adults have experienced a mental health issue in the US. Mental health issues can lead to lower productivity and higher absences. This means it's in employers' interests to make mental health a priority.

There's still a long way to go, but many companies are taking measures to elevate the mental health of their employees. Here are 10 of the best companies for mental health support, and the initiatives they are implementing today.
---
1. Unilever
Unilever, a consumer goods company known for brands such as Dove and Ben & Jerry's, is taking several steps to improve its employees' mental health.
So far Unilever has trained 4,000 of its global employees to be 'mental health champions.' This requires staff to support their peers by looking for signs of people struggling with mental health and connecting them with services that can help.
Unilever is also one of the founding partners of the Global Business Collaboration (GBC) for Better Workplace Mental Health, a business-led initiative to advocate for and accelerate change for mental health in the workplace.
---
2. EY
Big Four accounting firm, EY, prides itself on providing a long list of benefits for its employees. That includes childcare vouchers and a bike for commuters to help promote good mental health at work.
The company also focuses on employee health. It offers private healthcare, free health assessments, and occupational health and rehabilitation consultancy to those who have completed more than three years of service.
EY also has a free online health assessment and 24-hour confidential counseling service that employees and their families can use.
---
READ: 10 Social Impact Companies You Could Apply To After Graduation
© iStock photo
---
3. innocent drinks
Known for their smoothies that champion physical health through all-natural ingredients, innocent aims to create a supportive work culture which benefits employees' mental health.
The firm offers a range of perks include flexible working hours, complimentary breakfasts, free gym memberships, and yoga clubs.
The smoothie company also runs 'The People Clinic', a weekly drop-in center where employees can get practical, confidential help for any issues in their work or personal lives.
---
4. Microsoft
Trillion-dollar tech company, Microsoft, works to create a positive, community-forward environment for its employees.
The big tech firm has set up a mental health initiative called Microsoft Cares, which offers in-person, digital, and telephone counseling. There are also support groups and mental health workshops available for all employees.
To help establish a flexible environment, Microsoft offers hybrid work for all employees, alongside various recreational initiatives including social and networking clubs—which include paddle boarding—and parenting clubs.
---
5. Juniper Networks
Juniper Networks is a California-based company that develops AI-led cloud networking products including routers and switches. It has several employee benefits which it says help employees "stay healthy and fit… and get the most out of their time outside work."
Juniper offers various wellness benefits that promote a healthy mind and body, including medical, dental, and vision plans, as well as on-site gym access. The firm also stresses work-life balance and gives full-time employees the flexibility to take time off as needed, in addition to company holidays.
---
6. Pinterest
Image-sharing app sensation, Pinterest, showed its focus on employee well-being in 2020 when launching its internal community, 'Pinside Out.'
Pinside Out is a forum for employees to discuss mental health issues in the workplace. It brings health professionals, experts, and external speakers to discuss topics ranging from surviving the holidays with family to understanding intersectional feminism.
Pinterest employees have also participated in promoting mental health at the company by offering their time and expertise in key mental health areas. Virtual sessions led by Pinterest employees involve initiatives such as meditation classes.
---
7. American Airlines
American Airlines offers a range of perks and benefits for employees. These range from well-being programs to family support.
The company provides a range of resources, events, and support to help employees' physical, financial, and emotional well-being. That's alongside family support programs and online platforms that provide guidance to help employees on their career journey.
---
READ: Google, Microsoft & Apple Are The World's Most Attractive Employers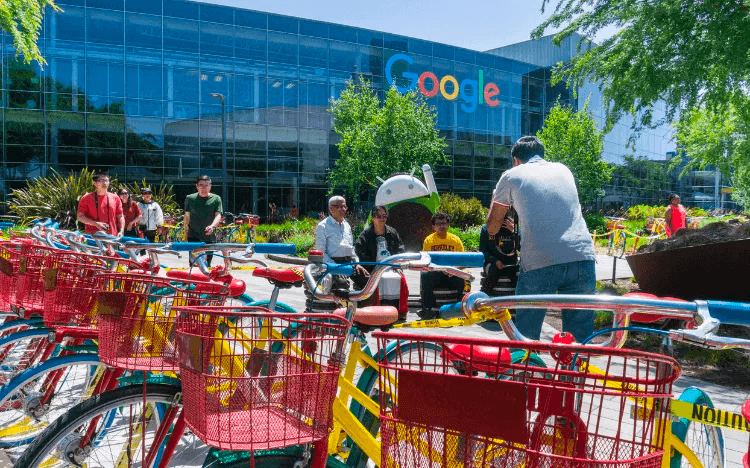 © Sundry Photography via iStock
---
8. Johnson and Johnson
Johnson & Johnson, an American pharmaceutical company known worldwide for producing baby powder and other similar products, has instituted a 'Healthy Mind' program as part of its comprehensive employee wellness initiative. The program teaches employees and their families about the importance of mental well-being.
The company conducts regular mental health reviews and workplace risk analyses. Both managers and employees are trained to be aware of mental health issues as well as steps they can take to mitigate problems. This includes stress management, resilience, and work-life balance.
---
9. Levi Strauss & Co.
Levis Strauss & Co., the iconic jean-maker, is working to raise the mental health bar for its employees.
Levi's calls its work culture "human-centered." This approach involves a comprehensive offering of accessible virtual therapy, employee development programs, and behavioral health and substance abuse plans.
The company also offers flexible paid leave policies and bereavement leave programs.
---
10. Samsung Electronics
In 2021, Samsung won an award for its comprehensive employee health and wellness strategy at Benefits Canada's Workplace Benefits Awards.
Samsung has long taken a holistic view when it comes to employee health. It supports staff with financial, mental, physical, and social wellness assistance. For example, Samsung's Semiconductor program provides employees with professional medical services and personalized health program including counseling centers offering benefits to employees who are under stress.
Employees can visit the Counselling Center or mental health clinic any time during working hours. Both facilities have a wide range of online and offline programs, such as meditation, body scan meditation, and breathing meditation, for employees to release tension and clear their minds.
---
With the world as turbulent as ever, it is crucial to understand your company will support you and your mental health during rocky times.
These are just some of the companies who today are dedicating time and resources to foster an environment where both mental and physical health is a top priority. When considering your career path after graduation degree, one of these companies could lead you to a fulfilling professional career and a plentiful personal life.
---
Next Read:
7 Exciting Master's Degree Job Opportunities