Latinx MBA Scholarships
---
Amount: $5,000
The PepsiCo Cesar Chavez Latino Scholarship is available to students of Latino descent in higher education in Arizona and California, with Arizona State University offering the scholarship for its MBA program. Students receive $5,000 and must have a minimum GPA of 3.0 to apply. They must also agree to complete 30 hours of service to the Cesar Chavez Foundation within 12 months of receiving the award.
---
Amount: $5,000
Students of Hispanic or Latino descent can apply for a number of scholarships available on the Prospanica Scholarship Program, offering funding at a maximum of $5,000. Applicants must have a minimum GPA of 3.0, or 2.75 if they also have sufficient work experience. Students at a number of top US business schools can apply for the scholarship, including Duke University's Fuqua School of Business, Indiana University's Kelley Business School, and OSU's Fisher College of Business.
---
Amount: $1,000
The LatAm Ready Business Technology Scholarship is available at Fisher College of Business, offering students of Latino descent the chance to receive $1,000 in funding. The scholarship program is aimed at students with a particular interest in technology and computing, though any Latin-American student can apply.
---
Amount: $20,000
The American Indian College Fund is available to any Native American US citizen who is a member or descendant of a recognized tribe. The fund is not business school specific, but is available to students attending higher education. MBA students can apply for the fund worth up to $20,000, provided they can prove their tribal heritage and have a GPA of 2.0 or more.
---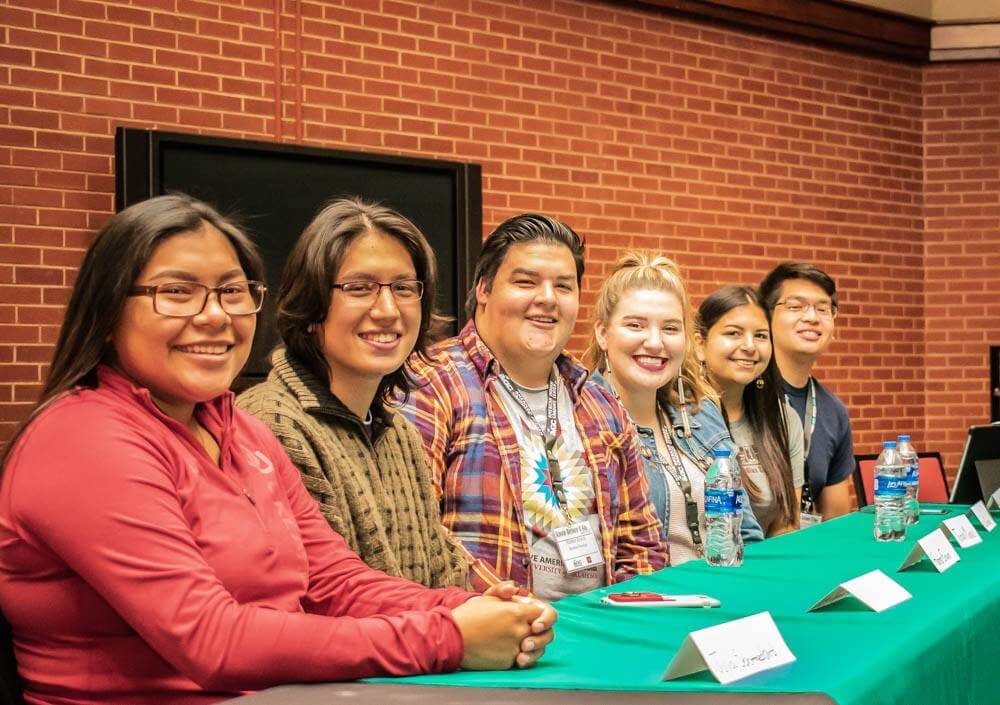 ©American Indian Graduate Center via Facebook
---
Amount: $1,250 - $10,000 (Merit based)
Students of Latino descent at Ohio State University's Fisher College of Business can apply to the needs-based ALPFA Scholarship if they have a GPA of 3.0 or higher. The scholarship has helped minority students secure roles with world-renowned companies like Goldman Sachs and PWC. To apply, students must answer the question: 'Why are you deserving of an ALPFA scholarship?'
---
Amount: $30,000 annually
Global Fellowships are available to students at Indiana University's Kelley School of Business who have a Latin American connection. This is defined as: Hispanic or Latin American heritage, knowledge of Spanish, or work experience with Latin American companies. The fellowships award $30,000 to students each year during the two year program to assist with tuition fees.
---
Amount: $10,000
Paul Capon, born Moises Luna in Guadalajara, Mexico founded the LunaCap Foundation MBA scholarship for Mexican and Veteran MBA candidates. Adopted by an American family at three months old, he was able to pursue an education, join the US Air Force and obtain his MBA. He wants to take the cost of the MBA out of the equation for the most-deserving students and help them pursue a career from a top MBA program.
Since 2020, $200k has gone directly to funding studies and opportunities and students from top schools like Harvard, Haas and Wharton are able to access these scholarships, worth $10,000 each.
---
Amount: Needs-based
Full-time postgraduate students who can provide a Tribal Eligibility Certificate are eligible for one of the 30 scholarships and fellowships offered to native american students by the American Indian Graduate Centre. Over the last 50 years, the organisation has worked alongside Tribes, education institutions, corporations and with individuals to provide funding to promising native americans.
The Wells Fargo American Indian Scholarship is of particular interest for MBAs as it funds students 'pursuing a career in fields relating to banking, resort management, gaming operations, management and administration, including accounting, finance, information technology and human resources.'
---

---
Amount: Needs-based
Established for undergraduate and graduate students at the University of Minnesota in 2008. The Shakopee Mdewakanton Sioux Community Endowed Scholarship is available for talented American Indian students with demonstrated financial need. Graduate applicants must have documented proof of their heritage and strong academic performance.
---
Amount: 40% of tuition fee
Georgetown McDonough School of Business is partnered with the Mexican Foundation for Education, Technology and Science (FUNED), a nonprofit organization founded in 1993. Having supported 5,500 students to date, they support Mexican citizens with a Bachelor's degree with a minimum 8/10 GPA and evident financial need. FUNED covers 40% of the entire cost but this funding does need to be repaid at 5.75% IR.
Go to page 3 for Women & LGBTQ+ Scholarships
---