As the impending threat of a no deal Brexit advances on the UK, economists predict a brain drain on the British university and job market.

The startup industry, already a dynamic yet uncertain economy, is bracing for a bigger impact, as developers and entrepreneurs potentially opt for more stable and supportive markets.

Yet the number of UK tech companies has grown by 74% since 2017, the year after the referendum. The British government, moreover, is providing increasing support for entrepreneurs looking to move to the UK, such as the Startup and Innovator Visas.

For Indian tech entrepreneur Ravi Ranjan, the UK's ecosystem for entrepreneurs was his reason for going there to study his MBA; and is offering a promising landscape for him to start up his next business after graduation.
---
The possibilities of technology
Viewing the rapid progress that technology was making in his lifetime, Ravi was fascinated by the possibilities of where it could go next.
"I was always amazed to see how technology gradually evolved, filling the gaps in all dimensions of human's lives," Ravi enthuses.
A bachelor's degree in computer science set the foundations for him starting his own business, a personal logistics and services platform based in India's tech hub Bangalore.
But it was the business' failure which made Ravi aware of his shortcomings, and made him realize that it was he wasn't sufficiently prepared for the ruthless world of running his own business.
He needed to master the business basics, he needed a network of supportive mentors, and he needed a startup ecosystem which could help grow his business.
The MBA program at Aston Business School ticked all of these boxes, and before he knew it, Ravi was on a plane bound for the UK.
---
A program for entrepreneurs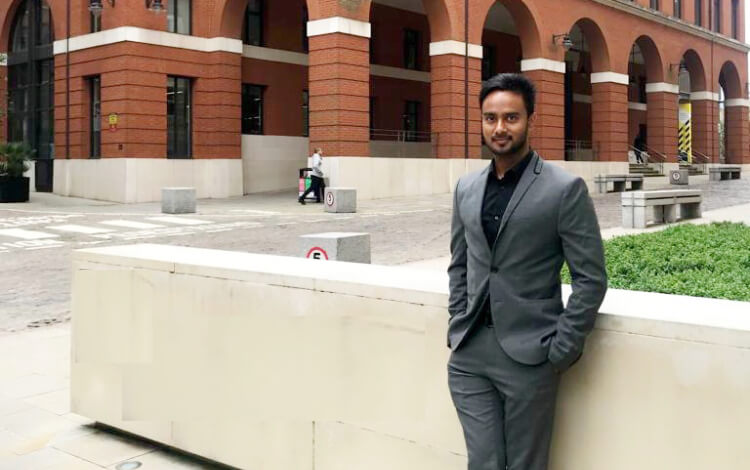 Despite economic uncertainty in the UK, Ravi identified it as one of the most exciting places for young business owners.
It was Aston's strong support for entrepreneurs, moreover, which particularly enthused him as someone looking to advance his business knowledge and experience in this regard.
He quickly became involved in Aston's BSEEN program, a joint venture between Birmingham's top business schools for entrepreneurs looking to get ideas and projects off the ground and running.
The program offers workshops, networking opportunities, grants, and workspace on campus, all aimed at supporting new ventures in their fledgling stages.
Ravi in particular has benefitted from the mentoring program through the school, where Aston's global alumni network are available for support and advice.
---
Developing his own style of leadership
While his bachelor's gave him a strong grasp of computer science, Ravi was determined to become a well-rounded leader in all key aspects of business.
"After three years in the IT industry, I reached a crucial point where I wanted to improve my skills in management, in order have more opportunities with global exposure," Ravi remembers.
He credits Aston hugely for helping him to develop his own unique leadership style.
"It has shaped me for a future business role by broadening my business horizons, understanding and sharpening my management skills in 360 degree angles," Ravi reveals.
He benefitted greatly from the Aston Edge program, a personal and professional development program which all students undertake as part of their MBA.
This is guided largely by cutting edge research in behavioral science, offering students specific insights as to how to develop their own style of leadership and management for the future.
---
The UK's value proposition
With one more year left on the MBA, Ravi is starting to develop his understanding of how he can combine his two expertises going forward.
"All industries are moving towards a technology-driven industry—'industrialization 4.0'—and so my computer science degree is adding value for my future management career," he notes.
Despite his previous failed endeavor, Ravi is a determined entrepreneur—with his mind set on a problem-solving venture in the fitness or advertising sectors.
He believes that the UK can be the space to make this aspiration come true.
As well as the supportive visa schemes for entrepreneurs, Ravi appeals to several UK government funding incentives for startups, such as the Enterprise Investment Scheme, tax reliefs offered to new ventures.
The government favors "high potential" talent, such as enthusiastic students like Ravi, whose desire to innovate and create bodes well for the future of the UK economy.
Related Content: