Home to plenty of beaches, scores of museums, and around 2,400 cafes and restaurants, Melbourne is a great tourist trap.
There's more to the city than meets the eye, though. It's also a popular study destination for business school students the world over—and its popularity is growing.
One recent study by UCL revealed that Australia is overtaking the UK as the second-most popular study destination, after the USA, for international students.
Home to over a quarter of a million students, and seven universities, Melbourne is one of Australia's academic hot spots, and Melbourne Business School (MBS) MBA is ranked by the Financial Times and The Economist as the country's best.
Recently, MBS has also claimed the number one spot for Australian business schools in the latest QS rankings.
Below, we run through five great reasons to study your MBA in Melbourne.
---
1. Exciting job prospects
First and foremost, Melbourne's impressive business landscape has been drawing in MBA candidates.
On an Australian student visa, graduates can remain in the country to job hunt for up to three years, depending on the length of their program, giving them a chance to make their mark in Melbourne's thriving economy.
At MBS, for instance, students can combine the 12 month MBA with the school's world class Master of Marketing program, resulting in a 24 month study period that qualifies them for the full three year post-graduation visa allowance.
With a gross local product of over $100 billion, and steady year-on-year growth, Melbourne is one of Australia's main economic hubs. In fact, the city accounts for an entire 7% of the country's total GDP.
Melbourne's main industries are financial services, insurance, and health care, providing plenty of opportunities for new MBAs.
---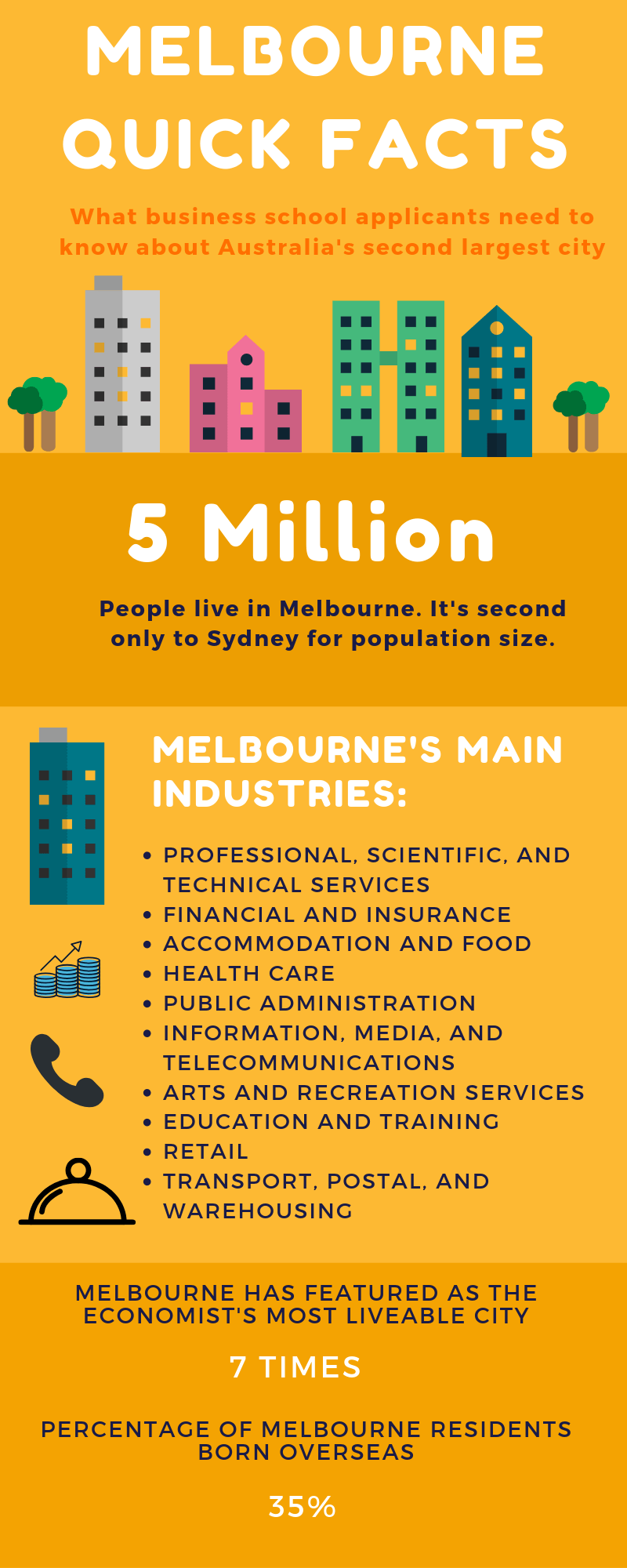 ---
Both NAB and ANZ, two of Australia's four major banks, are headquartered in Melbourne. Westpac and the Commonwealth Bank of Australia also have a significant presence in the city.
Whatever sector they choose, graduates from the local MBS are well prepared for the challenges of professional life.
92% of MBS graduates in the class of 2018 also accepted job offers within three months of graduating, landing jobs in Australia, the US, Europe, and beyond.
---
2. Cultural connections
Often dubbed the 'cultural capital' of Australia, Melbourne is a great location for students who want to explore Australia's history and culture.
It's a cosmopolitan city, brimming with galleries such as the Arts Center Melbourne, and local history spots like the Melbourne Museum. It's also the country's sporting capital, hosting the Australian Open tennis Grand Slam.
MBA students who study here can also take advantage of Australia's close proximity to Asia. For American and European professionals hoping to expand their reach to Asia's fast-growing economies, Australia is a perfect stepping stone.
Currently, Australia's mining and agricultural industries comprise the bulk of its Asian exports. In the coming years, though, it's expected that the services sector will become more engaged in Asian, especially Chinese, markets.
For MBA students hoping to build an Asian network through Australia, Melbourne provides a solid foundation.
At MBS, for instance, the MBA program attracts a globally diverse cohort, with students from many countries across Asia. Most students have at least six years' work experience, ensuring that the program connects experienced professionals.
---
3. Academic rigor
Australian business schools consistently feature in the Financial Times' top 100 business schools. At MBS, for instance, the MBA program is ranked 61st by the Financial Times, and 23rd by the Economist.
This is partly due to the esteemed academic staff the school employs. In 2018, for instance, Dr Hugh Williams left his role at Google to join MBS.
Hugh is best known for his work with search engines, having acted as vice president of engineering and product at Google. He also pioneered infinite scrolling on websites.
Today, he teaches students on Melbourne's MBA program, and advises the MBS Center of Business Analytics.
---
4. Beautiful scenery
If you like to wind down from your studies by reconnecting with nature, you can't go wrong with Melbourne.
With warm summers and mild winters, Melbourne's comfortable climate only adds to the appeal. Less than three hours from the city center, you'll find Wilsons Promontory National Park, the Bellarine Peninsula, and the Great Ocean Road.
In Melbourne itself, too, there's plenty of open space— about 53 million square feet of public green parkland.
---
5. Affordable living
Finally, Melbourne is a surprisingly affordable place to live—great news if you're investing in MBA tuition fees.
Rent begins at under $1,000 per month, and food prices are equally reasonable. All this leaves more cash for exploring the vibrant culture and nightlife that the city has to offer.
When you've completed your MBA, you can expect a great return on investment, too. The average MBA graduate from MBS earns a salary of $118,000, according to the data gathered by the Financial Times.
Related Content: