Mabel Acosta has always valued inclusive communities. She put her passion to use, promoting diversity at a top business school.
Mabel enrolled at the University of North Carolina (UNC) in 2018. But her relationship with the school stretches back almost a decade.
Her brother is a member of the US military, and was stationed about an hour from UNC for a time. He'd visited campus, and raved about the friendly, collaborative culture he saw.
When Mabel made up her mind to go to business school, she couldn't ignore her brother's input. She completed an MBA at UNC Kenan-Flagler Business School, all while promoting diversity in the community.
---
Well-rounded experience
After graduating from her bachelor's in operations and supply chain management, Mabel worked for a few years with auto-parts giant, Gentex, in Michigan. "My role culminated in being a team trainer for newcomers to the material planning area," she explains.
Getting to grips with the onboarding process made Mabel realize just how important personal development was for advancing your career.
After speaking with her managers and directors, she discovered what they all had in common: well-rounded experience.
Going to business school was a great way to round out her own experience quickly.
---
Choosing diversity
While choosing her MBA, Mabel was conscious that she'd have to step away from her job for two years—the program had to be a sound investment.
Being a Hispanic-American woman, finding an MBA with a community that celebrated diversity was equally crucial to Mabel. For this reason, she chose a Consortium school.
The Consortium is a group of US business schools committed to helping students from minority and underrepresented groups into management positions.
Companies from Google to Accenture also share the Consortium's mission, and donate to their scholarship fund. As one of Consortium's 21 member schools, UNC Kenan-Flagler fit the bill.
"At UNC Kenan-Flagler we talk about diversity so much, and it's something that students are very much involved in," Mabel reflects.
This cohort also made Mabel realize how unique her own experience was.
"From being a Hispanic woman, all the way to being someone working in supply chain in Michigan, there are so many things that I didn't realize were unique to me," she explains.
---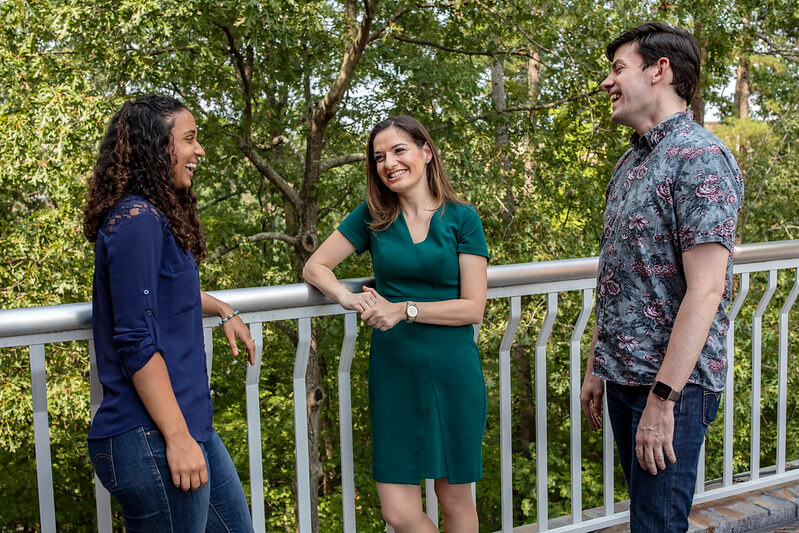 Mabel Acosta meets up with professor Ovul Sezer and classmate John Nelson, president of the Pride Club
---
Planning diversity week
When Mabel arrived on campus, she promptly found an outlet for her passion for celebrating diversity.
As Vice President of Diversity, Equity and Inclusion for the MBA Student Association (MBASA), Mabel worked with the MBASA executive council, the eight diversity clubs under the council, new clubs being organized, and the larger UNC Kenan-Flagler community.
"Those clubs range from religious affiliation, to minority affiliation, to international students," she explains.
This student body diversity is also represented by the international flags that hang on campus. Flags that represent the school's diversity – including LGBTQ+ Pride flag, the Pan-African flag, Native American flags – hang in front of the major auditorium, a central gathering place for the community.
As soon as Mabel took up the mantle of VP, she set out to celebrate this varied community by planning UNC's first ever Diversity Week.
"We collectively put on events that show what it means to be diverse here on campus and out in the workforce, and how we can be treated equitably as a student body," says Mabel.
Events ranged from stress and anxiety workshops to panels on women in business.
Working with eight different clubs, and liaising with the MBASA— all while studying her MBA— was an enormous undertaking, but Mabel felt supported by her peers. The trick, she says, is to start planning as early as possible, and stay in communication.
"I wanted to bring all the clubs together, and started planning immediately. Presidents of the eight diversity clubs took that on right away and ran with it," she recalls.
---
New horizons
Hoping to learn about a new business function, Mabel undertook an internship in marketing with diagnostic equipment manufacturer, Danahar, during her MBA.
This involved taking a device to a new market segment, conducting research with an emphasis on user experience.
Today, Mabel is working in general management, part of the global leadership development program at Thermo Fisher Scientific, a global leader in the manufacture and sale of science-related products. The program allows her to put her new skills to good use in a range of different business functions.
Wherever she finds herself in the future, Mabel plans to use the diverse network she's building to stay abreast of opportunities.
"The UNC MBA pushed me to network even more, and develop relationships that I can continue after business school," she says.
Related Content: