What makes a good business leader? It's a question hotly debated by leadership experts, but if anyone can teach you about leadership it's McKinsey & Company.

For close to 100 years, McKinsey has worked with the world's top CEOs and business leaders to help them manage and lead their organizations; solving problems, launching new businesses, and adapting in times of change.

Across 130 cities in 65 countries worldwide, McKinsey consultants get involved with every aspect of business, and since 2012 a select few have been working with the business school of China's top university, Tsinghua University School of Economics and Management (SEM), to train future business leaders up.

On the Tsinghua Global MBA Program, a collaboration between Tsinghua SEM and MIT Sloan, students get direct exposure to McKinsey's expertise through the flagship MBA course Leadership in a New Era, based around a series of lectures led by McKinsey consultants and some of the world's leading CEOs.

The course is the brainchild of Dominic Barton, former global managing director of McKinsey & Company and the current Canadian ambassador to China. Past speakers include the CEOs or former CEOs of Ford, Rio Tinto Group, Walmart International, and the Canada Pension Plan Investment Board.

Want to take your career to the executive suite? Here's four things McKinsey & Company can teach you about leadership:
---
1. Leadership in context
An MBA program is not just about learning management theories. To succeed in business, you need to know how to implement theory in practice in a real-world business environment.
McKinsey's global leadership course kicks off with an introductory lecture by Dominic Barton outlining the wider global context which today's business leaders operate in. Annabelle Low, a class of 2018 Tsinghua MBA graduate, recalls how he provided an overview of the biggest trends impacting 21st century business.
"In the new era, who a leader is matters perhaps more than what a leader does," she says. Dominic Barton explained how the next 20 years will be the most disruptive, driven by shifting economic power, accelerating technological change, and an aging population.
"Leaders must set bold ambition," Anabelle recalls him saying. "They need to anticipate the second bounce, prioritize and compartmentalize, keep a dual telescope and microscope perspective, and manage their energy, not their time.
"Meanwhile, leaders are also Chief People Officers. They need to possess a sense of purpose, selflessness, decisiveness, and resilience."
Annabelle now works as a business development consultant for Hong Kong blockchain company blockdynamics and as international business director for video streaming and live translation platform Akkadu, a company started by her MBA classmate Alvaro Montoya.
---
Read Alvaro's story: How I Went From An MBA To An Entrepreneur
---
2. People-first
Investing in people is key to becoming a successful business leader. Through McKinsey's global leadership course, MBA students get to know the business leaders themselves on a more intimate level too.
For each session, two speakers—one from McKinsey and another a top company executive—talk through a critical business topic. McKinsey consultants provide an analytical framework for the discussion while the industry executives share stories of their own personal experiences. After the speaker sessions, students go directly into a live Q&A.
Alex Rudnicki, 2019 Tsinghua MBA alum who recently featured on BusinessBecause for his role in JD.com's global expansion during coronavirus, remembers Dominic Barton sharing his top four leadership tips:
1. Leaders are built through experience, they come from many different backgrounds and are not born. Experience a growth phase, experience a restructuring, experience a really challenging phase, and work on building other people's talent.
2. Learn by reading biographies of famous leaders. Dominic mentioned Alexander Hamilton and Franklin Roosevelt
3. Actively seek mentorship.
4. Move, geographically (every five-to-seven years is a good idea) and move mentally out of your comfort zone.
---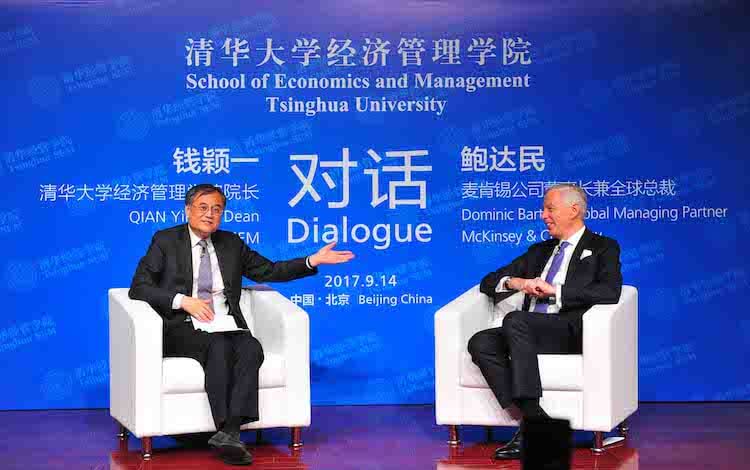 Dominic Barton (right) with Tsinghua SEM former dean Yingyi Qian
---
3. Cross-industry expertise
From farming to finance, McKinsey consultants work in every industry across every function of companies worldwide.
McKinsey's global leadership course at Tsinghua is designed to cover every functional area of a business, with speakers discussing topics including global business trends, transformation, people, technology, operations, marketing, finance from an investor's perspective, and trisector leadership which considers leading in the public, private, and social spheres.
Philip Mertens, from the Tsinghua MBA class of 2016, recalls how Kevin Sneader, then chairman of McKinsey Asia and now global managing partner of McKinsey, led a session on organizational structure and operations.
He did so alongside Jeff Hsu, a former US Marine and chief innovation officer of Far Eastern Group. They spoke through the different organizational structures of top firms, from Haier, the Chinese company that was restructuring to create over 2,000 independent business units for a workforce of 80,000, to Apple, where 17 team leaders and managers report directly to CEO Tim Cook.
"Kevin and Jeff, however, did not talk with us using a series of presentation slides to compare the pros and cons of one organizational structure over another like the traditional teaching method," says Philip, who now works as director of international business at leading private equity firm Tsinghua Holdings Capital.
"Instead, they first shared some of the fundamentals on agility, empowerment and infrastructure, before they started an interactive session and opened the floor for questions from the audience," he continues.
"Where Dominic had given us a birds eye view on the whole world, Kevin and Jeff really broke it down to the personal level of leadership and team management in the context of a modern, connected enterprise as well as its role in our fast-paced world."
---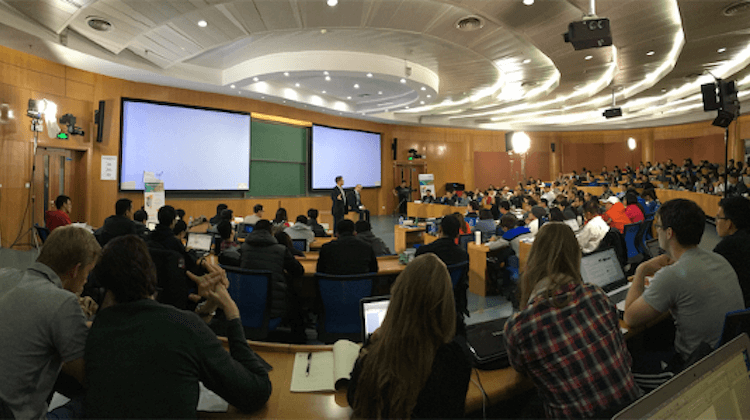 McKinsey's global leadership course classroom at Tsinghua SEM © Tsinghua University
---
4. Dealing with disruption
Even before the coronavirus pandemic of 2020, business leaders were operating in an unstable, unpredictable, and constantly changing environment, with rapid advances in technology disrupting industries across the world.
The past few months have only added to the madness. In such an environment, leaders need to know how to manage change, adapt, and innovate.
Neil Anthony, former chief HR officer of Novartis and Mary Meaney, senior partner at McKinsey, ran a session on organizational change for the global leadership course at Tsinghua in 2017. Using Novartis as a case study, Annabelle remembers how the speakers broke down how they managed to implement large-scale change at Novartis with McKinsey's proven five-step approach to making change stick:
1. Aspire: Decide where the organization wants to go. Set a clear vision and compelling case for change.
2. Assess: Take an honest look at how ready the organization is to get there. Develop a rigorous, fact-based diagnostic of the organization's performance.
3. Architect: Devise an executable strategy on what the organization needs to get there, taking into account the need to change and reinforce mindsets and behaviors.
4. Act: How do we get started? Engage all levels when implementing change.
5. Advance: Plan how to keep moving forward.
Related Content: