When choosing between MBA programs, Constance Zhu wasn't sure whether to stay in her native China or travel abroad. While China's business schools are growing in reputation, business schools in the US still have the most recognized brands globally.

Instead, Constance joined the Tsinghua Global MBA Program, a collaboration between Tsinghua University School of Economics and Management (SEM) in Beijing and US b-school behemoth MIT Sloan.

Students on the Tsinghua MBA have the option to pursue dual degrees at top international schools including Columbia Business School, HEC Paris, and MIT Sloan. After joining the program, Constance chose to spend her second year at MIT, completing a Master of Science in Management Studies (MSMS), and thereby earning a dual degree (Tsinghua MBA + MIT MSMS).

BusinessBecause caught with five Tsinghua MBA alums who took the MIT dual degree option to find out more.
---
Amazing Experiences - Tsinghua-MIT Dual Degree
---

Tsinghua MBA classmates
---
1. You'll get the best of US-China business
The Tsinghua-MIT dual degree is open to all Tsinghua MBA students. At Tsinghua, first-year core MBA courses give students a strong foundation of general management knowledge as well as exclusive insight into business in China.
On top of the core courses—including case studies, company visits, and talks with senior business leaders—Tsinghua offers 12 tracks of elective courses, also taught by professors from MIT, including the flagship McKinsey Global Leadership Course.
Students then supplement the education they receive at Tsinghua with additional knowledge and management tools they can acquire at MIT in their second academic year.
The dual degree typically attracts two types of student: Chinese students with no international experience after their first taste of life abroad and those with an international background who wish to retain their ties to West.
While MIT is one of the biggest brand schools in the world—famed for its strength in technology and engineering—Tsinghua University is known as the MIT of China. If you have Tsinghua on your CV in China, people look at you differently. The university's alumni include Chinese president Xi Jinping, and Mark Zuckerberg and Tim Cook sit on Tsinghua SEM's advisory board.
"The dual degree really gives you a flavor of what business looks like in both China and the US," Constance explains. "If you want to pursue a career in the US, or wherever you want to work, having that overseas professional experience is going to beneficial."
Henry John Foo, who studied at Harvard before pursuing the Tsinghua-MIT dual degree, agrees. He joined Google as a product manager after graduation.
"When I applied exclusively to Tsinghua SEM, I had two goals: understanding China and moving from finance to tech. I was rewarded far beyond simply achieving my goals.
"Students across the university helped deepen my understanding of the local market and Tsinghua's Advisory Board of industry leaders shared insights that expanded my management perspective."
---
---
2. You'll study at the world's leading technology schools
On an exchange program, students typically only study for a semester abroad and don't have access to the full range of resources offered by a host school. Being a dual degree student is different.
For Chen Zhou (see Chen's video above), the experience of being an MIT student during his second MBA year took him on a whirlwind tour of intensive learning, groupwork, socializing with classmates, and exciting adventures outside class.
The MSMS class is made up of international students from around the world—including schools like ESMT Berlin, IE Business School in Spain, Imperial in the UK, and The Lisbon MBA—pursuing the dual degree option at MIT. It's a small, tight-knit group of around 30 students who study alongside second-year MIT MBAs.
Students can choose to specialize in areas including Economics, Finance and Accounting, Behavioral and Policy Sciences, and Management Science and then complete a thesis based on their area of interest.
Back in Beijing, dual degree students benefit from Tsinghua's close ties to China's Silicon Valley. Zhongguancun is home to China's leading universities and technology startups, and a key reason why Julien Isaacs chose Tsinghua for his MBA.
Tsinghua's China Roots Seminars provide international students with in-depth view of China's social, economic and political systems as well as the challenges facing China today. Students visit top Chinese technology companies and hear from Chinese business leaders about their experiences.
"I came to Beijing to explore China and study the foundational tenets of business management at Tsinghua," Julien explains. "I wanted to push myself further, and spending my second year in Boston, I honed in on strategy, product and finance classes.
Julien completed a 100-page long thesis exploring US-China technology dynamics while at MIT. He's now a product manager for an e-commerce software and logistics firm in LA.
---

Terence and his MBA classmates at MIT Sloan

---
3. You'll work with real companies across the world
Action learning is at the core of the curriculum at MIT and Tsinghua, with students putting the theory they learn in class into practice. At both schools, MBA students are paired with organizations across the world to solve problems for them. These include startups, non-profits, NGOs, and multinational companies.
On each project, students get behind-the-scenes access to companies, working with management teams to research new market opportunities, analyze competitors, launch new products, or enter new markets.
Terence Lam, a Tsinghua MBA who's starting his own investment fund, took part in the Global Entrepreneurship Lab (G-Lab) at MIT, where student teams work on business problems for startups and rapidly growing companies across areas like fintech, artificial intelligence, and venture capital.
He flew back to China to work on a two-week consulting project for Geely, the Chinese automotive group, learning how the company makes investment decisions before reflecting on the experience with his professors.
"All the professors that taught me during my MBA had experience teaching at the world's most prestigious schools, in China and internationally. They teach with an understanding of both sides of the world. Because of that, my MBA allowed me to build a more flexible mindset and to see different situations with a different lens," he says.
Chen enrolled in the MIT Israel Lab (video below), spending three weeks working with an Israeli startup in a country famed for its buzzing startup scene.
---
---
4. You'll put your entrepreneurial skills to the test
At Tsinghua, MBA students can take their new business ideas through x-lab, the school's startup incubator, offering office space, mentorship, and access to funding for the best student startups.
At MIT too, dual degree students have access to a cutting-edge entrepreneurship center, entrepreneurs in residence scheme, startup pitching competitions, and meetups. Many of the world's most successful companies—including Intel, HP, Dropbox, and Buzzfeed—were started by MIT alums.
On top of his startup experience in Israel, Chen test-drove his own business idea at MIT. He got funding from the school to conduct a market validation study for his business, an education app for pre-school students. Now working for fintech firm JD Digits in Beijing, Chen says his MIT experience was another step towards his long-term goal of becoming an entrepreneur.
Terence got involved with the local healthcare startup scene in Cambridge, Massachusetts—building connections with investors and entrepreneurs—which is helping him set up his investment fund today.
"This is something you might normally pay a consultant thousands of dollars for. But through Tsinghua, I've met so many different people—MBA students and alumni—in different settings," he says.
---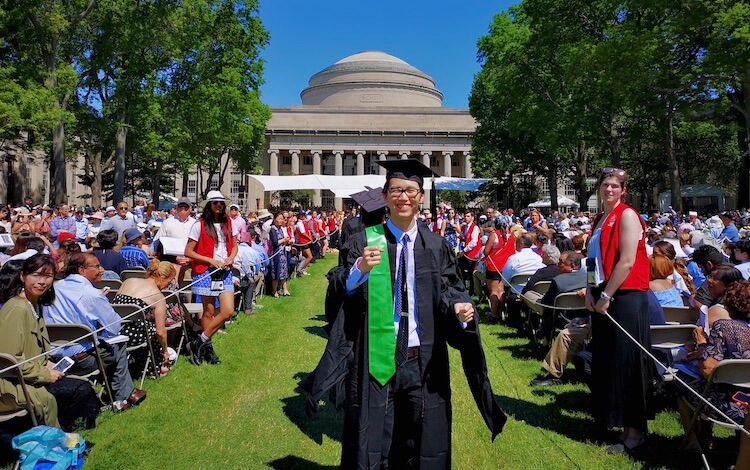 Chen graduating at MIT

---
5. You'll take your career to the next level
As well as access to Tsinghua's global alumni network, dual degree students join MIT's network of 136,000 alumni representing 90 countries around the world. This means access to more career opportunities too, with top employers hiring from both schools whether in China or the US.
Many dual degree students choose to return to China after their year at MIT, reaping the benefits of China's fast-developing economy. Top Chinese companies hiring Tsinghua MBAs include Alibaba, JD.com, and Tencent; big-name multinationals include the Big Three consulting firms, Coca-Cola, Deutsche Bank, Goldman Sachs, Google, and IBM, among others.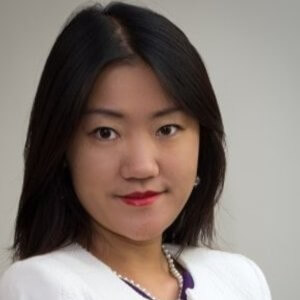 Constance (pictured) says her experience on the dual degree—going outside of her comfort zone and building relationships with different people from different backgrounds—gave her the confidence to take a different path.
"On the MBA, your classmates are doctors, bankers, and ex-consultants. With the variety of professional backgrounds, you can have conversations with your classmates to explore what career you want after graduation.
"The friends I made at MIT are different to the friends I have in China; they gave me a different perspective. Combined with my experience at Tsinghua, I think that year at MIT was one of the best years of my life."
Related Content: