The Cambridge MBA Culture, Arts, and Media Management concentration gives students a grounding in value creation, financial planning, market positioning, and human resources management. All of this will be vital in the post-coronavirus recovery as the arts sector grapples with huge losses.
But how does a sector of the economy that acts not only as a driver of revenue but of cultural expansion and education not just recover but thrive in a post-crisis world?
---
What will recovery look like?
Jeremy Newton (pictured below) leads the Culture, Arts, and Media Management concentration on the Cambridge Judge Business School MBA. He's also the vice principal and director of advancement for the Guildhall School of Music & Drama.
He says that recovery post-pandemic means different things for different subsectors of the industry. Creative content companies like Spotify and Netflix have fared well, adding subscribers in large numbers and capitalizing on the crisis.
Film production, distribution, and exhibition, as well as the commercial art market have been hit hard but will likely recover quickly. The creative arts though—theatres, dance companies, orchestras, museums, and galleries—have suffered deep financial and organizational shock. Their recovery could take a decade.
---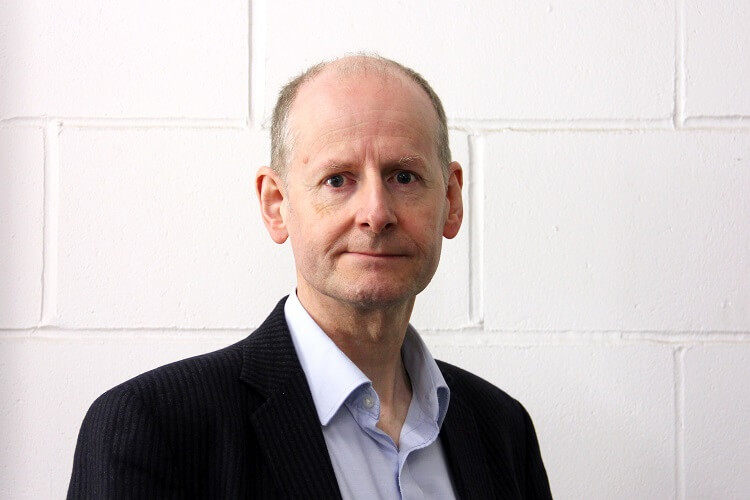 ---
What do the arts need to recover?
Allegra Markson (pictured right), a 2016 MBA graduate from the Culture, Arts, and Media Management concentration who now works as head of business development for arts technology company, Spektrix, is adamant that the conversations around recovery must center on talent retention and attraction.
"Those are the people we need right now to make sure that five, 10 years from now the arts are thriving. If there's a significant creative and management brain drain, that's going to have long-term and detrimental consequences for the industry."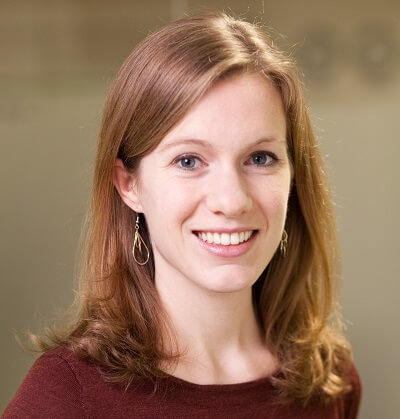 Strong leadership and influencing skills will be required from senior management, she adds. The recent $1.97 billion arts fund granted by the UK government was the result of three months of lobbying by industry leaders and bodies.
"How do you leverage the position you hold as a leader in your industry for the benefit of the wider sector?" Allegra asks. "I think that is absolutely crucial in an industry as interconnected as the arts."
Jasmine Aslan, a current student on the Cambridge MBA, sees two key approaches the sector can use to recover.
One is using the crisis as an opportunity to revisit existing business models and strategies and decide in this context what is going to serve you well and what needs to be reworked. Another is to think entrepreneurially to capitalize on new technology which has allowed a huge spike in subscriptions to streaming services in recent months.
"Arts organizations' experiments in streaming their works online is timely and an opportunity to capitalize on what may be increased demand for these types of products," she explains, adding that an opportunity to study close to one of Europe's largest technology clusters in Cambridge was a strong pull factor in her decision to join the MBA.
"I thought I would have a unique opportunity to gain a deeper understanding of existing and emerging technologies and the ways in which they could be utilized to the benefit of the arts," she says.
To aid recovery the arts will need business savvy graduates with an entrepreneurial mindset who are skilled in strategic problem solving, talent management, and customer focus. They'll also need the ability to manage change and uncertainty.
Jeremy explains that the key skills required to move the sector forward are in fact in relatively short supply. The creative sector has a history of poor structures for career development, training, and strategic leadership, he says.
That's where the Cambridge MBA comes in.
---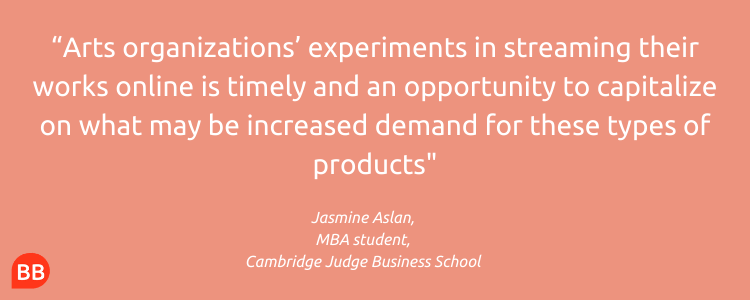 ---
How the Cambridge MBA prepares students to lead through turbulent times
Beyond the broad-based business education an MBA provides, students are given advanced training in digital business and disruptive technologies. Jasmine believes this is vital for arts professionals who are being called on to adapt their organization's offering to new platforms.
"One of my biggest takeaways from the MBA has been to ensure that you always listen to your audience and use their feedback to refine your offerings," she explains. "I think that doing so will be particularly important in the months and years ahead."
Real-life consulting experience is also a key part of the Cambridge MBA. This prepares graduates to successfully work and adapt to new situations, clients, and customer demands.
Jasmine has completed consulting projects with WarnerMedia and more recently the William Morris Endeavour (WME). Allegra completed a project with The Old Vic theatre in London.
"The consultative projects you do throughout the year tend to immerse you in situations you haven't been in before, working on things you haven't worked on before, with people you haven't been colleagues with before," recalls Allegra.
"There is a whole lot of context switching that is required from MBAs and an ability to adjust to new situations all the time."
The classroom is also a melting pot of diversity. MBAs are learning all the time to think differently and to apply different perspectives from other industries to challenges in their own. In Allegra's class there were consultants, lawyers, doctors, scientists, and bankers, among others.
"I think in any industry you're a stronger professional if you're open to looking beyond your own industry for new ideas and perspectives," Allegra concludes.
"The MBA is the perfect environment to develop this mindset because it gathers professionals from any background and encourages them to collaborate and learn from each other."
---
Read more Cambridge MBA stories:
How Cambridge Judge Business School Is Supporting Entrepreneurship
How An MBA Will Prepare You For The Post-Coronavirus Jobs Market
Related Content: