Diversity in MBA classes is a major benefit for business school students. By joining a diverse cohort with people of different professional backgrounds, cultures, genders, and sexualities, you can learn from your peers and emerge as a more well-rounded business leader.

But America's MBA programs are still struggling to attract students from Black and Latinx communities in particular. According to the Wall Street Journal, Black students make up less than 10% of average business school enrollment in the US.

Many top schools are stepping up when it comes to attracting more candidates from these underrepresented groups. In 2020, Black Lives Matter protests brought racial injustice back into the spotlight, sparking US business schools to revitalize their efforts when it comes to attracting and supporting diverse candidates.

Here's five ways business schools are ramping up MBA diversity and working to improve the representation and inclusion of Black and Latinx MBA students.
---
1. On-campus training
In a bid to stamp out racial bias—conscious and unconscious—on campus, several top schools offer diversity and inclusion training to faculty, students, or both.
At Georgetown University's McDonough School of Business, for example, every first-year MBA undergoes implicit bias training. This helps them understand their own learned biases, and how they can be overcome in a professional setting.
"More recently, our leadership has also created a Standing Committee on Diversity, Equality, and Inclusion, with task forces focused on the student, faculty, and staff experiences," adds Shelly Heinrich, associate dean of MBA admissions and director of marketing at McDonough.
Arizona State University (ASU) is another US school that offers this kind of training. Students, staff, and faculty have the option to attend several inclusive teaching workshops, hosted by the University's Center for the Study for Race and Democracy.
When students and faculty are trained in this way, teaching becomes more inclusive, and MBA graduates enter the workforce with a better understanding of how to tackle racial bias in the workplace.
---
Read: 25 Top MBA Scholarships For Minorities
©Prospanica Facebook

---
2. Community outreach
Connecting with underrepresented groups in the local community is another important strategy that business schools are using to recruit more diverse students.
"In the next few years, it is my hope that we will be able to implement more early engagement opportunities, meet diverse students where they are, and provide the guidance and support to help them navigate the business school application process," explains Sharon Thompson, assistant dean of admissions and director of diversity initiatives at Duke University's Fuqua School of Business.
The school has hosted the Duke MBA Workshop for Minority Applicants since 1982, which gives prospective candidates from minority backgrounds some insight into the Fuqua MBA application process, learning experience, and career prospects.
The event is planned by the admissions team in conjunction with members of the Black and Latino MBA Organization.
A number of other top schools are also engaging in exactly this kind of community outreach. At Harvard Business School, for instance, college students from underrepresented backgrounds are invited to a community event called the Summer Venture in Management every year.
During the one-week event, participants learn management skills through the HBS case study method, while building a strong network with their peers. The experience helps diverse students get a taste of management education, and develop skills that will help them as they embark on their career.
This kind of early intervention could help grow the pipeline of diverse MBA candidates.
"The pipeline is not large enough," reflects Shelly. "The industry needs to do a better job of building the diversity pipeline at the undergraduate level so that there are more candidates in the potential pool."
---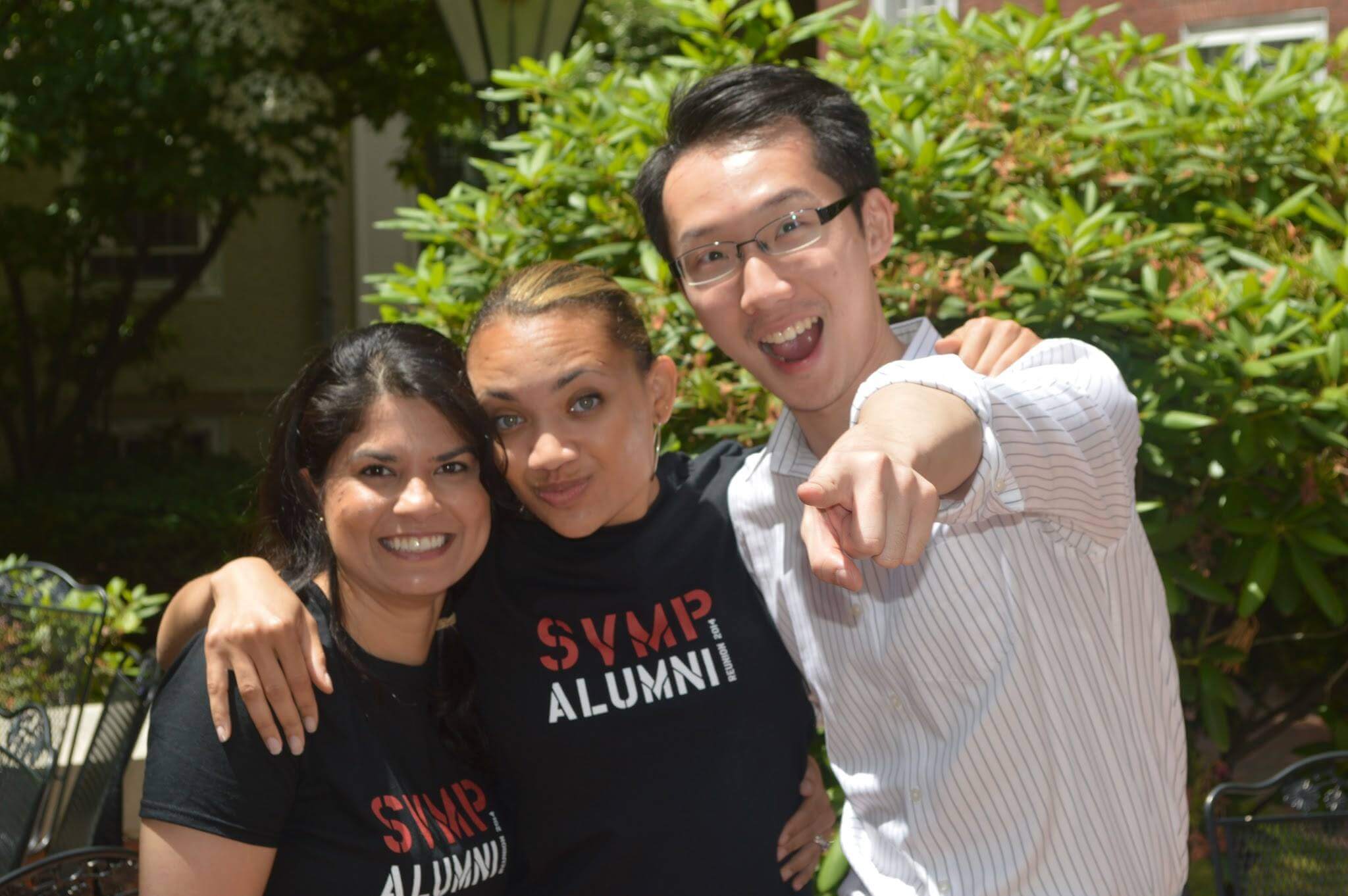 ©HBS SVMP Recruiting via Facebook
---
3. Fostering a sense of community on campus
Many top business schools acknowledge the need to foster an inclusive and welcoming community for underrepresented ethnic minority students on campus.
At Duke University's Fuqua School of Business, the Black and Latinx MBA Organization (BLMBAO) hosts various events, providing professional, educational, academic, and social activities for their members, such as business conferences and competitions. BLMBAO builds awareness of systemic issues facing ethnic minorities, bringing together the entire Fuqua community through these conversations.
"Diversity clubs provide a place of support by being a resource and place for their members, both professionally and personally. In addition to engaging their members, our diversity clubs are impact players and catalysts for change," says Sharon from Duke Fuqua.
At the University of Texas' McCombs School of Business, the MBA program office supports underrepresented ethnic minorities by funding diversity-based events and connecting students with employers. There's also a virtual community for minority students, offering online channels related to careers, as well as inclusion and diversity-based social groups.
Such MBA diversity initiatives are a central part of the business school journey for minority MBAs and allies alike, forging an environment where differences are not just accepted, but also celebrated.
---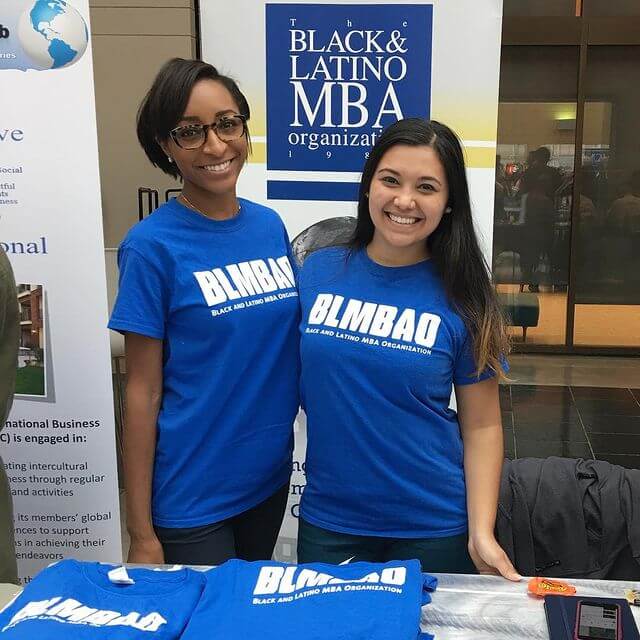 ©BLMBAO via Instagram
---
4. Financial aid
Cost is a prominent barrier to business school for underrepresented ethnic minorities in the US. Roughly 80% of Black master's graduates and 70% of Hispanic master's graduates used student loans to fund their studies, compared with around 57% of white Americans who took out loans, according to the US Department of Education's National Postsecondary Student Aid Study.
Aside from MBA scholarships for minorities, some business schools, such as the American University's Kogod School of Business, have reserved funds to assist underrepresented ethnic minority MBAs with completing unpaid internships.
There's also plenty of career conferences with diversity-based organizations like National Black MBA Association (NBMBAA) available to business school students in the US, but these often incur additional costs related to registration fees and membership dues. As a result, schools like Rice University's Jones Graduate School of Business offer to fund these fees, so students don't have to worry about covering the expenses.
"We're glad to finally see more movement and momentum to provide resources and opportunities to populations that have historically not had as much access," notes Shelly from Georgetown McDonough.
Underrepresented minorities shouldn't be excluded from important networking initiatives and career-building events, so finding means to break down the barriers affecting these MBAs is a step in the right direction.
---
5. Re-thinking the curriculum
A different way business schools are combating racial inequalities is through rethinking how the curriculum can be used to address diversity-related issues.
In Harvard Business School's (HBS) famous case study method—where students assume the central character role in real-life business challenges to debate a problem—HBS have deliberately developed more case studies using protagonists of color and eliminated discriminatory assumptions about minority groups within the case studies.
"We need more ethnic diversity in our classroom so we can have more diverse business leaders to drive change in the world," says Sharon from Duke Fuqua.
Moreover, schools like Georgetown McDonough have introduced classes in areas like leading diverse teams for performance and impact, power and politics, and inclusion and innovation.
By offering these educational classes, and altering existing ones, business schools are signaling that diversity issues ought to be addressed inside and outside the academic curricula if real change is to materialize.
---

MBA grads go on to lead influential and powerful organizations across the globe. If the business world is to become a more equitable environment, these future business frontrunners need to be well-versed in diversity and inclusion.
Most importantly, a more diverse mix of people with differing perspectives and experiences should feel able to assume these leadership roles.
If you're a Black or Latinx candidate, know that business schools want to connect with you.

This article was written by Shannon Cook & Bethany Garner