The best student city in North-America according to QS, Montréal offers a friendly environment, prestigious business schools like HEC Montréal, and top MBA jobs in areas like AI, fintech, and consulting.

Whether you want to explore the city's thriving startup scene, open up the doors to Canada's job market, or boost your employability by learning French, an MBA in Montréal can help you achieve your goals.

Here are four reasons why you should consider pursuing an MBA in Montréal.
---
1. Prestigious but affordable MBA programs
Montréal is a good option if you want to break into the North American job market with a pocket-friendly MBA program.
For example, HEC Montréal is ranked second best business school in Canada by Bloomberg, and its one-year MBA program will cost you $54,000 if you're an international student, $19,500 if you're Canadian, and $9,100 if you're from Quebec, Belgium, or France.
That's much less than other high-profile MBA programs. According to our BusinessBecause Cost of MBA Report 2021, the average tuition cost for a top MBA program globally is $123,586.
HEC Montréal also offers financial aid to help pay for your degree, including merit-based, need-based, and international scholarships.
---
2. Strong MBA salary and job prospects
Studying in Montréal opens up the doors to Canada's dynamic job market for recent grads.
Throughout the MBA at HEC Montréal, students can prepare for their next career step in Canada through recruitment events and hands-on learning opportunities.
One such event is the HEC Challenge, which tasks students with drawing up strategy recommendations for companies based on real-life business cases. They also get the chance to participate in a consulting field project in a sector that fits with their professional interests.
These experiences pay off for graduates. HEC Montréal's MBA placement rate was 90.4% in 2020, with grads securing roles in top companies like Deloitte, L'Oréal, and McKinsey across Canada and North America.
You can also expect a good return on your investment after completing the program, with a $99,000 average salary six months post-graduation and a 36.7% average salary increase for the class of 2020.
This goes for international students as well, who get to stay and work in Canada thanks to the Post-Graduate Work Permit (PGWP). After acquiring work experience through the PGWP, graduates can qualify for permanent residence in Canada through Express Entry, the application process for skilled immigrants.
---

© HEC Montréal via Facebook
---
3. A thriving startup scene
Montréal is known as the epicenter of the artificial intelligence industry in Canada, and has a fast-growing entrepreneurial scene that recent grads can explore. Venture funding in Montréal reached $1.15 billion in 2020, establishing the city as the second biggest startup ecosystem in Canada behind Toronto.
Ranked as the top business school in Canada for entrepreneurship by Bloomberg, HEC Montréal plays a role in preparing budding entrepreneurs to thrive in this landscape.
Through initiatives like Creative Destruction Lab and Next AI, students get to participate in accelerator programs for tech startups and develop close ties with leading and emerging institutions in the AI industry.
Even if AI isn't your thing, Montréal's diversified economy is also renowned for its creative and talented workforce in cutting-edge fields like aerospace, visual effects, video games, big data, virtual reality, health technologies, and fintech.
---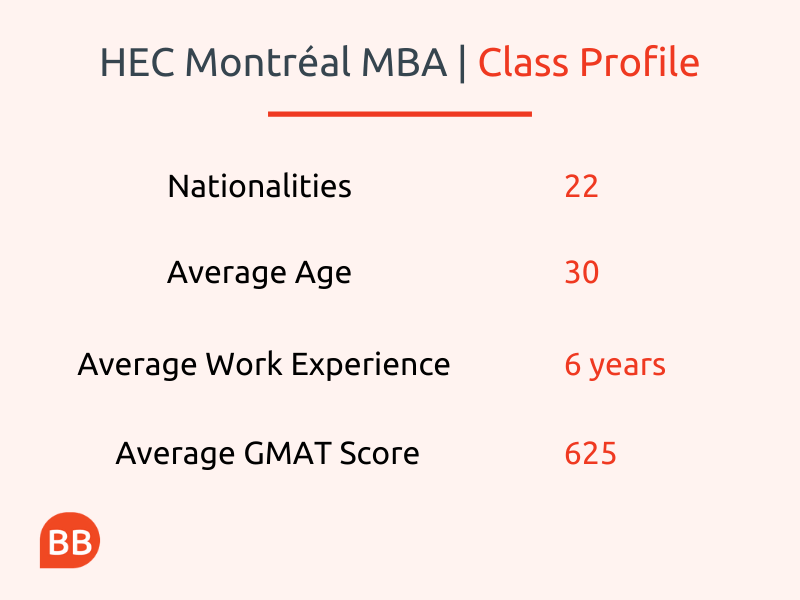 ---
4. A vibrant and welcoming culture
Home to around three million people, Montréal is a mid-sized city that offers a friendly and affordable alternative to nearby urban centers like New York, Toronto, and Boston.
The city ranked joint ninth in the world and first in North America in the 2022 edition of QS Best Student Cities, and is renowned for its vibrant cultural and entertainment scene with countless jazz, comedy, and film festivals.
Montréal's diverse student population hails from around the world. 34% of the city's population is foreign-born, and there are 22 countries represented in the HEC Montréal MBA cohort, which gives you the opportunity to network with people from a wide variety of cultural backgrounds.
To boost students' employability in a bilingual business environment, HEC Montréal also helps students hone their French-language skills while studying through the MBA+ program.
With 1.4 million positions that need to be filled in Quebec by 2026, there are plenty of opportunities for you in Montréal.
If you want to pursue an MBA in a dynamic, multilingual, and multicultural environment, look no further.
HEC Montréal will introduce you to the best of the city, equipping you with the skills needed to make an impact on the city's innovative business landscape and beyond.
Related Content: