COP26—the United Nations Climate Conference—is over, and there's now an official international agreement on curbing the climate crisis.

The Glasgow Climate Pact features agreements on reducing emissions and phasing down coal power. It aims to limit global warming to 2.4C and includes plans for further changes aiming to bring that down to 1.5C.

Much of this depends on business. Just 100 companies are reportedly responsible for 71% of global emissions, according to the Business & Human Rights Resource Center.

EDHEC Business School has recognized the responsibility of business in driving change. The school revamped its Global MBA program in 2021, with a core focus on sustainability aiming to prepare the next generation of business leaders.
---
Why now is the right time for sustainability management
EDHEC's new-look MBA curriculum launched in September 2021, two months before COP26. The revamp was largely driven by the growing worldwide momentum behind sustainability.
The build-up to COP26 saw an ever-increasing focus on sustainability; 80% of companies worldwide now produce sustainability reports. That rises to 100% in Japan and Mexico.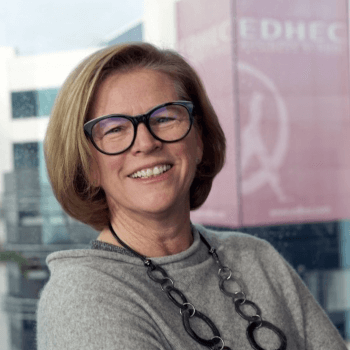 During a review of the MBA curriculum, conversations with employers, faculty, students, and alumni revealed sustainability was at the top of everybody's agenda, explains Sandra Richez (pictured), EDHEC Global MBA director.
"You can see it everywhere in business today, finally leaders are getting on board. It wasn't a very long time ago that it seemed inconceivable there would actually be agreement on things," she says.
The school already had a large sustainability focus. The EDHEC Global MBA was ranked third in the world by the Financial Times for corporate social responsibility (CSR) before the new curriculum launched. But it decided to fundamentally change the way sustainability was taught by bringing it to the core of the program.
"We've always had quite a large number of hours dedicated to sustainability in the program and that's been one of the things that has always attracted people to us," explains Sandra.
"We just brought some more logic to it and integrated it across the whole program."
---
A sustainability-driven curriculum
The new-look EDHEC Global MBA incorporates teaching on sustainable practices into the majority of modules, developing a tailored sustainability journey across the entire program.
A core finance module now includes sustainable finance classes, for example, while even the most technical modules focused on artificial intelligence include sustainability elements such as discrimination bias.
Key to the journey is the new Sustainable Impact Challenge, which students work on throughout the program.
This project sees teams of 10 students work alongside companies to tackle sustainable challenges they're facing. Each team is supported by a member of the faculty, and at the end of the program they present their findings to the company.
Teams from the current cohort have faced a wide variety of Sustainable Impact Challenges. These include improving the sustainability of mining for semiconductor chips, preserving historical landmarks in Europe, and creating responsible supply chains for shipping products between Africa and Europe.
The challenge also includes a week-long sustainable learning expedition, the first of which took place in Slovenia. During the expedition students visit innovative, sustainability-focused companies and interact with experts in the field.
"This deep dive gives them an insight into what companies are doing, how hard sustainability is to put in place, how expensive it can be, and how creative you can get around some of these questions," Sandra explains.
---
Preparing the next generation of business leaders
As with all MBA programs, the EDHEC MBA aims to give students the skills, knowledge, and experience to go on to become business leaders after graduation.
With sustainability likely to be an important feature of business in years to come, EDHEC hopes the largely practical curriculum will inspire students to develop innovative solutions and give them the confidence to implement them when they enter the workplace.
"They'll not only see how companies make an impact, but how they [themselves] can make an impact on the projects they work on," Sandra explains. "If they bring that with them to companies that they go to then I feel like business school can have an impact."
It's also beneficial to students' careers. Greater focus on sustainability is likely to make industry-specific expertise more appealing to recruiters. "I think that responsible leadership is where we see business going," Sandra explains.
Jobs are emerging at specialist sustainability consultancies like Eunomia—who recently advised global logistics provider DHL on improving their packaging recycling. Sustainable consulting is also growing among top firms like McKinsey and Bain.
In years to come, it's likely that companies will expand their CSR teams, and traditional jobs will develop a greater sustainability focus. "Leadership and sustainability tie into what employers need right now and I'm hoping that will make our graduates more attractive moving forward," Sandra says.
Ultimately, EDHEC hopes that by training students to become sustainability-minded business leaders, the targets of COP26 and the requirements of business to drive change can be met.
"If the world is going to fight climate change, business leaders definitely have a role to play," Sandra says.
"It's really about giving students the vision to take action. To help them move from discussion, theories, and concepts to action.
"The time for action is now."
Related Content: