Why earn an MBA degree in South Africa? The best business schools in South Africa prove that you needn't leave the country to pursue your MBA in a competitive environment.

In fact, South Africa boasts top-notch, accredited MBA programs, each with their own unique advantages and specialties.

To start, earning your MBA in an emerging market like South Arica provides you with the opportunity to embrace innovation, challenge, and sustainability–skills that are valued throughout the international business community.

Plus, South African MBA programs offer an incredible financial value (especially over, say, an expensive Ivy League program in the US), as well as the opportunity to engage with diverse students from varied backgrounds.

Here's the 10 best business schools in South Africa that offer MBA programs, according to Eduniversal.
---
10. University of Limpopo: Turfloop Graduate School of Leadership (TGSL MBA)
Location: Polokwane
The TGSL MBA degree focuses on training middle and senior managers in the public, private, and entrepreneurial sectors. During the two-year degree, students will complete coursework and submit a mini-dissertation. The program focuses largely on economic and social sustainability in Africa, with the goal of creating competitive managers who value social responsibility in business.
Like all of our best business schools in South Africa, the MBA admissions requirements are competitive. Students must demonstrate that they're prepared for admissions by attaining a postgraduate or honors degree (NQF 8), completing at least three years of relevant work experience, and submitting a CV and letter of support from their employer.
---
9. North-West University Business School (NWU MBA)
Location: Mahikeng, Potchefstroom, and Vanderbijlpark campuses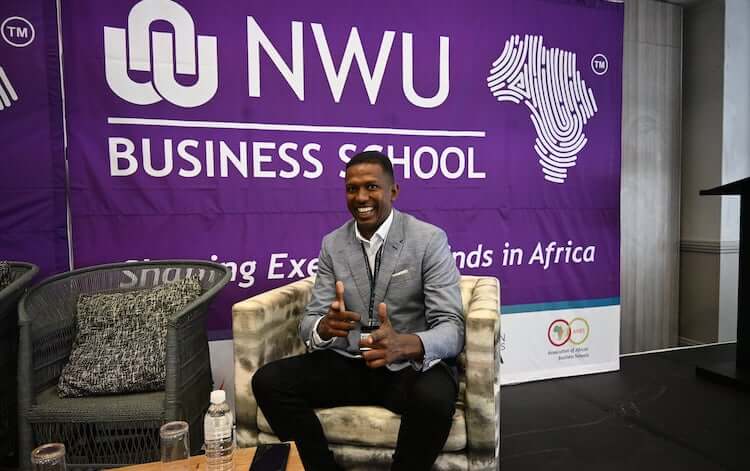 The NWU MBA is a highly-ranked, general MBA program that aims to create an alumni network of multidisciplinary thought-leaders and managers. The two-year program offers a lot of flexibility when it comes to campus location, class scheduling, and synchronous vs. asynchronous lectures. The program mixes theory and practice in its coursework, which can vary from open book assessments to presentations.
Applicants must complete an online application and motivation essay, have a degree (NQF 8), at least three years of management experience, and submit relevant test scores(s) (TTS, GMAT, or NMAT). Final round applicants will be asked to interview.
---
8. University of South Africa: Graduate School of Business Leadership (UNISA SBL)
Location: Midrand
UNISA SBL focuses its MBA on business leadership, rather than business administration. This leadership-focused, yet general MBA consistently ranks one of the best in South Africa. The program has been around, in various iterations, since 1965, and has produced over a third of South Africa's MBL/MBA degrees. Needless to say, the school's alumni network is diverse and strong.
The two-year MBA program at UNISA consists of coursework plus an integrated management research project. Students are required to apply with three or more years of professional work experience, a bachelor's degree or postgraduate diploma, and admissions test scores.
---
7. University of Kwazulu-Natal: Graduate School of Business and Leadership
Location: Westville
University of Kwazulu-Natal's Graduate School of Business and Leadership offers a general MBA alongside its various postgraduate diplomas. The two-year program consists of one year of required modules and a second year of one elective, one core module, and the completion of a dissertation.
The program comes in two formats. The block release MBA consists of once-a-month Wednesday through Saturday lectures, plus field trips and presentations. The evening program meets weekly, Monday through Thursday, with some additional weekend lectures. These options provide flexibility for working professionals who wish to study while maintaining their careers.
Applicants must be at least 25 years old on January 1st of the year that they register, have at least three years of formal work experience, submit GMAT scores, and have a bachelor's degree (NQF 8).
---
6. Rhodes University: Rhodes Business School
Location: Grahamstown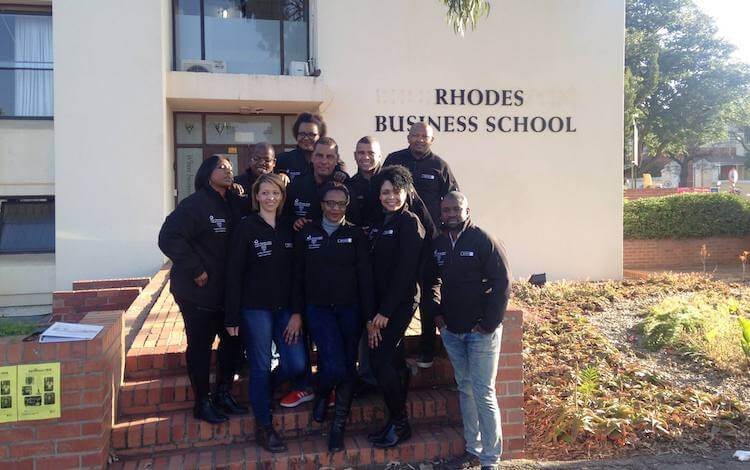 The Rhodes Business School MBA focuses on 'Leadership for Sustainability', or the balance between economic, social, and environmental sustainability in business. The program offers a general MBA for mid-career professionals.
The program can be taken part-time or in a modular format, allowing (and encouraging) students to continue professional work while striving towards their MBA. The first two years of the program consist of coursework, and the final six months are devoted to the compilation of a 15,000-word dissertation. The goal of the program is to allow students to reflect on their professional experience through an academic and research-focused lens.
Like most top business programs in South Africa, the program requires a four-year bachelor's degree (NQF 8), NMAT test scores, a minimum of three years of relevant professional experience, and English proficiency.
---
5. Nelson Mandela University Business School
Location: Gqeberha (Port Elizabeth)
The youngest business school in South Africa and promoting itself as Africa's first green business school, the Nelson Mandela University MBA is known for its focus on innovation and leadership. Each trimester of the two-year program, students are required to participate in a leadership-focused coursework.
The Nelson Mandela University MBA offers part-time and block release options, which allow students to continue to work and commute as needed. Admissions criteria are similar to the programs we've already mentioned: at least three years of management experience or five years of relevant work experience, a Bachelor's degree (NQF 8), and English fluency.
Students are also required to reside within a 60km radius of one of the school's four centers: Port Elizabeth, East London, Cape Town, Gauteng, or Durban.
---
4. University of the Witwatersrand: Wits Business School (WBS MBA)
Location: Johannesburg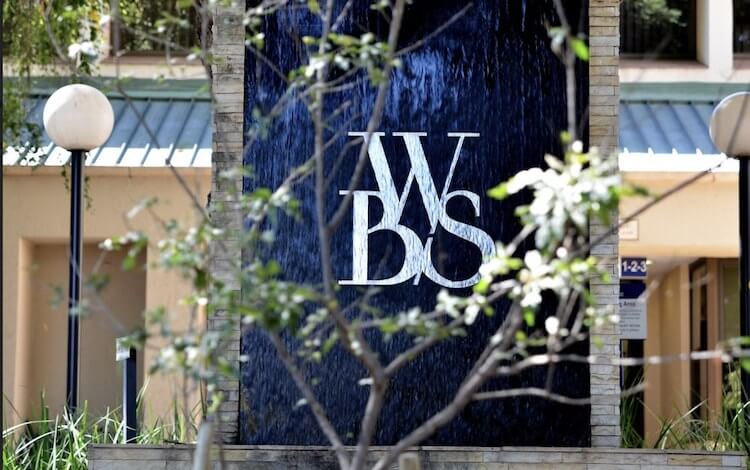 Located in the business hub of South Africa, the WBS MBA focuses on creating leaders and managers who can build a better business community and economy throughout Africa. Nelson Mandela famously attended the University of Witwatersrand's law school.
The two-year, part-time MBA at Wits focuses its curriculum around five main themes: Context in Africa, Context in South Africa, Sustainability, Entrepreneurial Action, and Critical Engagement–all of which are key to emerging markets such as South Africa. In addition to core courses and elective courses, WBS MBA students will participate in independent study (The Leadership Quest and an applied research project) and a global study tour (international or regional).
Application requirements include a four-year degree (NQF 8) or a three-year degree plus PG-Dip (NQF 8), plus a minimum of four years of post-university work experience, relevant test scores (GMAT, NMAT or WBS Admission Test), and proof of English proficiency. The application consists of a R200 fee ($13), transcripts, a CV, WBS Admission Test Scores, and an online application.
---
3. University of Pretoria: Gordon Institute of Business Science (GIBS)
Location: Johannesburg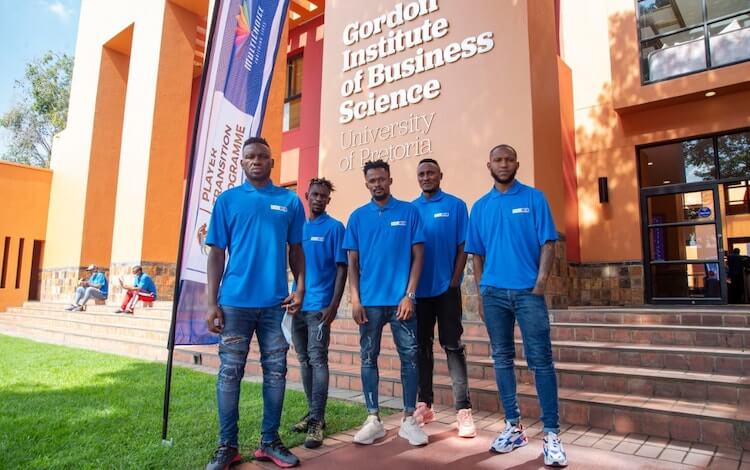 The GIBS MBA is geared towards entrepreneurial business students looking for a generalized business education. Located in a major business center, the program is based on experiential learning–a combination of theory and practice—and students engage with the local business culture.
The GIBS MBA offers four areas of focus: General Management, Entrepreneurship, Consulting, and Manufacturing and Health, as well as many electives. The program's diversity challenges students' world views. GIBS MBA students may opt to participate in a full-time, one-year program or take a modular format over two years.
Application requirements include a degree (NQF 7), at least five years of work experience (two at the managerial level), GIBS entrance test results, application essays, and competence in Microsoft suite. The application fee varies by round, ranging from R2,000 to R4,000 ($130-260)
---
2. University of Stellenbosch Business School (USB)
Location: Cape Town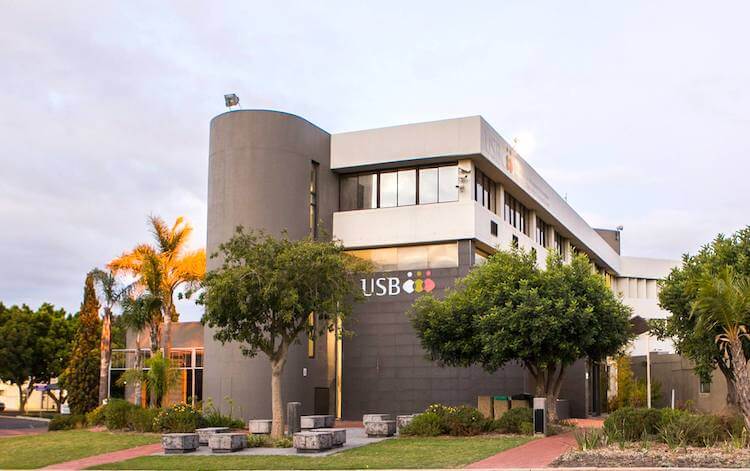 Second in our list of the best business schools in South Africa, the triple-accredited University of Stellenbosch Business School (USB) comes in two formats: modular and blended. Both formats offer the opportunity to work while earning your MBA.
Focusing on leadership development and quantitative skills, USB seeks to develop strategic thinkers with cross-cultural skills. There are four streams of study: Generalist, Health Care Leadership, Management of International Organizations, and Project Management. The program requires the completion of 18 core modules (including an overseas International Study Module, a research assignment, and the Leadership Development Module), and two electives as qualifications for graduation.
The USB MBA application requirements are fairly extensive. They include a four-year bachelor's degree or Postgraduate degree of NQF level eight or a three-year bachelor's degree of NQF level seven. Applicants must demonstrate at least three years of relevant work experience (preferably in management), and provide a CV, two essays, SHL scores, and–if selected–an interview. The application costs R1,050 ($68), in addition to testing fees.
---
1. University of Cape Town: Graduate School of Business (UCT GSB)
Location: Cape Town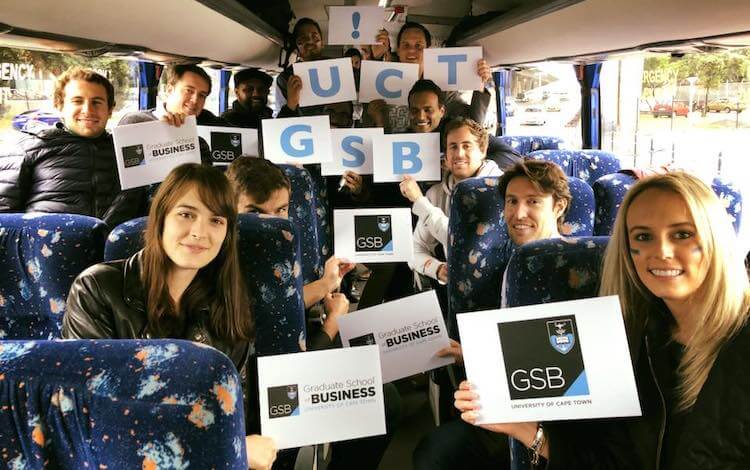 The best MBA in South Africa according to Eduniversal is offered by University of Cape Town Graduate School of Business. The UCT GSB MBA program is triple-accredited and can be taken in one of two formats: full-time, one-year and modular, two-year.
UCT GSB seeks to enroll 'talented, mature adults with proven academic ability and business experience who are highly motivated to succeed'.
Entrance expectations require applicants to be at least 25 years of age, fluent in English, and possess three or more years of relevant work experience, a GMAT score of at least 550, and a NQF level eight qualification (or equivalent, for non-South Africans).
Applicants must submit a CV, two reference reports, three required essays explaining their motivations for application, and an R1,850 ($120) application fee. Before admission, some applicants will be invited to interview with the admissions committee.
The program offers a combination of individual and group work, as well as one-on-one time with faculty. In addition to the core curriculum, students are required to take 20 elective credits.
Students also have the opportunity to specialize in management consulting, marketing management, innovation and entrepreneurship, leadership and change, operations and supply chain management, or corporate finance.
---
Next Read:
Why Do An MBA In South Africa? Fees, Scholarships & Graduate Jobs