Whether or not you dream of entering a sustainability role, joining social impact or sustainability projects during an MBA degree can benefit your career.

These sustainability projects are often challenging, requiring MBA students to think strategically about the best way to solve problems that have plagued the planet for years. It will ultimately require more than just an interest in environmental issues to be successful in these practical learning initiatives.

Here are five career benefits of joining MBA sustainability projects.
---
1. MBA sustainability projects will build your awareness of environmental issues
Whether you work for a finance or tech firm—more and more businesses are striving to become more sustainable. Participating in MBA sustainability projects is a sure-fire way to broaden your understanding of complex environmental issues.
At the Asia School of Business (ASB) MBA in Kuala Lumpur, students can take part in sustainability practicums as part of the Action Learning (AL) curriculum. These sustainability-focused practicums involve the MBA class going onsite for a week to address a topic such as how to promote sustainable production in the palm oil value chain, or tackling sustainability challenges in the ecotourism sector.
The 20-month ASB MBA is formed in partnership with the MIT Sloan School of Management and works alongside the MIT Sloan Sustainability Initiative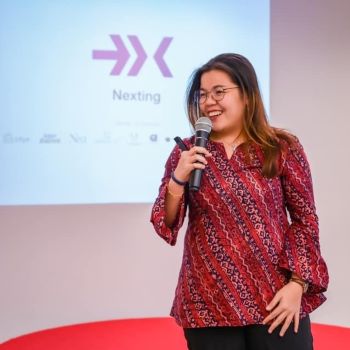 , as well as ASB's Center for Technology, Strategy, and Sustainability, to weave sustainability teachings throughout the entire curriculum.
Penny Leong (pictured), ASB MBA student, participated in an eco-sustainability business practicum that saw her travelling to Batu-Batu Island—an eco-island resort in Malaysia—to work on renewable energy generation, waste management, and pollution control.
"It's tremendous work to keep an ecotourism resort going. It takes technology and human capital efforts to make an eco-resort sustainable," she says.
Penny learned about aspects like how the island generates energy, the sources and usages of water, and how the construction of the island helps to conserve energy.
The ASB MBA also offers courses in Energy: Markets, Public Policies, and Sustainability, which can help to solidify students' learnings from the practicums.
---

Penny worked with ASB MBA classmates during the sustainability project in Batu-Batu Island ©Penny Leong
---
2. You'll apply creativity and innovation skills
Solving environmental issues requires more than just an understanding of why they're happening. You'll also need to use creativity and innovation to figure out solutions to the problems.
Creativity and initiative rank amongst the top skills for 2025, according to the World Economic Forum Future of Jobs survey.
As part of the island management team in the ASB MBA sustainability project, Penny had to figure out a way to educate the tourists on the island about the importance of the island's sustainability efforts.
"My team and I experienced a walk-through experience as a guest to understand how the management engaged guests," says Penny.
Penny and the team then used this knowledge to design the guest engagement experience to be easy, accessible, and attractive to tourists.
Students can apply the skills they've learnt from ASB MBA courses like Operations Strategy and Introduction to Entrepreneurship, as well as an Entrepreneurship Trek module that stretches throughout the duration of the program.
---
3. MBA sustainability projects will enhance your problem-solving skills
A major challenge for many sustainable businesses is identifying how to align profits with their purpose.
Gaining first-hand experience of solving this problem during MBA sustainability projects will be important when gaining careers in sustainability and beyond.
"From the Batu-Batu practicum, I tried to figure out the initial problem and then I asked questions that I thought I already knew the answer to. For example, I asked the management team about what sustainability means to them," says Penny.
Renato Lima de Oliveira, assistant professor of management at ASB, believes these problem-solving skills will be valuable for a variety of careers.
"There's a market for sustainability leaders in conventional companies, which are aiming to reduce their carbon footprint, as well as green disruptors that are coming up with new business models and value propositions," he says.
---

ASB MBA student Penny says she'll use the sustainability knowledge throughout her career ©Penny Leong
---
4. Sustainability projects can enhance your leadership skills
If you want to go far within any company, you'll need to demonstrate strong leadership skills.
One of the ways that ASB students build these skills is through leading in real-world projects like the business practicums or Action Learning (AL) initiatives. In AL projects, MBA students take part in five consultancy-based projects across the 20-month MBA at global partners like AirAsia, Accenture, or Maxis.
Renato says that through sustainability-themed practical learning ventures, students are taught how to make a real impact in the global sustainability challenge.
During the practicum, Penny gained important leadership lessons. "Empathy is the key in management leadership—from problem-identification to problem rethinking," she says.
Following her ASB MBA, Penny wants to continue in the learning and development and coaching space but intends to apply her sustainability knowledge in her daily life.
Some ASB MBA grads enter exciting MBA jobs across Southeast Asia like chief sustainability officer or go on to lead environment, social, and governance (ESG) at renewable energy firms.
---

Batu-Batu Island eco-resort, Malaysia ©Penny Leong
---
5. You'll improve your data analysis skills during MBA sustainability projects
Businesses undergoing digital transformation are continually searching for leaders with strong data skills. Practicing data analysis skills in the MBA can help you to stand out in a competitive landscape.
ASB MBA students can apply their knowledge from courses like Data, Modeling, and Decision-Making throughout sustainability projects.
In the Batu-Batu practicum, collating data on energy conservation, waste management, and trash collection was an important part of the project.
"I learned that the purpose and objective of collecting and analyzing data have to constantly be revisited in order to stay relevant to the problem-statement and hypothesis," Penny says.
Whether grads choose to pursue jobs in sustainability or venture into more traditional business school industries—the skills and networking experiences students gain throughout MBA sustainability projects can provide lifelong benefits.
Related Content: