Hitesh Tanwani spent five years with multinational financial services firm, JP Morgan, before he decided to embark on a new journey and launch an international business career.

Originally from India, Hitesh acquired an engineering undergraduate degree and had gained an MBA from ICFAI Business School, Hyderabad when he landed his role as an associate at JP Morgan, Mumbai.

But feeling the need to pursue more global opportunities, Hitesh left India and enrolled in the MBA program at The University of Hong Kong (HKU).

The decision has helped him launch his successful trading career.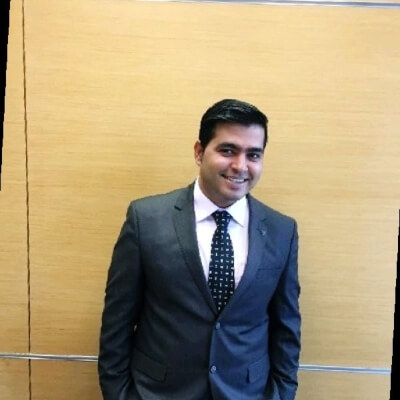 ---
From India to Hong Kong
Determined to build an international career and gain exposure to cultures outside of India, Hitesh left JP Morgan's office in Mumbai and embarked on a new path in Hong Kong.
"I definitely felt the need to have an international experience which would add something in terms of career growth and personally—which is why I decided to move out of India and try something new," said Hitesh.
"Hong Kong is at the center of Asia's growth, which I wanted to experience and be a part of," he adds.
Weighing up his options, Hitesh decided studying an MBA would provide him with a broad business education that would allow for a wealth of diverse opportunities after graduation.
When it came to selecting which program to go with, it was a no brainer, he says.
"A big brand like HKU which is over 100 years old and consistently among the top rankings, the MBA was really well tailored to meet my needs."
---
Learning new skills on the HKU MBA
During his time at HKU, Hitesh enjoyed the rigorous curriculum which focuses on a broad range of topics, from accounting and finance to marketing and human resources.
He also enjoyed the school's practical, case-based approach to learning. "HKU has its own case study research center; we would start with concepts from class and build upon them individually," he says.
Aside from the academic advantages of his time at HKU , Hitesh reflects on the international networking opportunities and sense of community that he gained during his MBA.
He says that a striking aspect of the course was the small, but highly diverse cohort of students that he worked with.
"Being someone from financial services, I was working with people from marketing, logistics and even the fashion industry," he explains.
During the program, students would work with different groups every time they had a project. Working with a group that consisted of a large blend of working cultures and varied communication styles was essential in broadening everyone's own cultural awareness and understanding of business.
"It was a major takeaway from the course," Hitesh adds.
---
Launching a Successful Trading Career
Directly after the program Hitesh landed another associate role at JP Morgan, Hong Kong, however not long after he used his degree to pivot into a new role.
Just one year later, Hitesh began working in FX Sales and Trading SSGM at State Street Hong Kong, a globally renowned investment company.
"[HKU] gave us many tips and tricks to build up your CV which really helped me a lot in getting a shortlist at State Street" says Hitesh.
He was able to successfully progress at the company within just 18 months of landing the role, taking on a managerial position and landing his current role as assistant vice president.
Today, he acknowledges the impact that studying his MBA at HKU has had on his career development. Working primarily in business development, a large portion of his day-to-day role involves working closely with potential clients and keeping a strong relationship with his existing clients.
Within his role, Hitesh focuses on his clients' needs and negotiating with them. "We learned this exact content during our courses," he says, adding that he used to carry out mock negotiations and mock discussion sessions at HKU.
The experiences he gained during his time there helped him build up the skills he needed to launch his successful career today.
Related Content: