A master's degree from a top business school will almost certainly pay off in terms of salary. MSc in Management graduates from Bocconi University in Italy earn $85k on average three years after graduation. But another way to measure success is through your social impact.
Elena Falcettoni and Maria Vittoria Gronchi are two women for whom social impact is part of their everyday life. Elena is an economist at the US Federal Reserve, researching how policy can improve access to healthcare, while Maria Vittoria is the director of the COVID testing centers at New York City Health & Hospitals, reporting to Mayor Bill de Blasio.
Both have an advanced skill set and practical experience from their master's degrees at Bocconi University, programs which they credit to getting them to where they are today.
---
Maria Vittoria Gronchi | Director of COVID Testing Centers, New York City Health & Hospitals
---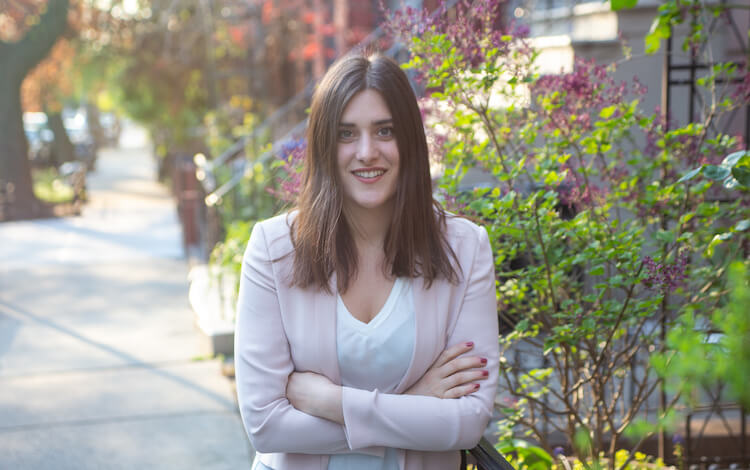 ---
Five years ago, when Maria Vittoria had just graduated from her bachelor's, she couldn't have predicted what lay ahead. Global pandemics aside, she couldn't decide which direction she wanted her career to go in.
"I've always been ambitious but value-driven, and want to make a difference in people's lives," she insists.
She'd majored in economics, and had an analytical background, but realized she desired more of a managerial competency in order to lead effectively. She was also aware of not limiting her opportunities.
"I was looking for something that could open as many doors as possible in a field that I knew I was interested in," Maria Vittoria explains.
The MSc in Economics and Management of Government and International Organizations at Bocconi stood out for this reason. It allowed her to delve into different aspects of public sector roles and decide where she wanted to carve out her career. It also offered the opportunity of a double degree, enrolling in a Master of Public Administration (MPA) at the State University of New York (SUNY) in Albany, New York.
It also helped show her the opportunities that were out there. In many of her classes, she met and listened to alumni from dozens of backgrounds across the public sector. "It really helped people like myself who didn't know exactly what I wanted to do."
---

---
Finding the right path to make a difference
From the get-go, Maria Vittoria's professors were indispensable in helping her identify her ambitions and achieve her goals.
"In the first month, the director and career service would sit with every one of us and ask us about our goals, and advise us about all the opportunities that would be best for us," she explains.
This quelled a concern that many students like Maria Vittoria had: that your opportunities in the public sector are far more limited than in the private sector.
Healthcare emerged as a key interest for Maria Vittoria. "On the one hand, healthcare is a human right, and we take it for granted, but we shouldn't. On the other hand, I come from a country where there are universal healthcare services, but we know that these systems have significant problems."
Following her dual degree master's, including a year spent in New York doing her MPA, Maria Vittoria set about finding the right role in public health. This included stints at the New York State Assembly, at the mayor's office, before moving to New York Health & Hospital.
All these roles had one thing in common—"critical thinking"—a skill she credits to her master's. "Bocconi really taught me how to solve problems, with limited resources and time."
No truer has this been than in her current role as director of COVID Test Centers in New York, which in April 2020 emerged as the epicenter of the coronavirus outbreak in the US. It's a rapid, ever changing environment which has forced Maria Vittoria to be agile. "News emerges everyday that could change your entire plan."
But her master's and her experience has taught her not to be paralyzed or overwhelmed by the problem, but to do something about it, something she hopes to bring back to Italy one day. "Many young folks complain about politics, but not many people want to build the competencies you need to get there and make a difference. I felt like I didn't want to complain, I wanted to do things to make a difference."
---
Next Page: Elena Falcettoni, Economist at the US Federal Reserve
---
Related Content: