In a world of digital connectivity, Zoom meetings, and e-conferences, understanding online business and the pressures of remote management is vital for the next generation of business leaders.

Studying an online master's in business can help you develop these skills, and there are an array of programs available at many top business schools around the world.

At EDHEC Online, part of EDHEC Business School, you can study an online diploma in business over the course of just 18 months, going at your own pace from practically anywhere in the world.

But what can an online degree offer you? Here are seven reasons to study an online master's in business.
---
1. You'll develop a great work ethic
Working or studying from home involves a lot of self-motivation and accountability. If you can't create and stick to a consistent study plan, you won't get the best results possible. Being able to incorporate study into your daily routine shows that you are a great multi-tasker and a highly organized individual.
If you are able to go into the job market with examples of how you are a real self-starter—a proactive, driven innovator who will work hard—you'll be an asset to any employer.
---
2. You'll grow an international network
Networking is an important part of business education. In your cohort, you'll build relationships with peers across industries, functions, and geographies.
Your connections might lead to job opportunities or industry insights further down the road. Or, if you're entrepreneurial, you might even meet your future business partner.
An online master's in business is no different.
EDHEC's Online Master of Science (MSc) in International Business Management, for instance, places a real emphasis on global opportunities and international networking. Being able to gain these global skills in diverse management skills and international communication from home is a rare opportunity.
---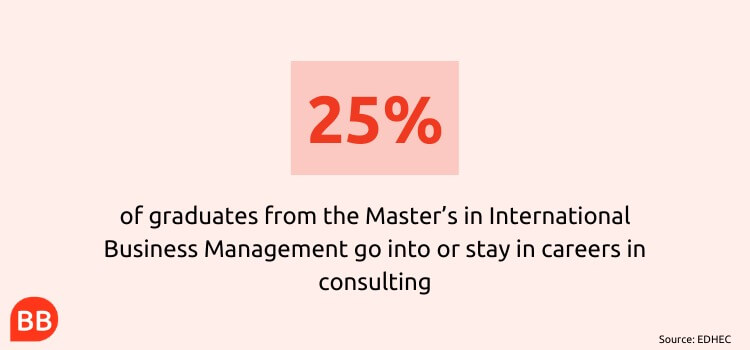 ---
3. You'll learn on your own schedule
An online master's in business allows you to study wherever and whenever you want, fitting in around your personal and work commitments.
EDHEC's Online MSc in Data Management and Business Analytics, for example, is an 18-month course and has an online learning platform that's available 24/7. Being able to study without taking time out of your career can make your business education more financially and personally viable. It can allow you to apply knowledge in real time.
---
4. There's an excellent return on investment
Online programs are significantly less expensive than their in-person alternatives. The online business diplomas at EDHEC range from $21,000 to $29,000, compared to upwards of $42,500 for the in-person Master in Management (MiM).
When it comes to opportunities for graduates, EDHEC has career and recruitment support from partners like Google, Capgemini Consulting, LVMH, PWC, and L'Oréal, who are passionate about creating a bright generation of leaders.
25% of graduates from the Online MSc in International Business Management also go into or stay in careers in consulting, and 25% go into business development.
---
5. You'll be able to access academic expertise from your own home
Well-structured online business masters offer the same curriculum as their in-person counterparts. EDHEC's online business diplomas are triple-accredited by EQUIS, AACSB, and AMBA. Being able to gain this kind of academic grounding in your own time makes graduate business education more accessible.
With core courses and electives focusing on a variety of business topics such as digital transformation, strategy, and managerial economics, the school's online programs give students the opportunity to develop into well-rounded generalist managers from the comfort of their own home.
---
6. You can personalize the learning experience
If you pick the right program, online business masters can also be tailored to your personal career goals and interests.
On EDHEC's Online MSc in Data Management and Business Analytics, you can choose between the financial or business track and take modules like artificial intelligence, ethics and responsibility, and machine learning. The program allows you to tailor your education in line with your end goal.
Learning takes place through methods such as videos, quizzes, instructional activities, and online resources. There is also a real focus on post-graduation career support, with EDHEC providing support to alumni from the EDHEC Success Management Team.
---
7. You'll gain remote management skills
With remote and hybrid work set to remain, the ability to manage projects remotely is highly valuable for future business leaders. Online business masters give you the chance to practice these remote management skills.
In EDHEC's MSc in International Business Management, students have the opportunity to participate in The Consulting Project, where they formulate a business strategy for a real organization. Participants also get to choose the kind of company they work with and tailor the project to their interests.
The chance to undertake projects like this means you won't miss out on the hands-on learning opportunities that come with studying an online master's in business, despite participating in the program virtually.
Studying your business master's online could be the right option for you if you want these benefits without giving up your day job.
Related Content: