The Master in Marketing is the world's most in-demand master's degree. 59% of programs reported an increase in applications in 2021, according to the Graduate Management Admission Council's (GMAC) Application Trends Survey.

A Master in Marketing can open up jobs requiring expertise in data, strategy, and management, as well as a forward-thinking, innovative mindset. But what exactly can you do with a Master in Marketing, and what will you learn in the program?
---
Who is a Master in Marketing for?
Masters in Marketing are aimed at recent graduates with little to no experience in marketing, who can combine strong analytical skills with an ability to think outside the box.
Although some existing statistical knowledge can be an advantage, you don't need a graduate or undergraduate degree in marketing, or any kind of background in the sector.
For example, at HEC Paris—home to the Master in Marketing program ranked first in the world by QS World University Rankings—24% of the cohort studied a humanities subject at undergraduate level.
---
Master in Marketing curriculum
During a Master in Marketing, you'll learn the fundamentals of marketing management alongside core modules on topics including communication, consumer behavior, market research, and digital marketing strategy.
Columbia Business School offers the second-best Master in Marketing program in the world according to QS, and it has a STEM-certified curriculum. Core courses include marketing analytics, statistical modeling, and strategic consumer insights, which aim to teach students how to use data to create marketing strategies and evaluate their success.
Whether you choose a STEM-designated program or not, you'll be able to explore different aspects of marketing in more depth through electives. At Imperial College Business School—ranked third in the world by QS—electives include Entrepreneurial Marketing, Green Marketing, and B2B Marketing; while you can choose to learn more about how neuroscience and AI are reshaping marketing at HEC Paris.
You'll also get the opportunity to gain hands-on experience throughout your Master in Marketing, allowing you to both refine your skills and grow your network.
At HEC Paris, Master in Marketing students participate in the L'Oréal Bootcamp, a two-day design-thinking marathon where students provide a solution to a strategic marketing issue raised by cosmetics giant L'Oréal.
Meanwhile, at Imperial College Business School, students have the chance to work in teams on a strategic marketing consulting project for high-profile corporate sponsors like Givenchy, eBay, and Unilever.
---

---
Master in Marketing jobs
Pursuing a Master in Marketing can open up a wide array of career opportunities after graduation, ranging from data-driven jobs to more creative careers.
21% of Master in Marketing graduates from Columbia Business School end up in consumer products, a further 21% in tech, 14% in fintech, 14% in consulting, and 14% in the media and entertainment space.
A few typical titles are content marketing associate, data analyst, and product manager, and top recruiters in 2020 included Bottega Veneta, Bytedance, Citibank, and Huawei.
At HEC Paris, top employers of Master in Marketing grads include Johnson & Johnson, Google, Burberry, L'Oréal, and Microsoft. 20% of the cohort ended up in tech, while 20% went into consulting, and 13% in the media and creative industries, with an average starting salary across sectors of $52,000.
Tech is also a popular sector for Master in Marketing graduates from Imperial College Business School, with 29% of the cohort exploring the field after graduation in roles like strategic analyst, digital marketing executive, and technology risk consultant.
---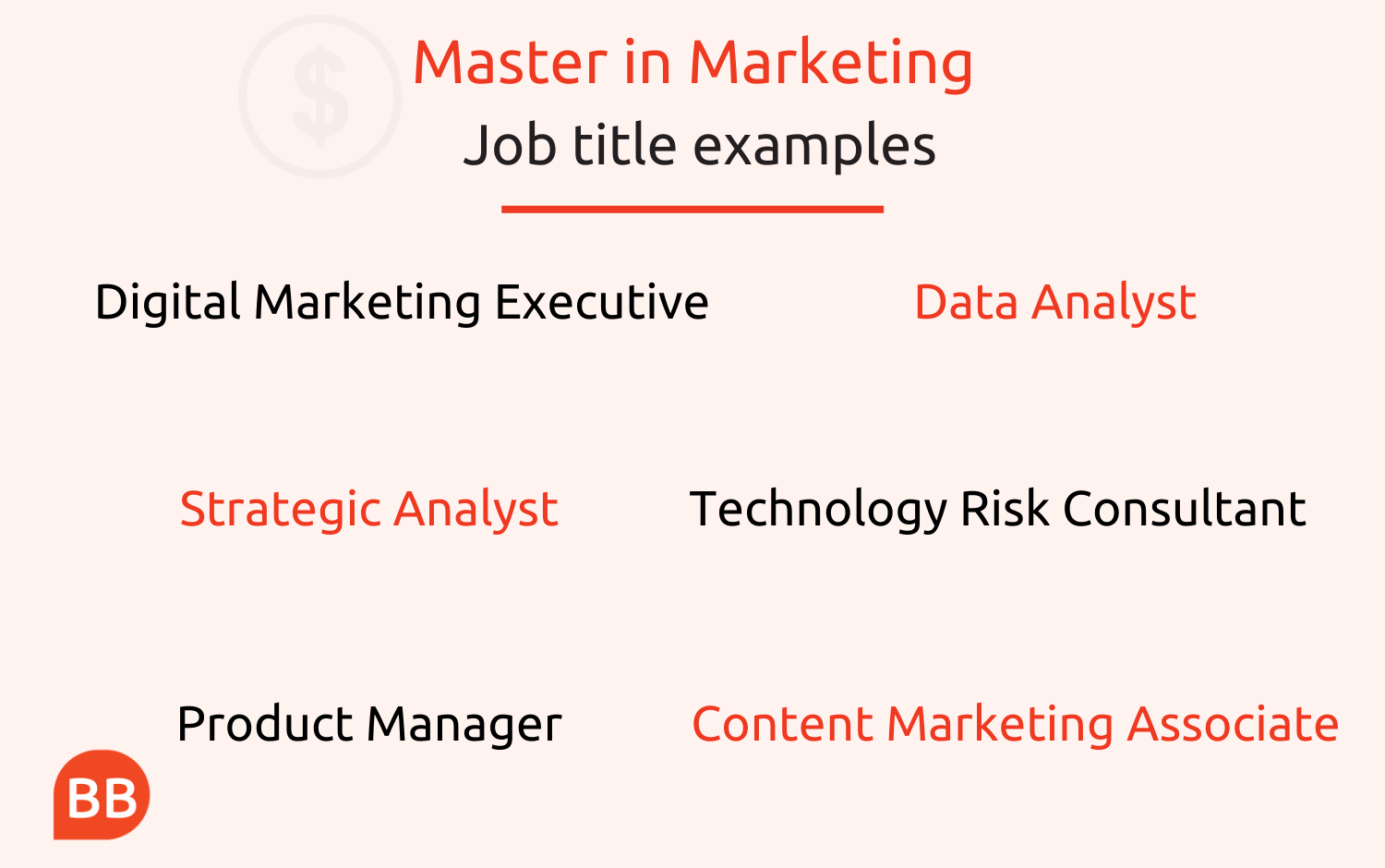 ---
Some Master in Marketing graduates even launch their own ventures. At HEC Paris, students accepted into the HEC-42 Startup Launchpad follow the Launchpad courses alongside their regular classes and get the opportunity to develop their startup project.
Schools offer extensive career support to help Master in Marketing students launch their careers. Careers services provide workshops and classes with careers experts to teach you how to effectively market yourself and leverage your school's alumni network to find a career that's suited to your skills and interests.
This means Master in Marketing grads tend to land jobs soon after graduation. 100% of HEC Paris and Columbia Business School grads, as well as 95% of Imperial College Business School grads, are employed within six months of completing the program.
Your Master in Marketing salary for an entry-level job will depend on the industry you choose and the role you secure, but your skills will enable you to quickly climb the ladder. As you evolve in your career, you could become an international e-retail project manager at Parfums Christian Dior, a business development manager at L'Oréal, or managing director at Rolls Royce.
---

A Master in Marketing will equip you with the analytics expertise and creative mindset required to build a successful marketing career in diverse fields including luxury retail, fintech, and entertainment.
The data skills and innovative attitude you'll develop during the program are also highly transferable, enabling you to explore emerging sectors or even launch your own venture.
However, if you're looking to get into more generalist business roles, you may want to turn towards a Master in Management, where you'll be able to learn the fundamentals of marketing alongside other functional areas like finance, strategy, and operations.

Next read:
What Can You Do With A Master In Finance?