A budding student athlete turned business development professional, Antoine Gueguen is living out his dream working with global superbrand, Nike.

Antoine, who grew up in Paris, moved to the US on a sports scholarship after falling in love with tennis, aged 11. After gaining an insight into the inner workings of the industry, he was inspired to pursue a career in sport.

At emlyon business school, he found the perfect place to begin his career, in the MSc in Sports Industry Management. Now, five years after graduation, he's living his dream career with one of the world's most recognizable brands.
---
Why the emlyon MSc in Sports Industry Management?
Not knowing exactly where he wanted to take his career, Antoine studied law at undergrad. A lover of sport all his life, he finally decided that his passion could become a career while playing tennis in Greenwood, South Carolina.
"Being on the court every day and looking at how business driven the university sports environment was, I realized that it was sports that I really wanted to go into," he explains.
He decided to study a Master's to help gain an entry into the industry. When searching for programs, he was open to staying in the US or returning home to study in Europe.
The decision was made when he found the emlyon Master's in Sports Industry Management; a highly international program taught in Paris but offering a residential period in Shanghai.
"It made total sense to me, when looking at the courses and how international the program was," he adds.
---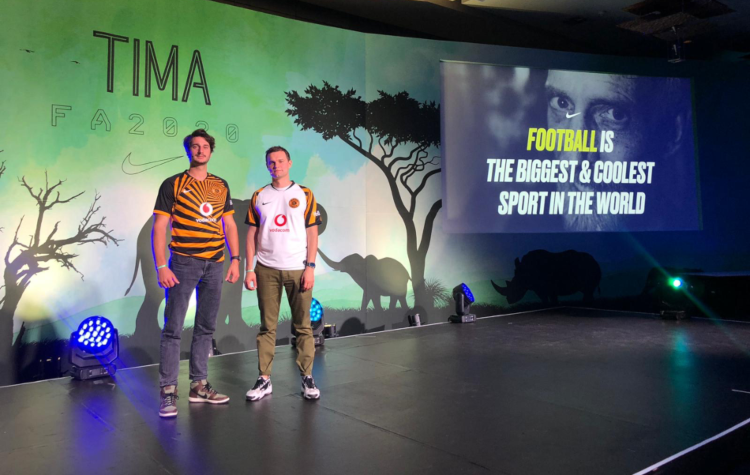 ---
A Specialized Master's in sports management
The emlyon MSc in Sports Industry Management offers a broad curriculum which includes a range of management and strategy modules alongside a focus on sports.
With no formal business training, Antoine found the management curriculum difficult as he covered many new topics, including finance and accounting. But, he says, it helped develop his business acumen while also satisfying his sporting interests.
"The main value of the program was that it sharpened my personality and my passion for sport, and helped to make sure that I got a role and stood out in the industry."
The MSc curriculum also features a wide variety of practical experiences, including in-company visits, projects, and an internship period.
"Our program director had so many contacts in the sports industry that you could do in-company projects with companies like Nike, Salomon, and Decathlon," Antoine explains.
He spent the first six months of the program in France, but the practical offering continued in Shanghai during the international term, where he got the chance to work with sporting goods retailer, Decathlon.
The in-company period required him to work on building a loyalty program across several Decathlon stores. This meant interacting with local communities and developing an understanding of the culture in Shanghai.
"That was really interesting to see the Chinese culture and how they deal with business, especially business that's imported from a foreign country," he says. "It was difficult to make it approachable and digestible for the locals, and that was the purpose of the task."
The experience developed Antoine's understanding of marketing and taught him a consumer-first approach to business. It also helped him prepare for his next practical experience: a year-long internship with Nike.
---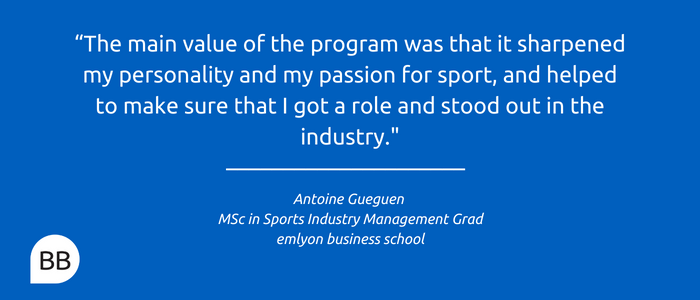 ---
Launching a career with Nike
Antoine landed his internship with Nike six months before the end of the program. He was working in merchandising with the sporting goods team at the company's office in Amsterdam.
It was challenging, he says, as he had little experience of merchandising and was thrust into the deep end in a new country.
"I had no clue what merchandising was. Still I was really motivated to learn and they could ask me to do anything," he adds. "Even if it meant a sleepless night, they could count on me. I didn't know anything but got the job done."
His attitude paid off as, on the final day of his internship, Antoine was offered a full-time opportunity in merchandising, where he stayed for over three years.
In 2021, he moved into a new role as marketplace manager for Nike's team sport licensee arm, where he's now focused on business development for team sports across the Middle East, Europe, and Africa.
"Our target is to put the Nike swoosh logo on as many team athletes in the world as possible," he says. "My favourite part of the job is seeing so many athletes wearing our brand and giving very positive feedback."
The role requires Antoine to use his consumer-facing skills and understanding of how to operate within a marketplace. With a management focus, it's also given him aspirations to push into higher leadership roles at the company.
"I like to help people; support them, coach them, and help them evolve. So I see myself as a team manager or as a leader," he says. "At the moment I'm a manager, I was an associate or specialist two years back, but the next step is hopefully being in a leadership position."
Reflecting on his journey so far, Antoine feels that it's his passion for sport that has carried him and helped him achieve success.
"You don't need to be an athlete to work in sport," he says. "The real strength of the [master's] program is that no one is an athlete, but everyone loves sport, and that's beautiful."
Related Content: