Moving across the world and finding a job in your dream country is no easy feat, but an MBA can provide you with a launchpad for an international career along with an advanced management degree.

Industrial engineer, Karen Bellido Ayala, originally from Peru, was intent on finding an MBA in a country where she could advance her career.

She chose Germany because of its location in Europe, the strong economy, and the prestigious education she would receive at HHL Leipzig Graduate School of Management.

Having graduated from HHL, Karen now works as a process manager at Zalando SE, a German online fashion retailer, based in Berlin.
---
Why an MBA?
For six years before her MBA, Karen worked as an engineer and was involved in logistics, operations, and project management. She worked in different roles related to warehouse operations and supply chain, within retail, fashion, cosmetics, and pharma.
Karen decided to pursue an MBA to elevate her management knowledge and expand her global reach.
"I wanted to complement my experience, but I also wanted to refresh my knowledge of key management concepts and applications from a more global perspective," she explains.
Having traveled across Europe previously, Karen was intent on finding a way to work on the continent.
"I love the culture, the cities, the landscapes, and the mix between modernity and history. I wanted to challenge myself, step out of my comfort zone, and have this international experience."
---
Why HHL Leipzig & an MBA in Germany?
Karen was introduced to HHL when she went to The MBA Tour in Lima and met an HHL student recruitment manager.
"I found out that the variety of courses offered in both the compulsory and the elective modules provided different perspectives to develop a solid understanding of the key management concepts I was interested in," she says.
HHL offers an option of two tracks for MBA students: the fast track that consists of 90 credits over 15 months and the advanced track which has 120 credits over up to 21 months depending on a students' course choices.
Karen chose the advanced track which gave her access to the customization modules along with the general management essentials and electives.
Pursuing an MBA in Germany was a major draw. "Germany, being one of the strongest economies in Europe and the world, seemed like the right choice of a place where I could pursue my career aspirations after completing my MBA," Karen explains.
Germany has internationally-friendly visa policies and is one of the easier countries to obtain a work visa, especially when a company supports you through the process. As a non-EU citizen, after finishing your MBA, you can apply for an 18-month extended residency permit to stay and work in the country.
If you have a job after graduation, you can apply for a work visa, valid for as long as you hold that position. The EU Blue Card allows a student who has secured a job that fulfills specific criteria, like a minimum of €56k ($58k) per annum, to stay in Germany long-term.
---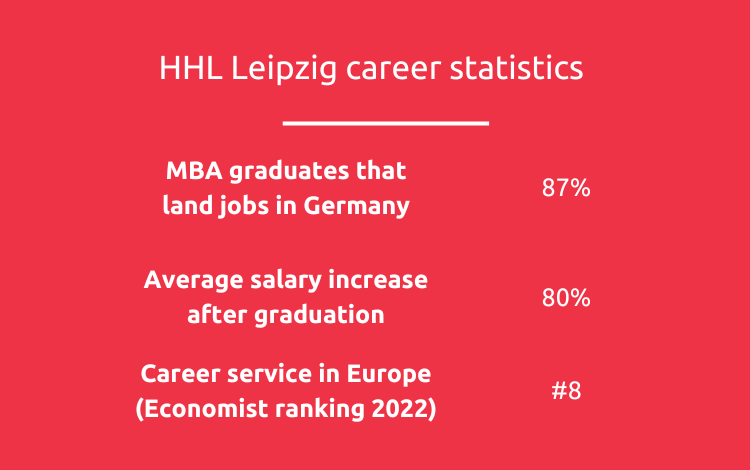 ---
HHL Leipzig MBA experience
Karen's credentials and GMAT score set her up for a successful application to HHL. She joined a WhatsApp group filled with applicants who had applied to the program early and started learning more about the HHL MBA.
"I started feeling like I was part of the program and that these were my classmates. We all had similar questions, concerns, and expectations," she says.
Karen arrived in Leipzig a month before her MBA start date to take intensive German classes and become acquainted with the city.
"I walked around most of the city with my classmates. It has a mix of modern and historical places and beautiful landscapes, and I could have a good quality of life there with moderate living costs."
HHL estimates monthly living costs for MBA students in Germany to be €700 ($735), including housing, meals, textbooks, entertainment.
90% of HHL Leipzig MBA students are international, and the school boasts a network of more than 3,300 alumni across 70 countries. The current MBA class is made up of 65% women.
"My highlight was the time I spent with my classmates. I was glad to have the opportunity to learn from their career paths, their various cultural backgrounds, and their different skills and personalities," Karen says.
---
Landing a top MBA job in Germany
Karen says HHL's career service gave her critical support in the job application process, helping with her cover letter, resume, interview prep, and providing insights into the German MBA jobs market.
"I signed up for different initiatives, including several individual consultations, where they could help me identify and highlight my strengths, competencies, experience, and qualifications," she says.
"I came across a wide range of companies of all sizes eager to hire motivated, qualified, and skilled logistics and project management professionals."
Zalando caught her attention as one of the leading European fashion and online lifestyle platforms.
At Zalando, she often uses what she learned at HHL when setting up new processes for team training, monitoring performance, and working on the continuous improvement of operational and partner-facing processes.
The practical elements of the HHL MBA, she says, has given her a skillset that she uses in her job every day.
"In case studies, we practiced a lot of cross-cultural communication to build a problem-solving mindset, perseverance, and leadership skills," she says.
"Your MBA studies are what you make of them. It's about how you take the opportunities and use the tools the business school gives you."
Related Content: