Female-owned businesses are the fastest growing area of any type of startup; a result, according to a Forbes article last year, of an entrenched gender pay gap that pushes women to achieve their career ambitions by their own means.
And yet an entrepreneurship gender gap persists. There is an estimated $1.68 trillion investment gap between female and male led startups. Men, on average, are almost twice as likely to be self-employed, while female entrepreneurs are 63% less likely to receive funding than male entrepreneurs.
This is a challenge that persists into later life for women, and is the subject of a report—Female Entrepreneurship in Later Life: The Next Chapter—by entrepreneur Isabella Moore CBE in conjunction with Aston Business School, based on a survey of 344 men and women over the age of 50.
So why do older female entrepreneurs face greater challenges than their male counterparts, and how can we help to decrease these?
---
Why do women want to become entrepreneurs in later life?
---
Motivations for starting your own business are clearly different for older and younger entrepreneurs, as they are for men and women.
The report begins by looking at what are the main reasons why older women look to become entrepreneurs.
Ambition plays a significant role in this. The survey found that men were almost three times more likely to have held positions of director at a company (29% of men; 11% of women). Explanations for this include women taking time out to have children, or to perform care responsibilities, or even just taking jobs as a means of family financial support.
"Women in later life want to live by their own personal values, having perhaps had to conform to an employer's standards and not being in a senior enough role to exert influence," the report reads.
Income also plays a significant motivating factor in this decision.
48% of women enjoy a hobby which they believe might earn them an income, compared to just 30% of men. Perhaps more significantly is that twice the number of women feel that their retirement income is not satisfactory to fulfil their needs.
Confidence, however, feels like the most significant factor in understanding why women look to start their own business. Double the number of women believed that they are overqualified for their jobs, while women are far more likely to say they lack confidence in job interviews (39% for women; 24% for men).
---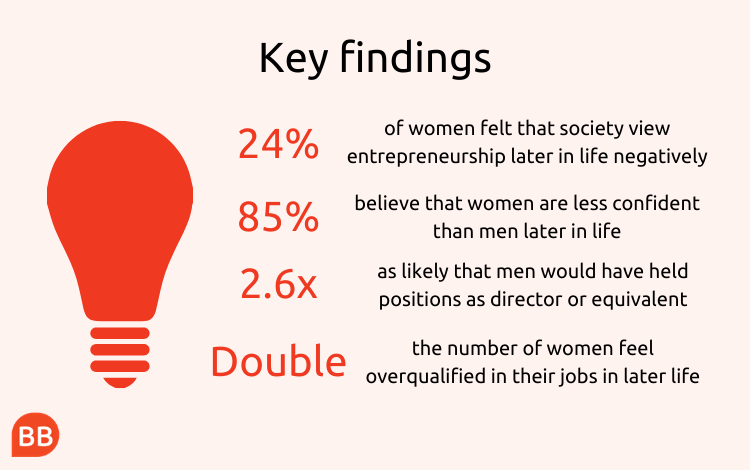 ---
Why do women face more challenges to being entrepreneurs?
---
In order to understand what needs to be done to help older female entrepreneurs, Isabella's report seeks to look at what are the challenges that women face in the first place.
Societal norms, and stereotypes about different gender roles at this stage of life, play a big role in this. Women later in life appear to be more worried about diverting from the roles expected of them—as homemakers or carers.
Women are nearly twice as likely to believe that entrepreneurship in later life is viewed negatively by society—24% of women, compared to 14% of men. Overall, 85% of respondents believed that women are less confident than men at this stage of life.
This carries a knock-on effect on how they approach getting help, whether this is approaching the bank for loans, applying for government grants, or borrowing money from family and friends.
Even attending networking events was approached with great reluctance by female respondents. "This suggests that current formats for business networking events may be unwelcoming for women in later life," the report reads.
---
Recommendations for helping entrepreneurs later in life
---
The emphasis of the report is changing how opportunities to set up business are presented to women in later life.
First, it recommends that existing business support practitioners, such as incubators, networking organizations, and even business schools, review how their services are promoted to older women.
Connected to this would be lobbying the government to increase the number of schemes targeted to support older female entrepreneurs.
They would recommend financial institutions that provide investment to startups, to review whether their processes are actively tailored to support women in later life.
In terms of boosting confidence and removing stigmas around societal norms, Isabella also believes that we need more role models of women in later life who have set up businesses. This would involve media celebrating their successes, breaking stereotypes which have been found to restrict women's successes.
---
How can business schools help?
---
Business schools play a big part in helping budding entrepreneurs build their skills and getting their ideas off the ground.
While MBA and Master's program typically attract younger applicants, executive and part-time programs, like the Executive MBA at Aston, are designed around those unwilling or unable to take time out of their careers or personal lives to study, requiring a more flexible learning approach.
Given that confidence and perception play such a great role in preventing women's entrepreneurial ambitions, these programs could be instrumental in redressing the balance.
---
Next Read: From CEO To MBA | How Business School Helped Me Grow As A Leader
Related Content: