Since the first case emerged in December 2019, the outbreak of a novel coronavirus in Wuhan has had a profound impact in China and beyond.
The virus, officially known as COVID-19, has quickly spread from its point of origin to affect 76 countries, according to the World Health Organization (WHO).
Efforts to prevent the virus from spreading came quickly, with the closure of schools and universities across China from the beginning of February 2020. The country's top business schools have also closed their doors, and are expected to remain shut until at least the end of March.
---
Chinese business school shows its support
Despite these closures, schools are doing everything they can to minimize disruption for their students. At the Cheung Kong Graduate School of Business (CKGSB), for instance, students are being offered online classes while staff work from home, so they can keep up with their studies.
The CKGSB community has also been instrumental in tackling the worst effects of the virus.
"The outbreak of COVID-19 has presented significant challenges to both China and the global community," explains a CKGSB spokesperson. "But the CKGSB community has come together to provide and gather support for those affected by the Coronavirus outbreak."
To date, CKGSB's student and alumni community has been able to raise a total of over $573 million in cash donations and goods.
Most of these donations come from companies headed by CKGSB alumni—50% of whom are CEOs or chairpeople.
In fact, the school's alumni network represents 25% of China's most valuable brands, including 60 of Fortune China's top 500 list.
Along with cash, donations from these alumni include four million masks and five million pairs of medical-grade gloves.
CKGSB's Hubei Alumni Association have been especially prominent in this area, purchasing $1.2 million worth of masks, goggles, and protective suits to help prevent the virus' spread in Hubei province, where it originated.
In Wuhan itself, the city where the first case of coronavirus was identified, another CKGSB alumna has managed to provide 400 beds for patients with coronavirus symptoms in Yaxin Hospital, which she oversees.
In response to these significant donations, CKGSB's founding dean, Xiang Bing, has expressed his support in a letter to the school-wide community.
"I'm extremely proud to see the CKGSB community coming together in recent weeks to provide support through donations big and small," he says.
---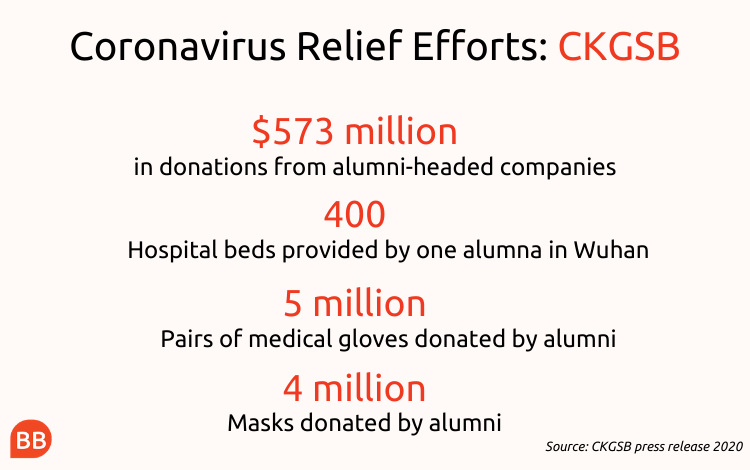 ---
The impact of coronavirus
Along with these relief efforts, the CKGSB community has also been at the forefront of research into the economic and social impact of the virus—and how this can be reduced.
"Our professors will continue to release data and analyses in the coming weeks," Xiang explains.
CKGSB professors Ouyang Hui and Ye Dongyan have already released an analysis of the outbreak's impact on the Chinese economy, and some economic predictions for the recovery process.
"COVID-19 will have a greater impact than SARS [did in 2003], and recovery will likely take longer," they suggest.
This is partly because China is still dealing with the fallout of its recent tariff war with the US, meaning that profits from exports are down. Back in 2003, exports helped China to recover from the impact of SARS quickly, but the economic recovery from coronavirus could be slower, Ouyang and Ye believe.
To help minimize the effects of the coronavirus disease on China's economic outlook, they recommend quick action. "The government should urgently reduce taxes and expand investment in infrastructure, scientific research, environmental protection and healthcare," they advise.
---
The outlook
Outside assistance could also be part of the solution. The International Monetary Fund (IMF) recently made $50 billion available to support emerging economies through the crisis. This fund is designed to help member countries finance public health initiatives on the front-line.
The IMF are confident that the virus will eventually retreat, allowing economic recovery in both China and the world at large to begin.
In the meantime, initiatives like those carried out by the CKGSB community will continue to limit the economic impact that coronavirus is having, and save lives.
"Fundamental to the core of CKGSB's vision is to cultivate transformative business leaders with a strong sense of social responsibility," Xiang explains.
---
The main image in this article is credited to ©H. Mowbray and used under this license.
Related Content: