May 14 Roundup
---
Business school candidates reject online learning
Everyone is talking about the benefits of online learning right now. But, according to new research from the Graduate Management Admission Council (GMAC), 36% of candidates intending to study on-campus in 2020 will defer rather than study online if forced to by coronavirus.
The news comes as business schools plan to deal with the COVID-19 disruption by starting programs in an online format before moving to regular on-campus programs later on.
---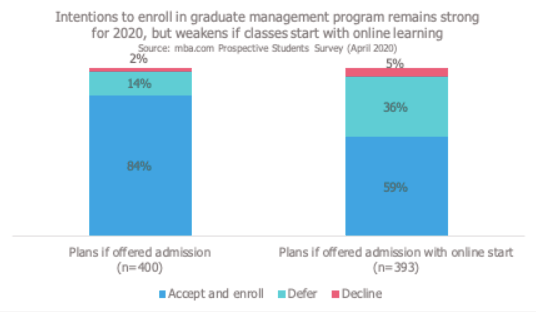 Original source: GMAC

---
5% of candidates said they would decline their offers if forced to study online. However, pointing at the continued value of a business school degree, 59% of candidates surveyed by GMAC said they would accept their offer regardless and enroll.
The news is also more positive if programs start on-campus as normal. A majority of candidates are likely to accept and enroll (84%), if admitted to a program starting as normal in 2020. 2% report that they will decline the offer, and another 14% indicate that they will defer.
According to GMAC, international candidates are more likely to defer, and candidates pursuing an MBA are more likely to defer than candidates pursuing a business master's.
Considering doing an MBA this year? Read why an MBA is still worth it in 2020.
---
5 Tips For Acing The GMAT Online Exam
---
Why entrepreneurship is key for post-coronavirus recovery
Cranfield School of Management's director of the Bettany Center for Entrepreneurship, Dr. Stephanie Hussels, says after coronavirus, entrepreneurs will be essential to kickstart the global economy. Find out why.
---
MBA Tour offers personal conversations with b-school admissions directors
The MBA Tour is hosting a series of virtual events this summer to connect candidates with business schools. Their intelligent matching algorithm distills recommends the best schools for you. They'll make the introductions, give you access to exclusive panels and discussions, and help you network with admissions professionals, alumni and fellow candidates.