The Financial Times (FT) has decided to temporarily halt its annual Executive Education ranking for 2021.

In its place, the FT has published two directories of open-enrolment and custom executive education programs. These two directories—collecting information on over 100 schools—include data on the number of programs offered, the number of students enrolled, average tuition cost, among other criteria.

The FT explains the reasons behind the decision: twin factors of disruption to data collection, and the mounting pressure that schools are up against, both as a result of the COVID-19 pandemic.

Similar factors caused disruption to the FT Global MBA rankings early in 2021, which saw the withdrawal of major business schools including Harvard Business School, Stanford Graduate School of Business, and the Wharton School.
---
Which schools feature in the Executive Education directories?
Replacing the Financial Times Executive Education ranking with directories represents an interesting change of tact for the FT: providing general points of comparison rather than a competitive list.
Open-enrolment programs are available to anyone who meets their admissions requirements, while custom programs are designed specifically for certain organizations.
The open-enrolment program directory lists the number of advanced management programs (AMPs) and general management programs (GMPs) at each school, as well as information on tuition costs, and the names of their flagship programs. AMPs are for senior leaders looking to advance their skills and responsibilities, while GMPs are for functional or specialist managers, looking to broaden their leadership and management competencies.
Schools listed are all accredited by AACSB or Equis and can still be considered as offering some of the best executive education programs in the market today.
---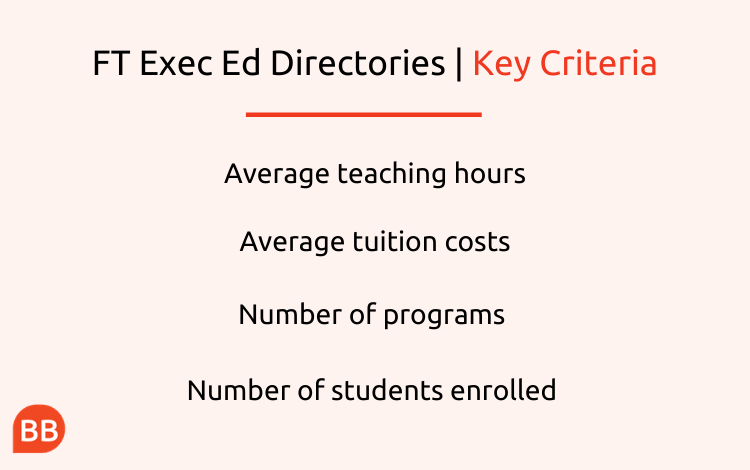 ---
IESE Business School, which topped the custom executive education program rankings in 2020, features in both directories. The directory includes its two flagship AMP and GMP programs—the Programa de Dirección General (PDG) and the Programa de Desarrollo Directivo (PDD).
Other top schools featured include INSEAD, Cambridge Judge Business School, UC Berkeley Haas School of Business, London Business School, and Stanford Graduate School of Business.
For every program, you'll find information on what you can expect from each program, including average tuition cost, average teaching hours, and statistics on gender balance.
In terms of most students enrolled, Florida Atlantic University College of Business tops the list, with 78,506 students in 2020—even more impressive given it only has one AMP and one GMP program. This is closely followed by the Wharton School, with 65,706 enrolled.
---
Why is Executive Education so popular?
Technology and the rise of online learning has fuelled growth of executive education over the past several years. Business schools can now bring their world class education to professionals around the world, across shorter, condensed formats.
Employers have also seized on this format, where once they might have paid for employees to do an MBA or Master's degree. It's a win-win for companies willing to invest in their employees: free training for aspiring managers, and an increasingly skilled workforce for employers.
An FT survey published in conjunction with the Executive Education directories found that a quarter of companies plan to increase spending on executive education for their employees in 2021, while over half plan to keep spending at the same level.
Business schools will be pleased to hear this news too. Executive education is a strong revenue source for business schools (you can find revenue volumes in the FT directories), and increased investment will be a much needed cash injection after diminishing revenues during COVID.
It also demonstrates a renewed trust from companies that business schools are able to deliver on their primary function: providing top management and leadership training.
---
Next Read: