The Internet of Things (IoT) depends on connectivity to function. Simply put, the IoT is a network of items connected to each other and, sometimes, a central network.
IoT devices currently depend on networks like WiFi or Bluetooth to share data, but as applications become more complex, faster networks will be needed to keep up—enter 5G.
In the UK, 5G rollout has been halting at best. The next generation mobile network, which is 10 times faster than its predecessor (4G), has been rolled out in major cities like London, Edinburgh, and Birmingham, but coverage is sparse, and new stumbling blocks are emerging.
The latest hurdle to 5G rollout is the UK government's decision to ban network providers from using equipment produced by Chinese tech giant, Huawei, over security concerns.
In January, Boris Johnson's government said Huawei would be allowed a 35% share of the UK's 5G market, but new US sanctions against Huawei have triggered a costly U-turn, which is expected to slow 5G rollout significantly.
With IoT innovation so dependent on 5G coverage, what does the Huawei ban in the UK mean for IoT development?
---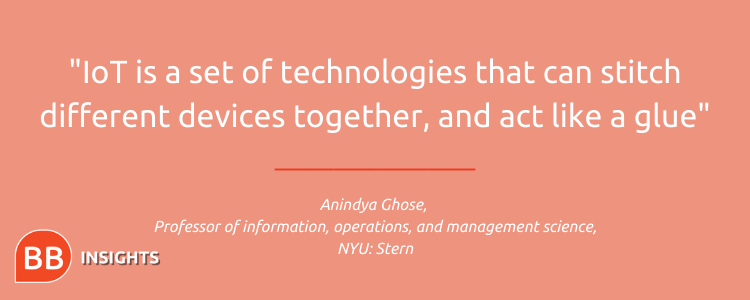 ---
How will the ban impact 5G rollout in the UK?
Estimates on just how much the Huawei decision will delay 5G deployment vary. Major UK networks like Vodafone, EE, and Three all currently use Huawei 5G gear, and replacing it is expected to cost around $2.6 billion (£2 billion).
"The UK government expects the delay to rollout will be three years, but that is probably an underestimate," says Peter Williamson, honorary professor of international management at Cambridge Judge Business School.
Peter's research interests include globalization, and the impact of Chinese internationalization.
"It could be delayed by as much as five years, with the risk that the UK loses its potential lead competitive advantage from early deployment of 5G," he predicts.
Finding alternative 5G providers is not a simple task. The Swedish manufacturer, Ericsson, is one viable candidate, reportedly chosen by EE. Nokia, Cisco, and Samsung are also in the running. However, the equipment produced by these companies may not be as affordable as Huawei's, Peter notes.
BT recently chose Nokia to replace its current Huawei 5G kit, meaning that the Finnish manufacturer will soon account for around two thirds of BT's mobile network kit.
---
Does IoT innovation depend on 5G?
The UK's delayed 5G rollout could curtail advanced IoT developments, especially in automated manufacturing, and smart city applications.
---