Located in the heart of Barcelona, Spain, Esade Business School is frequently ranked among the world's top business schools by Forbes, the Times, and the Financial Times.

Esade is known for its expertise in sustainability, its diverse student body, and an entrepreneurial attitude on campus. If you're considering a business master's, Esade offers seven different programs, ranging in scope from marketing to management to disruption.

But what is it really like to study your business master's at Esade Business School? BusinessBecause caught up with three recent grads to find out.
---
Hauke Rehder: Master in Finance
---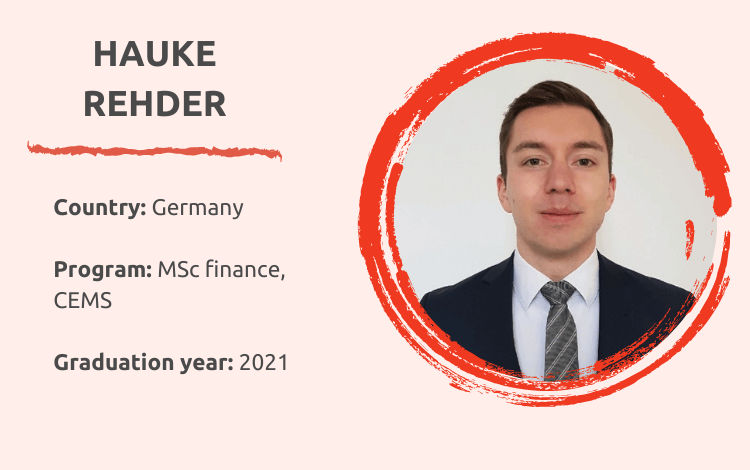 Hauke Rehder knew early on that a career in finance was on the cards. To develop the quantitative skills he needed to succeed in finance long-term, he turned to a master in finance degree—and Esade was the obvious choice, he says.
Having lived in Spain before, Hauke already loved the culture.
"You've got a great mix of beautiful architecture, nice weather, good cuisine, and a high quality of life," he reflects. "It's a place any student would be happy to live."
Hearing from friends who had studied at Esade only encouraged him to consider the school.
"I'd heard a lot about the open culture, tendency to help each other, and entrepreneurial mentality at Esade," he explains. Esade's expertise in impact investing was equally appealing, as an exciting growth area that's transforming finance.
Studying at Esade lived up to Hauke's expectations. Classes were challenging, but the practical, team-based approach and small class size meant he felt supported.
"We used real market data and bloomberg terminals, which prepared us to really deliver results to our future companies, not just be familiar with the theoretical side," he explains.
This practical approach continued during a week-long study trip to the Shanghai Institute of Finance to learn about China's financial industry.
"It was great to get a different perspective, and you learn a lot about different cultures and global leadership," Hauke comments.
Hauke is already putting the skills he gained at Esade to good use, launching a B2B digital payments startup with two friends.
He's been able to draw on the insights of professors and peers at Esade to validate the business model and handle legal questions.
---
Nancy Jiang: Master in Business Analytics
---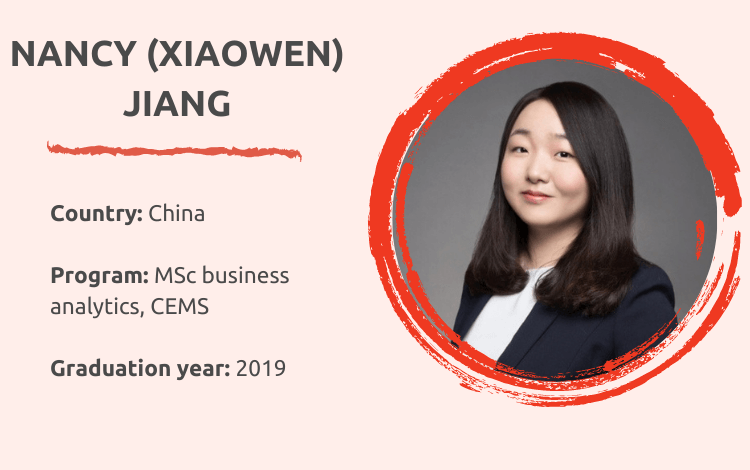 ---
When Nancy Jiang wanted to add analytical skills to her portfolio after a social sciences bachelor degree, the master in business analytics at Esade was an ideal choice.
Born and raised in Beijing, Nancy was looking for a program that would expose her to peers from all over the world. With 30 different nationalities represented in the average cohort, Esade's MSc in business analytics fit the bill.
One thing that surprised her about the program was how easily she could tailor her studies to her personal interests.
One hands-on project saw Nancy working with an autonomous vehicle startup in Barcelona, helping the team develop better business cases for their products. The project put her new analytics skills to the test, as well as the urban planning insights developed during her bachelor's degree.
Nancy's time at Esade also allowed her to study a CEMS degree at the same time as the MSc. CEMS is a partnership of business schools offering students a master in international management alongside their main program, if they for a semester at a partner school. Nancy chose the London School of Economics (LSE) in England for her CEMS exchange, furthering her international exposure.
The skills Nancy built at Esade set her up for success in her current role as a consultant with DHL consulting.
She first made contact with the company at an Esade careers fair, and with a little coaching from the career team was offered an internship, then a permanent role.
The international exposure she gained at Esade has helped her fit in, she believes.
"Studying in Spain has been one of the best experiences of my life," she reflects. "It really changed my direction and is a rewarding experience that I'd definitely recommend to others."
---
Hideaki Okubo: Master in innovation & entrepreneurship
---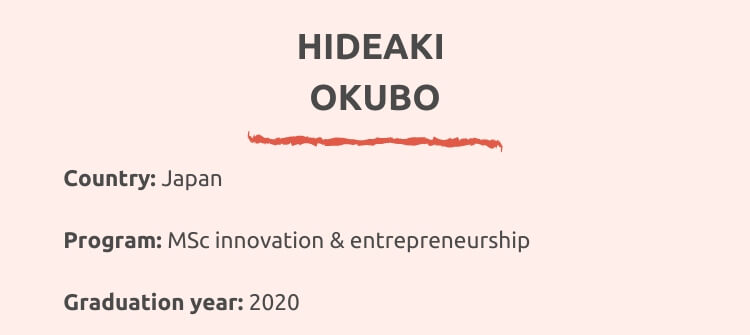 Hideaki Okubo grew up between Brazil and Japan, so when the time came to choose a master's degree, he wanted to study somewhere in-keeping with his international mindset.
After launching a startup in the education space, he was inspired to formally study entrepreneurship, and the Esade program ticked all the boxes.
Hideaki was initially drawn to Esade's reputation—regularly ranked in the Financial Times' top 10 in categories like international mobility and salary increase.
When he started speaking with students and alumni, their openness and calibre solidified his decision.
"What's really great about Esade is how inclusive the people are," he says. "I was expecting awesome peers before coming, but once I started the program, the connections I made went far beyond my expectations."
Another highlight was the practical learning approach Hideaki experienced. During one module, he worked with a group of classmates to create a new business within a real insurance company, developing customer insight, a prototype, and a go-to-market strategy.
Since graduating, Hideaki has put his entrepreneurial skills to good use by joining a startup back in Japan as a business development intern. The company creates augmented reality (AR) glasses and accompanying software for smartphones.
"What I learned at Esade was state of the art knowledge, which I can now leverage," he concludes.
Related Content: