For university students, the summer break is often a time to relax and prepare for the year ahead. However, summer is also a great time to start investing in your future career—and summer school is the best way to do that.

Top universities around the world offer summer school programs, where participants take classes, gain experience in their chosen field, and even earn credits towards full degree programs.

The prestigious Summer School for International University Students at Bocconi University, for example, is a three-week study program held both on-campus and online in June and July 2022.

One of Europe's top universities, the summer school at Bocconi is an opportunity for international university students to get a glimpse of what business teaching is like at a top school, with courses on hot topics like digital marketing, entrepreneurship, and venture capital.

Bocconi also offers a Summer School Program in Law for students interested in deepening their understanding of international business and digital law.

Want to upgrade your business knowledge and learn more about life on a university graduate program? Here's five benefits to attending a top summer school in 2022:
---
1. Summer schools give you experience studying at a top university
A summer school is a chance to see what life is really like at a top business school. If you're interested in pursuing a postgraduate degree in business, summer school is a way to see if you enjoy the subject and the experience of attending a top-ranked school.
Attendees of the Bocconi summer school have 48 hours of teaching activities Monday through Friday as well as individual assignments. If you're on the fence about applying to business school, this experience could change your mind.
---
2. You learn from top professors at summer school
At Bocconi, international summer school students can choose between four on-campus courses taught in English: Digital Marketing, Entrepreneurship and Innovation Management, Equity and Venture Capital Financing, and Luxury Management.
Each of these courses is taught by top professors from the institution, making the experience much like the real thing. The on-campus summer school also features company visits, giving you the chance to learn more about business and management from real professionals.
David Donev, a student from Hungary, attended the online version of the Bocconi University summer school in 2020, where students can choose between International Business Strategy, Equity and Venture Capital Financing, or Fashion and Design Management courses.
---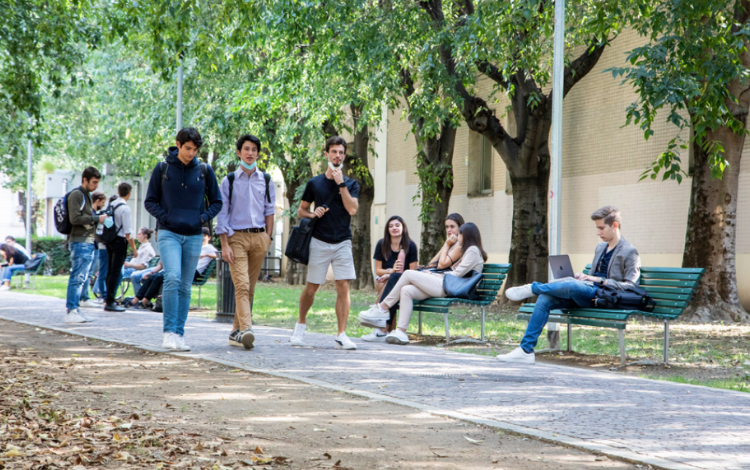 Summer school ©Bocconi University via Facebook

---
He juggled the online learning and extracurricular activities with an internship and enjoyed the experience so much that he decided to apply to Bocconi afterwards. He's now a student on Bocconi's MSc in Management, studying a dual degree offered in collaboration with France's ESSEC Business School.
"At summer school, I had the chance to get an understanding of a specific aspect of finance through the interactive teaching methods of Professor Gigante and to take a peek into the academic environment of Bocconi," David attests.
Professor Gimede Gigante is a chartered accountant, professional auditor, and lecturer in the finance department at Bocconi University, teaching topics including international finance and investment banking.
---
3. Discover a new country and culture during your summer school experience
A summer school isn't only a chance to explore your chosen subject; it's also an opportunity to experience life in a different country.
Students who attend the on-campus summer school at Bocconi University will spend three weeks living in the center of Milan, a hub for technology and fashion and home to world-renowned museums and galleries.
For David, the chance to learn more about Italian culture was a real highlight of his summer school experience. Even though he attended the online summer school, there were still plenty of chances for him to bond with his classmates and discover more about Italian culture.
"I could immerse myself in the Italian way of living through online activities like the cooking class, in which we cooked a traditional Italian pasta recipe 'cavatelli with tomatoes and aubergines,'" he adds.
---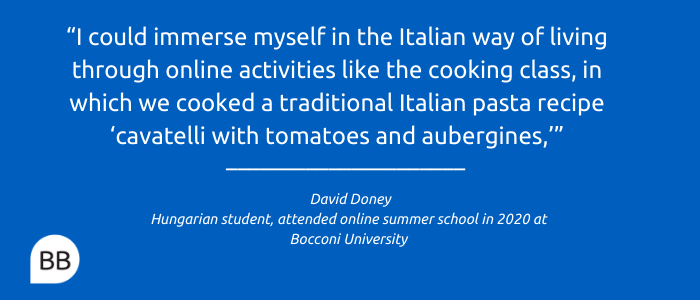 ---
4. Earn credits at summer school that count towards a university degree
As well as being a chance to discover a new subject or deepen your business knowledge, summer school can also contribute to your university degree. Attendees of the Bocconi summer school who successfully pass the final exam earn six ECTS points, which count towards an existing bachelor's degree in Europe.
The experience is also valuable when applying to a business master's degree after your bachelor's. An independent learning experience like summer school will be looked on favorably by universities, as it shows your commitment to learning and developing in your chosen field.
---
5. Summer schools are a great way to boost your network
Beyond the knowledge you'll gain, summer school is an opportunity to network with ambitious young students from around the world.
Bocconi University itself has a diverse student population, welcoming close to 5,000 international students each year from around 100 countries.
To apply for the Bocconi University summer school, you'll need to submit your resume, undergraduate exam scores, and a motivation letter explaining why you want to take your chosen course. Participants are selected based on academic achievement and suitability for the course.
Whatever summer school you join, you'll have the chance to build connections with your peers, making relationships that could last well into your future career, whatever path you take.
Related Content: