The world looks very different today compared with three years ago. The Coronavirus pandemic which wreaked havoc across the globe—and continues in some places today—has permanently changed both social and business culture.

Where once workers flocked every day to city centers across the globe, now we're a hybrid workforce—adept at using remote tools and as comfortable tuning into a conference via Zoom as attending in person.

The pandemic also brought about a renewed focus on sustainability, along with issues surrounding mental health and work-life balance.

This new working world requires a new type of leader to succeed. Florence Da Costa, careers expert at EDHEC Business School, feels there is one thing that leaders need above all else to be successful today: agility.
---
What does the modern workplace look like?
Virtually overnight, the pandemic brought about a shift from in-person to fully remote work. In the two-and-a-half years since, the typical practice at many companies has become hybrid work, consisting of two or three days in the office per week.
This hybrid model means many of the remote working tools—including video conferencing platforms like Zoom and project management tools such as Trello—that prospered during the pandemic remain essential today.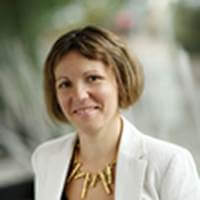 "In the past they [remote tools] were more specific to certain types of companies, especially the startups who were remote working, but the big companies didn't use them," says Florence.
Increased adoption and greater competency has made it easier to communicate with others via remote tools. That includes with people in other countries: it's now commonplace for people to host calls at all hours of the day to speak with people from different regions.
"We're working in a different way because things are moving faster and the link between the international sectors has been changed," Florence explains.
Another key knock-on effect of the pandemic has been an increased focus on the climate. Through the Glasgow Climate Pact, countries across the globe have committed to achieving net-zero carbon emissions by 2050. With business an important contributor to global emissions, there has been a cross-industry focus on sustainability.
All of these factors combine to create a workplace that looks entirely different to what was common three years ago.
---
The impact on workers
A profound shift in working conditions has had a similarly important impact on the workforce.
Large numbers of employees have had to grow accustomed to fewer face-to-face interactions. This contributes to mental health challenges with people feeling isolated from each other. Issues such as 'Zoom fatigue'—tiredness caused by overuse of virtual platforms—have also become common.
With colleagues siloed in their own homes for large portions of the working week, there is also a perceived loss of collective identity and team spirit. "Remote working means more time alone than if you are in the office, this for me has really changed a lot and is having a real impact," says Florence.
Remote formats can split the workforce between those who prefer having greater control over their work-life balance, and others who struggle with a lack of interaction, she adds.
"It's absolutely difficult because it's really linked to the way that each individual person works around their job. It's difficult to have the right thing for everyone."
---
The need for agile leadership
Combatting the challenges presented by the new working world is the job of executives and managers across all industries and companies. As leaders, their role is to motivate, inspire, and support every member of their team towards a common goal.
That's as true now as it was before Covid, however today's leaders must also know which technologies to adopt, what working structure to implement, and how to negotiate the various needs of each person.
This creates the need for specific skills, Florence explains. Leaders need to know how to manage uncertainty and make decisions during changing situations. They also have to be able to act without possessing all the necessary information. Essentially, she says, they need to be agile.
"Agility has always been a key attitude in order to stand out, but now it's crucial because we're working in a different way and things are moving so fast.
"Managers need to have the ability to change as environments, people and business tools change. You absolutely need to have an agile attitude because without that you cannot be a good leader," she adds.
"The Career Booster program at EDHEC has been designed to train such leaders able to succeed in this new working world".
The Career Booster aims to help students break into specific sectors, providing opportunities including webinars, networking events, business games, and recruitment sessions to help students achieve three goals. They are: understanding the job market in a specific sector, being prepared for the recruitment process, and exposing their talent to the world.
Through the program and various other opportunities on offer, EDHEC aims to help students become more agile.
Failure to adapt risks falling behind the competition: aware of what's possible in the modern workplace, today's top talent are increasingly attracted to companies that present an agile, innovative image, and put off by those who don't.
A recent study by online careers platform, Highered, found around one in two b-school students want to work at companies offering a hybrid format. A further 26% said they wouldn't consider roles that didn't offer remote work.
"The biggest companies who were the most famous recruiters in the past also have to adapt their policies in order to continue to attract the best candidates possible," says Florence.
"People now choose other priorities beyond the company name, they want to think about their work-life balance."
Whether you're a CEO of a Fortune 500 company or the founder of a fledgling startup, taking an agile approach to leadership will ensure you can attract the best people, and help them and your company achieve success.
Related Content: