More than 914,000 international students chose to study abroad in the USA in the 2020-2021 academic year despite the impact of the pandemic. A third of them came from China.

By studying abroad, you can have new experiences, learn a language, and gain access to a new business environment and network that can boost your career progression.

MBA students get to choose from study abroad destinations across the globe. So why does the United States remain the top choice destination and our top country for business school candidates?

BusinessBecause caught up with two MBA students from China's Shanghai Jiao Tong University Antai College of Economics and Management, currently on international exchange programs in the US, to find out.

Ranked the best MBA in China for career progression and fourth globally by the Financial Times (FT), the triple-accredited Jiao Tong University MBA offers international exchanges at over 60 partner schools, including top US universities like MIT and Columbia.

Here's five reasons to study abroad in the USA:
---
1. Study abroad in the USA to gain access to the world's top business schools
Harvard, Stanford, Wharton—many of the world's most prestigious business schools are located in the US. Out of the top 100 MBA programs in the world ranked by the FT, half are based in the US.
The case method, the primary study method used by MBA programs globally involving a business case study followed by a lively class discussion, was pioneered by Harvard Business School.
Zhang Xin (pictured below), a Jiao Tong University MBA student on exchange at Columbia University, says studying abroad during your MBA is an easy way to gain access to the world's top-ranked business schools that attract the best and brightest MBA students.
And for a reduced cost. At around $51,000, tuition fees for the Antai International MBA are significantly more affordable than for top-tier MBA programs in the US, which can exceed $150,000.
"By studying abroad in the US, you can make friends with lots of talented people from all over the world. We can learn a lot from each other and it will help us become much better businesspeople," he says.
The US also attracts top professors too, so much so that schools like Jiao Tong University invite professors from US schools to teach students back in China.
---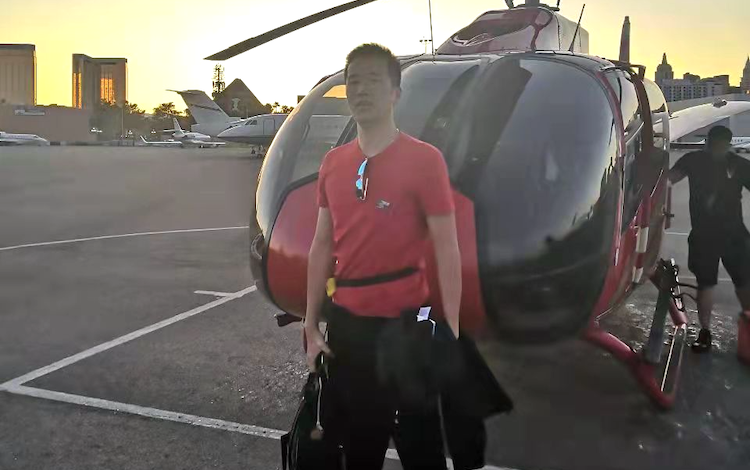 ---
2. Study abroad in the USA to boost your career opportunities
Studying abroad is proven to make you more employable, as recruiters favor candidates with international experience and an understanding of different cultures.
Many of the world's top MBA employers—like McKinsey, Amazon, and Microsoft—are US companies. These firms hire MBA graduates globally, but appreciate an understanding and experience of US culture.
US business schools also offer tailored careers support—like interview prep and personal branding workshops—that international exchange students may be able to benefit from. Plus, having the brand name of a top b-school on your resume can really make you stand out.
It helps too to graduate from a business school with a strong track record in careers. Antai International MBA graduates can expect to earn more than $130,000 three years after graduation, according to the FT, with a salary increase of 160%, the seventh highest increase for MBAs globally.
Antai is also partnered with top organizations like Ant Financial, the world-leading financial technology company, and the Bank of China.
---
3. You'll get an unforgettable campus experiences studying abroad in the USA
You've probably seen your fair share of movies about colleges campuses and university life in the USA. Studying on campus in the US is a unique experience, with a collegiate atmosphere like no other.
From sports teams to student clubs, focused on everything from consulting to cookery, going to business school in the US is also a social experience where you'll build close friendships with students from all over the world and gain access to the local business community.
Antai also provides access to the wider business community in China and internationally. At the annual Antai Symphony summit, business leaders come to Shanghai to discuss the latest developments in cutting-edge business topics. The 2020 summit focused on the impact of artificial intelligence on industries like healthcare and retail.
---
4. You can widen your perspectives by studying abroad in the USA
Like any study abroad experience, going to the US on an international exchange is a great way to broaden your perspectives and build your understanding of global business.
Tao Wang is an MBA student at Jiao Tong University, pursuing the school's MBA in Artificial Intelligence program (AI MBA) launched in 2020, the first of its kind in China.
When the opportunity to go on an international exchange at MIT Sloan School of Management came up, he jumped at it. MIT is known as the world's leading technology university.
"I want to upgrade my knowledge of technology and business," he says. "For me, the key objective of an international exchange is to discover different perspectives. I want to broaden my vision and see how the smartest minds operate and cooperate.
"The USA is one of the most influential countries and I'm interested to see how a top US university educates future leaders and drives innovation."
---
Read: Why NBA Legend Yao Ming Chose Jiao Tong University Antai For His Degree
©Keith Allison from Owings Mills, USA, KA Sports Photos, used under this license.

---
5. Study abroad in the US and tap into entrepreneurship
Home to San Francisco's Silicon Valley and major startups hubs in cities like New York and Boston, the US is a world-leader when it comes to entrepreneurship. Only the United States is home to more unicorns than China—startups valued at over $1 billion.
Zhang Xin, an entrepreneur who owns his own media business, wants to use his US study experience to build a more international company.
"I want to learn about the most advanced technologies in the US. There are multiple cultures and customs in the US and I want to broaden my horizons," he says. "These experiences can help me see things from different angles and improve myself."
When it comes to pursuing an international MBA and gaining business knowledge in both East and West, Zhang Xin says Jiao Tong University offers the best of both world's—an affordable MBA program in China with the opportunity to study abroad at a top business school in the United States.
Related Content: