Applying to business school abroad is no easy feat. It used to be all about studying in the United States. Now, the market is crowded.

Countries across the world have seen a growth in interest from candidates as top business schools go global and offer exciting new program options for MBA and masters students, while each county has its own contrasting visa policies.

In Top Countries For Business School Candidates, we highlight the 25 most popular countries for graduate management education, according to business school candidates.

We show which countries have seen the biggest increases in popularity; and the biggest drops.

We break down the data by type of program and citizenship of the candidate. We speak to international students to find out the pros and cons of studying in their country of choice. And we report on the preferred study destinations of Generation Z, a new generation of candidates disrupting the industry.
---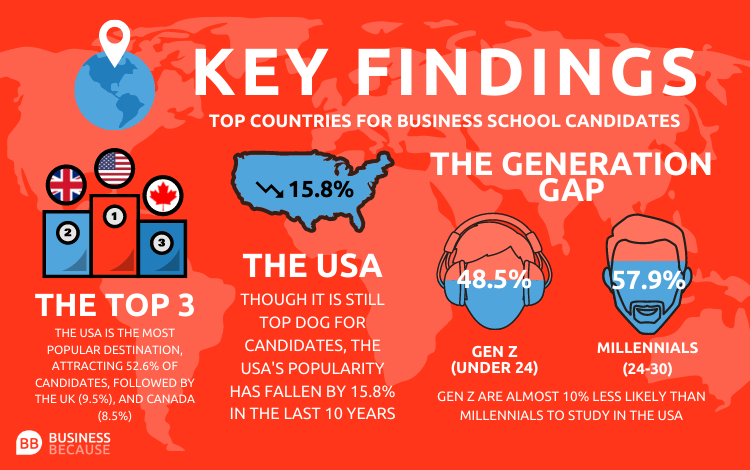 ---
Read on or skip to your section of interest by clicking one of the links below:
Most popular countries by program
Most popular countries by citizenship
BusinessBecause takeaway—Where should you study?
---
Best Countries For Business School Candidates
---
---
As the founding father of the MBA, the USA tops the list of the best countries for business school candidates—52.6% of business school candidates want to study there. However, the last decade has seen a steady decline in its popularity.
The popularity of the US as one of the top MBA countries has plummeted by 15.8% in the last 10 years and 7.6% in the last five, as the global market has become more competitive. Tight visa laws and, more recently, an explosive political climate have also deterred internationals from studying in the US.
Developed economies in the West are the most attractive. The UK (9.5% of the candidates most want to study there), Canada (8.5%), France (4.8%), and Germany (3.3%) make up the top five.
Canada has increased in popularity the most in the past five years, by 2.8%. Canada is followed by the UK (up by 2.2%), France (1.5%) and Germany (0.9%).
Elsewhere, Singapore, India, and Hong Kong* feature in the top 10. Despite their status as the world's leading emerging economies, India and China have seen their popularity decline, with few international candidates choosing to study their MBA abroad in India or China.
---
See more videos like this one...

---
While China seems to be curbing its decline (down from -1.3% over the past 10 years to -0.1% in the past five years), the rate of India's decline is more concerning, going from a -0.7% decline in the past 10 years to -1.2% in the last five.
Many Chinese and Indian students study abroad, making up the majority of international students in business schools across the US and Europe, while most Westerners are not yet ready to study in...
Register for free to continue reading