HEC Paris is one of France's elite and highly competitive Grande Écoles, offering an MBA ranked among the best in Europe in 2022, according to the Financial Times.
As one of Europe's top MBAs, the program draws in a diverse crowd—94% of students are international. They're drawn to the potential career impact of graduating from the program. Among the class of 2021, 93% of HEC Paris MBAs accepted job offers within three months of graduation.
So, what kind of opportunities are open to an HEC Paris MBA grad? We took a look at the class of 2021 employment report to find out.
---
Companies hiring HEC Paris MBAs
---
Top MBA employers including the Big Three consulting firms of Bain & Company, McKinsey & Company, and Boston Consulting Group (BCG), hired HEC Paris MBAs in 2021. Other big recruiters included Amazon, Deloitte, PWC, and EY. HEC Paris has a reputation for luxury, which helped students secure roles with top brands including Kearney and LVMH.
HEC Paris MBAs flocked to technology jobs in 2021. Tech was the most popular industry by some margin, with 36% of students securing roles in the sector. This follows a growing trend across the globe's business schools with technology becoming increasingly popular.
Alongside tech, finance is another top sector for MBAs, with many of the world's largest banks hiring from top b-school cohorts. In 2021, it was the second most popular industry as 17% of students landed finance roles.
Consulting—the top industry for the last cohort of HEC Paris MBAs—was the third most popular sector with 16% of grads landing jobs with consulting firms.
---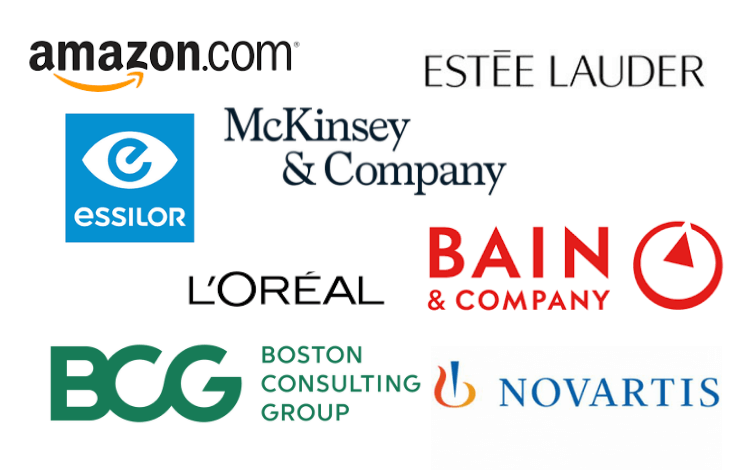 ---
HEC Paris' focus on luxury saw 9% of students secure roles in retail and luxury, while a further 5% went into the healthcare sector. A total of 4% of students found roles in government or with nonprofits, while 3% took jobs in the manufacturing, consumer packaged goods, and energy industries, respectively.
Many of these new roles represented a career change for the class of 2021. As many as 79% of students changed sectors from their pre-MBA jobs, while 67% changed their function and 62% changed location.
The infamous triple jump—changing all three—was achieved by 40% of the class.
---
HEC Paris MBA class profile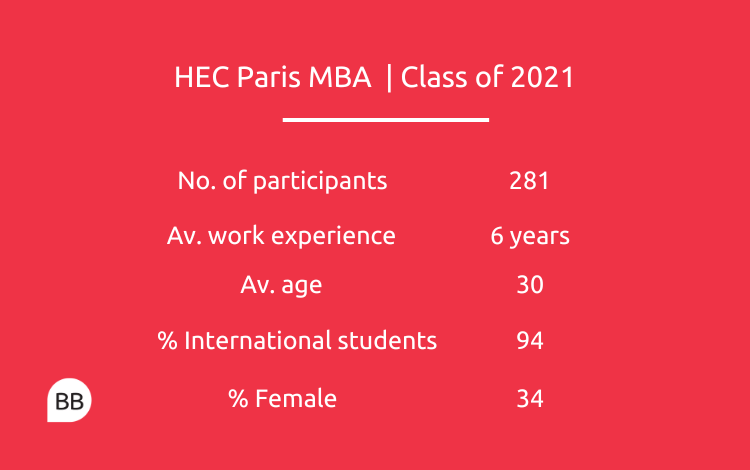 ---
Average HEC Paris MBA salaries
---
Salaries are a huge factor in applying to business school. The BusinessBecause 2022 Cost of MBA Report found a top MBA costs $189,00 on average; for that price you want to make sure you'll get a good return on your investment.
At HEC Paris, MBA graduates earn mean salaries of around $128,000, with an added sign on bonus of around $18,000. The average MBA grad at HEC Paris doubled their pre-MBA salary in 2021.
---
---
Grads earned huge salaries across a range of industries. Technology grads earned mean salaries of around $136,000. Graduates in healthcare were also top earners, with salaries of approximately $135,000, while manufacturing grads earned around $130,000.
The highest earning student in the class of 2021 worked in consulting, earning a huge salary of around $384,000.
Across the remaining big three MBA industries, the mean salaries of consulting graduates were $130,000 and for finance grads salaries were around $117,000. Energy graduates earned around $118,000, while grads in consumer packaged goods earned around $101,000.
Retail and government or nonprofit graduates earned mean salaries of around $89,000 and $86,000.
Salaries also varied by region. Graduates who left France to work in the Middle East earned mean salaries of around $192,000. For those who worked in the US, salaries averaged at around $160,000.
Graduates working in Africa earned mean salaries of $114,000, and graduates who stayed in France earned mean salaries of $98,000.
---
HEC Paris MBA job destinations
---
Class of 2021 grads from the HEC Paris MBA landed jobs across the globe. Many stayed in Europe after graduation, with 23% landing jobs in France and a further 42% securing roles across the rest of Europe.
Asia and Oceania were also popular destinations, with 18% of grads landing jobs there. Graduates also landed top roles in the Middle East, the US, and Latin America.
---
HEC Paris MBA success story
---
Enrolling in the HEC Paris MBA gives you the chance to earn a huge salary at some of the world's largest companies, it can also help you become an entrepreneur. It's estimated that 25% of HEC Paris MBA students go on to launch their own businesses after graduation.
Hilary Matson used the HEC Paris MBA to pivot from her eight-year career with Amazon to launch Yūgen Earthside, a sustainable travel startup.
The MBA helped Hilary gather the expertise she needed as she developed her business plan during the program's entrepreneurship track. "By the time I graduated, all the theoretical business planning and market research was done," she says.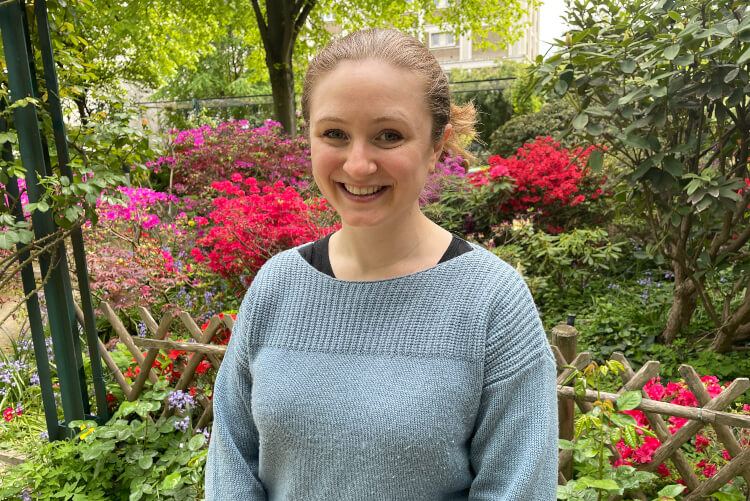 She also made connections she could use throughout the various stages of launching her startup. "One of my classmates designed the company logo, another classmate is a regular content contributor to our blog, and other classmates have been interns," she says.
"I have to give a lot of credit to the MBA."
---
Who is the HEC Paris MBA for?
---

If you're an international candidate looking to switch locations, then HEC Paris is a great option for your MBA. In fact: if you're looking to change any aspect of your career, whether that be location, industry, or function, the number of students who achieve this after the program shows this is a top degree for career switchers.
It's also a program with appeal beyond the more traditional MBA industries of consulting, tech, and finance. With top earners working in healthcare and manufacturing, this is a course to consider if you want a wide array of career options.
Enrolling in this top-ranked program will introduce you to a diverse and international cohort and give you equally diverse and international career options when it comes to graduation.

Related Content: